Wau Bulan is the name given to the ornate Malaysian Moon Kite. We were fortunate to see the real thing at a kite festival, in our home city of Adelaide, South Australia.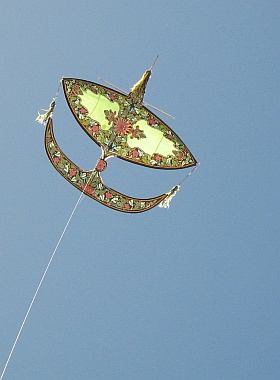 A Wau we saw at a kite festival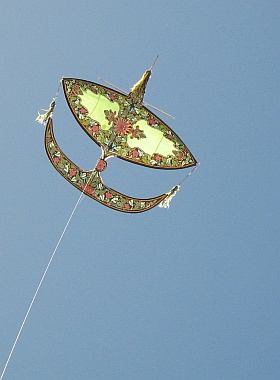 A Wau we saw at a kite festival
The organizers had invited a Malaysian kite master and his wife to the event. They brought with them a couple of large and beautiful Wau kites.

In addition, the couple brought a number of smaller non-flying kites. These were available for sale as ornaments.
I was surprised at the efficiency of the Wau Bulan, since it managed to hold higher line angles than most other festival kites in the sky! That includes large Deltas which are known for their high flying angle.

We saw the Wau get upset by a patch of rough air, which caused it to gently spear into the dunes at one stage. The kite was undamaged, and was soon re-launched.
After a bit of research, it's clear that the kites we saw were indeed the famous Wau Bulan. I can't remember hearing any hummers though. Perhaps it would have been drowned out by the Kite Festival sound system anyway!

Apparently, most provinces in Malaysia have a variation on the Wau. For example, the Wau Kuching or Cat Kite and the Wau Merak or Peacock Kite. The Bulan version is the most popular however.
A word about the names.. 'Wau', pronounced 'Wow', is an Arabic letter that looks something like the kite's shape. Also, the crescent shape of the rear sail led to the name 'Moon kite' in English. Oh, one more thing - 'Wow!' does pop into the heads of English-speaking people when they see one of these impressive kites for the first time. It did for me!

It's almost funny to compare our MBK Roller designs with the magnificent Wau! They do bear a small resemblance to the Wau Bulan in that they have a large upper sail and a smaller lower sail. So far, there are 3 separate Roller designs to try, including the 1.2 meter (4 feet) span version featured on that e-book cover...

Our Dowel Roller is just so plain to look at, in comparison. At least it is a very reliable flier, which satisfies me personally...
Making The MBK Dowel Roller Kite is one of my handy e-books of printable step-by-step instructions. It's a PDF file download.

---
The Wau Bulan - Some Details
As for most traditional kites around the world, the framework is made from split bamboo. Intricate floral patterns, which you can see in our photos, are cut from colored paper and pasted onto the tissue sails. Some makers prefer glossy reflective light paper for the sails instead of plainer-looking tissue.
As a final touch, paper tassels dangle from the wing tips. One of our photos show a tassle hanging from the nose as well. On some designs, these tassels can be quite bulky.
The entire process, from selection of materials through to final decoration takes quite some skill and patience, not surprisingly!
Size-wise, the kites are quite large, with the usual wing-span being 2.5 meters (9 feet). In some examples, the nose-to-tail measurement is around 3.5 meters (12 feet). The ones we saw were a little shorter than this. While not flying, both the Wau kites were stuck side-by-side and upright in a convenient sand-dune.
The Wau we saw flying had just a simple single-point bridle, as can be seen in the photos. No prizes for guessing which country has that flag, by the way!


I'd hate to have to make one of these in a hurry ;-)
But our Dowel Roller would be an easier build...
Making The MBK Dowel Roller Kite is one of my handy e-books of printable step-by-step instructions. It's a PDF file download.