A small knot in the end of the line prevents this Slip knot from coming undone. At least in theory! In practice, the loop can still loosen off with handling, allowing even a large knot to slip through.
A tiny dob of glue will make the knot permanent after it is first tied and tightened. Alternatively, you can simply check all the knots before each flight, re-tightening where necessary. They are less likely to loosen in-flight.
---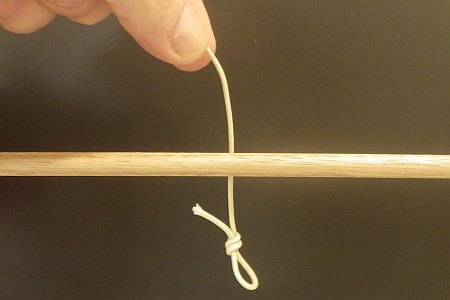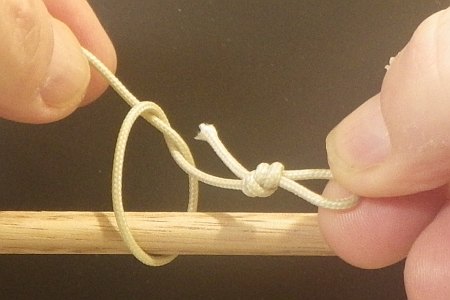 For a Double Wrap Slip Knot, just wrap the line around the spar twice instead of once, before slipping the Loop knot through. Not surprisingly, this version stays tight a lot longer.

I have used this knot many times for securing bridle lines to spars. If you keep the Loop knot as small as possible, it doesn't look too untidy. It's a good idea to not fix the knots with glue until after the kite has had it's first test flight or 2. Just in case you decide to make any changes!
For a Barn Door kite which stays rigged, this knot can attach the bridle lines to the frame and hold the spars together where they cross. However, I soon discovered that fixing the knots with glue was necessary. The constant flexing of the spars in flight tended to quickly loosen off the knots!
For a time, I experimented with using the single-wrap knot to secure the sail corner ties of the Dowel Roller and Dopero to the horizontal spar. You have no adjustment though, so I'm sticking with Half Hitches now. Not the most secure, but at least you can adjust the length of the tie, if you don't get it right the first time. It's just a matter of unpicking the knot and re-tying.

Another tip... It is simpler and neater to use a Simple knot instead of a Loop to stop the line from pulling through. However, it is not as reliable due to the much smaller size of the knot. It just might be suitable for some applications though! And you could always pass the line through twice instead of once, to make the Simple knot bigger. 
Knowing your knots is particularly handy if you make your own kites at home...
The Big MBK Book Bundle is a collection of downloads - printable PDF files which provide step-by-step instructions for many kites large and small.