Scaled Down Dowel Delta Experiment
by Peter
(Wollongong, Australia)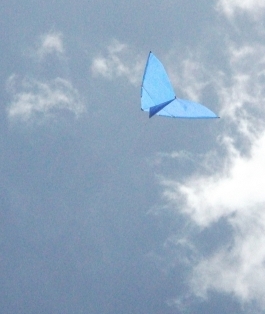 Tethered and behaving
Since the local hardware barn had 6mm and 4mm hardwood dowels, but not 5mm, I decided to adopt a two-pronged approach. The plan is to build two delta kites - one using 4mm, then one with 6mm. So far, I have made the 4mm version.

I consulted delta expert Dan Leigh's site at

http://www.deltas.freeserve.co.uk/plan.html

and concluded that the cautious approach for a first delta would be a 90 degree nose, with spar lengths and wingspan appropriate for 4mm dowel. The spreader would be a bit larger, at 6mm diameter.

So, my scaled down kite has leading edge spars of 75cm, a vertical spar of 71cm, and wingspan 1.42 metres. I pretty much followed Dan Leigh's plans, choosing spar length by interpolating between his non-metric size recommendations.

I only got fancy with the keel, and made it a "pop fin" by leaving the front of a double-sided construction open. The idea apparently is that under line tension it stays closed, but pops open when tension is off, stopping dives...

It certainly pops open, but whether THAT stopped any dives remains unclear, since so far it hasn't dived ;-)

The first test flight was in winds varying from around 6 to 23 km/hr! The wind was building from an average of around 7-10 km/hr up to around 14-17, but when I saw a gust of 23 km/hr on my wind meter, I decided that it was time to bring the kite down. After all, it's a light wind kite!

The small delta handled these conditions well - it was stable. It only occasionally went up to a really high angle, once I think with some thermal assistance that pulled it almost vertical. It was confused then, for a few seconds, smoothing around in elegant circles of indecision. As expected, this was followed by some downdraft that sent the delta back to only perhaps 40 degrees for a minute or so.

I did notice some rippling and flapping near the trailing edge at times, which has both good and bad points. The drag probably contributes to stability, but also reduces lift somewhat.

The first flight was on an overcast day, with rain threatening. A second flight on a sunny day with fluffy clouds confirmed that the little delta flies well. This flight was in winds of around 10 km/hr average, with a few gusts to 15. It was a South-Easterly, which made for interesting photo challenges, since in the middle of the day the kite was flying *directly* into the sun! I tethered the kite, and walked around to get a different angle, avoiding the flare.