A 2-Skewer Dopero Takes to the Sky
by Trevor
(Rockingham, WA, Australia)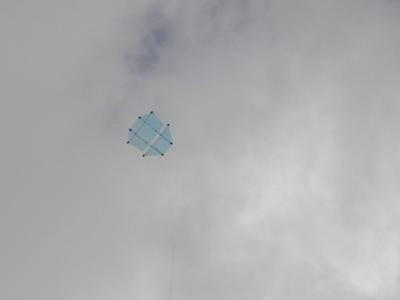 Dopero kite ducking the showers
There's always a certain feeling of trepidation when you've spent a week or more on a project, and then crunch time comes. Especially when 'crunch' is the last thing you wish to hear.

As I crossed the road to the park (how lucky am I?), with the kite pressed against my chest by the wind, I started to worry that the wind was too strong, the glue too weak, the spars too flexible, etc etc...

Attaching the flying line, I let out about 10 feet of string and had a quick fly - not good, very wobbly. Feeling that turbulence was the cause, I pulled about 20m of line out onto the grass, and tried again. Once again a few wobbles, then at about 15 feet, in cleaner air, up it shot.

All the line was out in what felt like half a second and was probably closer to 20, with the kite pulling strongly and evenly, then with all the line out it climbed almost straight overhead. Stronger gusts would knock it back to about 45 degrees, but it always recovered to fly around 70 to 80 degrees.

After about 10 minutes in humid weather with a few raindrops, it developed a tendency to lean and fly to the left, and do loops during the gusts. Time to pull it down.

As expected, the humid windy conditions had caused the glue to soften, resulting in uneven dihedral in the main sail. Back home now, I've added an extra skewer piece at each front spar join, and resolved to only fly this kite in sunny, calm weather.... but it handled the wind so well!

Thanks, Tim, for another great kite.