Stunt Kites In 2008
Adelaide International Kite Festival
If you are an expert stunt flier, this page on stunt kites in 2008 might not be of much interest since you 'know it all' already. However, if you are new to the world of stunt kites, read on for a few small snippets of information, plus a few photos.
The images are from the Adelaide International Kite Festival in 2008, of course!
We didn't see a large number of stunt kites in 2008 at the festival. The different types where well represented though. Unfortunately, on sifting through our photos, I could only find images of 2 types .... oops! Next year, we might be better organized and specifically target different types of kites with our camera.
Everybody seemed to be just flying for fun. In any case, we didn't notice any super-precise aerial figures being flown!
Personally, I've only ever flown a cheap $10 stunt kite, although I've done plenty of research to publish the Stunt Kites pages elsewhere on this website.
---
The Large Deltas
There were a number of these Delta kites, mainly being flown over the dunes some distance from the waterline. For example, the large black and white Delta in the photo above. The long tail traced out its movement in the sky. The single-liners were mainly anchored in the flat sandy areas or to the jetty.
Speaking of the jetty, we noticed a man flying his Delta stunter very close to onlookers walking up and down the jetty. He knew what he was doing and was hovering the kite, so no-one was in danger of getting hit hard. People were suitably impressed. However, we noticed his flying lines were passing rather close to another kite line... Sure enough, a minute or so later, the kite snagged and flopped into a pool of sea-water!
Note to beginners: don't fly your stunt kite near people! Someone might end up with a nasty whack in the head. These kites move quickly and have sharp corners.
---
A Quad Kite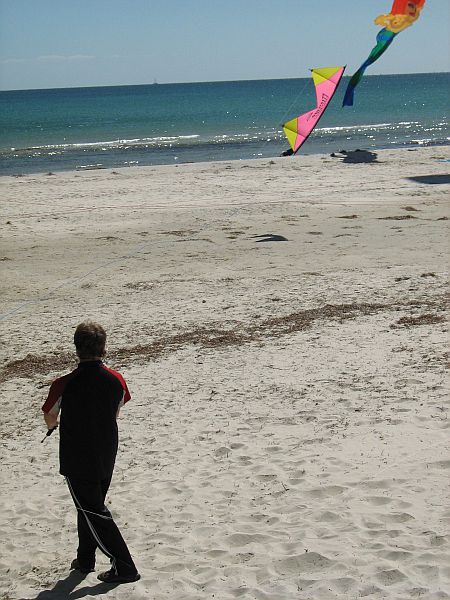 This guy was having fun with a Quad kite, from Revolution. The Revs are very popular in this category. He was practicing his landing maneuvers. Take off, do a trick or 2 in the air, then sit it back down on the sand again. Over and over again. All under the precise control of the 4 flying lines. Here's a close-up of the kite sitting on the sand...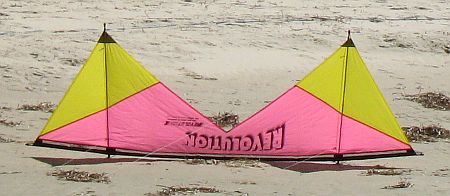 ---
Other Stunt Kites In 2008
No more photos unfortunately, but we did see a large white parafoil being flown as a stunt kite. These can be a bit of a handful when the breeze gets up a bit, due to the large amount of pull they exert on the lines! Like Delta stunters, power kites like this parafoil are usually on 2 lines for stunt flying.
Finally, we saw the stack of 3 small black deltas that made an appearance last year as well. It's quite possible it was the same expert stunt flier in action too. This year, the winds were lighter so the little deltas weren't slipping through the air at the incredible speeds we saw earlier. Still, they were smooth, carving many straight lines as well as curves in the air.
That's about it on the stunt kites in 2008 that we saw at the festival.

---
E-book special of the month (
25% off

)...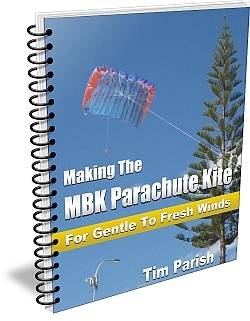 This printable e-book takes you step-by-step through making a 119 cm (4 ft) wide Parachute kite. It's not quite that wide in the air since the canopy takes on a distinct curved shape when inflated. This 14-cell kite performs best in moderate to fresh wind speeds. That's 20 to 38 kph or 13 to 24 mph. In gentle winds, this kite will hang in the air at fairly low line angles. In fresh winds, it pulls firmly for it's size, so small kids should only fly it while supervised!
Every kite design in the MBK Soft Series satisfies the following points...

Materials are plastic sheet, tape and line – and nothing more!
Tools are a ruler, scissors and a marker pen - and nothing more!
All cuts are along straight lines.
For the greatest chance of success, I make recommendations regarding the materials. For example, the type/weight of plastic, type/width of tape and line type/strength. Close enough should nearly always be good enough, since the design is well-tested and should be tolerant of small differences from my original.
Get the e-book for making the MBK Parachute kite. After making your first one in plastic and seeing how it performs, you can try soft Tyvek or rip-stop nylon for your next build.

The e-book is a PDF file - which means printable instructions to refer to while you make the kite. It also means convenient off-line access if that suits you better.

Aug 23, 17 06:00 AM

This previously published page gives a quick insight into the structure and materials of the original 'War Kites' by Samuel Cody. Plus some history and photos of course. Intriguing stuff...
---
---
Return to Adelaide Events from Stunt Kites In 2008

All the way back to Home Page