Murray Bridge Kite Festival 2016

Sunny And Windy!

It took a while to become apparent, but the weather forecast was fairly accurate... The Murray Bridge Kite Festival 2016 experienced increasing wind strength through the morning and into the early afternoon. Mixed into the mostly sunny weather was a couple of dead periods which saw nearly all the kites descend to the grass.
The big red Gecko
Quite a number of AKFA (Adelaide Kite Flyers Association) members were kept busy helping the public with their kites and also keeping an eye on some of the bigger show kites on display. The most prominent of these would have to have been the big red parafoil suspending a large red Gecko inflatable. This duo was the center-piece to the whole show really, literally and figuratively.

As usual, there was a plethora of small Deltas and Diamonds. Stunt kites were also in evidence, revelling in the ample breeze strength later in the day.

Particularly in the morning, many first-time kite fliers had to be coaxed out of the wind shadow of tall trees. Once closer to the middle of the field, they found it a lot easier to succeed with launching their new kites!
---
Intrepid Local Fliers

Some of the local fliers were much more ambitious than typical new kite fliers. An incredibly long and strikingly realistic Cobra kite put on a great show, after some initial troubles in strong gusts. There it is in the video below! It consisted of a parafoil-based head section attached to a long and flowing flat tail...
NOTE: Video views from this website don't appear to be counted.
Later, another local flier put up a very large and noisy Delta 2-liner. Visual and aural entertainment for all who were still at the Murray Bridge Kite Festival 2016! What a pity I didn't get around to capturing it on video. Large stunters like these were popular in the 80s and 90s.

---
Retail Kites At The
Murray Bridge Kite Festival 2016
From time to time, as the skyscape of flying kites changed, I took a few photos to capture the variety.
I've only mentioned some highlights so far, but here are images of a few more kites that we saw on the day. Each thumbnail image below is clickable so you can fill your desktop or tablet screen with a much larger version...

---
Our Kites At The
Murray Bridge Kite Festival 2016

We brought a small selection of kites to the event, designed to cope with the expected wide range of wind speeds on the day. The wind certainly got 'wild and woolly' at times, testing all our kites to the limit.
Strong thermal activity got going in the late morning. A large group of hawks was observed climbing away in rising air, high above all the kiting action. A lone pelican also cruised through at low level.

MBK Soft Sled
First up, in the rather light and variable mid-morning breeze, was the MBK Soft Sled. A 60cm (2ft) tall kite based on the popular Pocket Sled which relies on pressure-filled cells instead of rigid spars to keep the kite in shape while flying.
The Soft Sled had a good series of flights despite getting hung up on another flying line as wind conditions became more chaotic.
Not long after the Soft Sled went up, a small 25cm (10") tall version was launched. This was actually made first, to check the concept of using straight line cuts only plus plastic and tape construction.
Today, the tiny kite again proved itself as it flitted about on the end of a 20 pound Dacron line. On a thin, long line, such a kite gives the impression of something flying much higher up!
My ultimate aim for the day was to put up a long and impressive train of Multi-Fly Diamonds. However, by early afternoon the winds were gusting very strongly and it was decided to fly just two kites on the one line. A good decision it turned out to be, since the top kite soon started performing wide loops! Some extra tail would have settled it somewhat. But at this point the mini-train was taken down as a couple of us went to the aid of a stranded Pterodactyl kite in a tree...

In preparing for this event there were also thoughts of putting up a camera to take some aerial shots. Our Fresh Wind Barn Door kite was in the car. However, I wasn't keen to loft the trusty Canon Optio in such rough air. Better to quit while ahead!
---
Finally, here's a pan-around video showing a number of kites floating over the field or being handled on a short line...

NOTE: Video views from this website don't appear to be counted.
---
E-book special of the month (
25% off

)...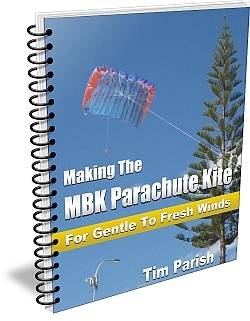 This printable e-book takes you step-by-step through making a 119 cm (4 ft) wide Parachute kite. It's not quite that wide in the air since the canopy takes on a distinct curved shape when inflated. This 14-cell kite performs best in moderate to fresh wind speeds. That's 20 to 38 kph or 13 to 24 mph. In gentle winds, this kite will hang in the air at fairly low line angles. In fresh winds, it pulls firmly for it's size, so small kids should only fly it while supervised!
Every kite design in the MBK Soft Series satisfies the following points...

Materials are plastic sheet, tape and line – and nothing more!
Tools are a ruler, scissors and a marker pen - and nothing more!
All cuts are along straight lines.
For the greatest chance of success, I make recommendations regarding the materials. For example, the type/weight of plastic, type/width of tape and line type/strength. Close enough should nearly always be good enough, since the design is well-tested and should be tolerant of small differences from my original.
Get the e-book for making the MBK Parachute kite. After making your first one in plastic and seeing how it performs, you can try soft Tyvek or rip-stop nylon for your next build.

The e-book is a PDF file - which means printable instructions to refer to while you make the kite. It also means convenient off-line access if that suits you better.

Aug 23, 17 06:00 AM

This previously published page gives a quick insight into the structure and materials of the original 'War Kites' by Samuel Cody. Plus some history and photos of course. Intriguing stuff...
---
---
Return to The Adelaide Kite ... from Murray Bridge Kite Festival 2016