Large Kites
You Mean Big Or Positively Giant?
Without delving into too much detail about specific large kites, here's a few notes about the very biggest such creations in the world. But just before I start on that, here's a photo of the biggest kite my family has seen so far, a Blue Whale inflatable...
Several Asian cultures have been flying truly enormous kites for centuries. For example, in Japan, rectangular giant kites are flown on special occasions. Each kite has dozens of lines attached all over its face. A large team of men is required to hold the lines as the kite soars up in a fresh breeze. These are not light-wind kites!
Peter Lynn the well-known kite designer has created several very large 'soft' kites that compare in size to an entire football field! These have been flown at various International Kite Festivals around the world. In contrast to the Japanese giants, these kites require relatively light, smooth winds.
Big kite festivals almost always feature impressively sized inflatable kites which are popular with the crowds. The most common theme seems to be sea creatures. This has a lot to do with the intriguingly realistic movement these kites exhibit as they gracefully distort and sway in the air. The impression is like swimming. Although not a real creature, my favorite was an extremely detailed and long Dragon inflatable which I saw at the Adelaide International Kite festival in March 2009.
Now, something like this
9-ft. Teknacolor Delta kite
would qualify as a 'large kite' for you or me to own and fly, I'm sure! I have a home-made Delta of similar size and it has no trouble pulling most of the bow out of a 200 pound Dacron line in light to gentle breezes.
---
Costs Of Large Kites
Size alone doesn't determine price. However, for a given kind of kite, this is true since the costs of materials goes up with increasing size. If the wing span is doubled, the total sail area is 4 times greater. Complexity is another factor. Some of the single-line parafoils require huge numbers of stitches, and have complex bridles. Hence the labor costs push up the prices of these big kites.
A few general categories regarding cost...
For just a few dollars, you can put together your very own impressively sized single-line kites from widely available materials. For example, the largest of our own MBK designs which you might have bumped into in the Kite Making section of this site. This approach is probably more about the fun of building rather than saving money. It's satisfying to see your own large kites up there!
For around the $10 - $20 dollar mark, kite shops will sell you some reasonably big mass-produced kites. Obviously, for this price, great build quality and performance cannot be guaranteed! It's not much to pay for an introduction to the hobby though.
Quality kites from shops, whether single-line or multi-line, can cost a lot more. Talk to the sellers to find out the strengths and flying characteristics of a particular kite. The inflatables stand out as the most impressive and expensive kinds of kites. Don't try hand-flying one of these on its 500lb line!
Finally, there are a fairly small number of dedicated craftsmen out there who produce and sell their own specialized designs. These guys tend to be known for just one kind of kite. For example, Codys, Roks or Deltas. While these large kites are small enough to be hand-flown by an adult, prices can still be in the 100s of dollars. In some cases you are paying for dozens of hours of skilled art-work. In other cases, top-quality materials and superbly accurate construction explains the cost.
Here's a photo of one of those inflatables mentioned earlier. It's a Maxi Ray by Peter Lynn. The size isn't evident from the photo, so here are the figures - spans 9.8 meters (32 feet) and is 29 meters (96 feet) long!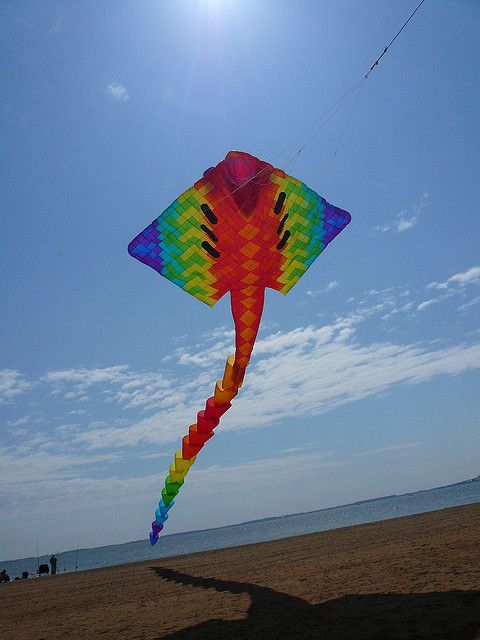 Photo courtesy of Jeffrey Burka.
---
Owning Large Kites

Let's consider what owning large kites might mean. Four things came to my mind ...
You won't be able to fit it in your car when fully rigged. Hence, it should break down to a manageable package. Parafoils just stuff into a bag. Easy Peasy.
The kite will pull strongly in moderate breezes and become a real handful in fresh winds. Of course, if you are into flying big stunt kites, this might be half the fun!
The impressive size and perhaps colorful design will be sure to draw attention. Particularly if you are flying an inflatable creature kite of some kind. I wonder if these are some kind of kiting status symbol - they sure cost a bit.
It might cost quite a bit, but some sizeable single-liners are surprisingly cheap...
That list at the top also touches on 4 common types of large kites...
Single-line parafoils or flow-forms. Li-lo's (inflatable mattresses) in the sky!
Single line Deltas or other flat and bowed types such as Rokkakus.
Dual-line Delta stunt kites. Very popular!
Those incredible inflatable creatures you see at kite festivals. Actually, many of these are made in smaller sizes too, bringing the costs down a lot.
Talking of single-line Deltas, the
9-ft. Teknacolor Delta kite
supplies Delta performance and an eye-catching colorful appearance for a reasonable price tag.
You might have noticed that this site has a monthly newsletter...
For single-line kite fliers and builders, it's always been a good read. But if you are interested in KAP and/or large home-made kites you won't want to miss it!

So sign up today, and download the free 95-page e-book "What Kite Is That?" straight away. Info-packed and fully photo-illustrated.
And there are even more free resources, such as a kite-making e-course, waiting for you in the next issue of this newsletter.

Sep 23, 14 01:22 AM

This day's flying had been anticipated for at least a couple of weeks. A 'drag bucket' added to the tail end of the 2m (7ft) span Carbon and Tyvek Diamond was an attempt to raise the upper limit on the flyable wind speed for the kite. From earlier experiences it seems the unmodified Diamond becomes unstable at around 30 kph.

The first flight was done with the drag bucket adjusted for fairly minimal effect. As half expected, the kite soon started to fly way over to the left and right. So, the wind speed up there must be at least 30kph! This was down at Brighton Beach, but all thoughts of doing KAP soon evaporated, due to the high wind speed. Not to mention the turbulence coming from some high buildings directly upwind.

For a second attempt, the Velcro fastener was re-adjusted to considerably open up the intake of the bucket. The bucket being two Tyvek flaps which come together over the tail-most region of the sail. This had an immediate effect. More stability! Unfortunately, the extra drag also helped keep the kite at a lowish line angle in some of the fiercer gusts. Lots of line tension ensued, with a huge amount of distortion apparent in the sail.

At this rate, something was going to break pretty soon, so I struggled to get the kite down to the sand. After shifting the towing point forward by about 3cm (1") the kite seemed a little more comfortable. When the sail of a Diamond distorts badly, it reduces the amount of effective area below the towing point. This is like shifting the towing point back - adding to the problems of too much wind!

And then the inevitable happened. The already broken-and-repaired horizontal ferrule gave way and the kite promptly folded up and sank to the sand. But not before I had carefully observed every second of the kite's struggles, trying to learn more about Diamond kite behavior in high winds.

Just an hour after arriving home, the weather station at the nearby airport was reporting gusts to 50kph! It was less further down the coast, but I suspect the Carbon Diamond felt the brunt of around 40kph for at least a few seconds at a time.

"Simplest Dowel Kites": A free but very useful kite-making e-book. Make a super-simple Sled, Diamond and Delta - step-by-step with photos. Sign up for the e-book and get an emailed series of messages called "MBK Tips'n'Ideas". If you don't need the e-book, consider signing up anyway... You won't believe the value on offer in that message series!
---
---
Apologies for this site's current lack of video when viewed on mobile devices...
For now, please view this site on a Desktop or Laptop computer to see the videos. And there's plenty of them!

Return to Paper Kites from Large Kites

All the way back to Home Page