At A Chinese Kite Festival
... East Meets West
In some locations, a Chinese kite festival is a massive event complete with opening ceremony. Amazing eye-candy from all parts of the globe! Although China is not known for its kite festivals in the same kind of way as the U.S., it does have a small number of large and elaborate events which show off the incredible craftsmanship and artistry of Chinese kites.
Check out this
traditional Dragon kite
on Amazon and you will start to see what I mean.
Major kite festival activity in China could be summed up in 3 words...
Weifang, Beijing and Tianjin.
Also, some other less known events occur on a regular basis in other parts of the country.
Of course, China has a very long history of kite-flying so a massive amount of this activity happens all year round in parks, fields and beaches. Many Chinese fliers sporting gray hair have been enjoying the hobby since childhood.
---
What kind of flying creations are you likely to see at a Chinese kite festival? Well, besides the imported modern styles of the West, there is plenty of exposure for the traditional hard winged, soft winged and centipede style kites.
The hard winged variety have thin bamboo frames which totally surround the paper or silk sails. These come in an almost infinite range of designs which represent creatures, often with stunning realism. Just have a look at that bird kite in the picture below! The kite was bought by a French traveler, while passing through Tiananmen square in Beijing.
The soft winged variety also look like creatures, but some areas of the sails are free to billow in the wind. Like the Western Delta kite, but with more variety of form.
Last, but definitely not least, are the centipede kites. The most well known of these is of course the Dragon kite. A magnificent complex head piece, with a tail of many smaller flat kites that sometimes can stretch for hundreds of feet into the air! Absolutely spectacular.
Expert fliers in China can make a single-string bird kite behave realistically in the air. Hovering, climbing and swooping. This contrasts to Western kite festivals where it's mainly the inflatable sea creatures that exhibit realistic movement in the air.
The joy of flying kites is much the same the world over, and the largest Chinese events attract some of the cream of Western fliers and their creations. Sport kites, large inflatables, arty creations of carbon fiber and rip-stop nylon, all of these can be seen at a large Chinese festival of kites.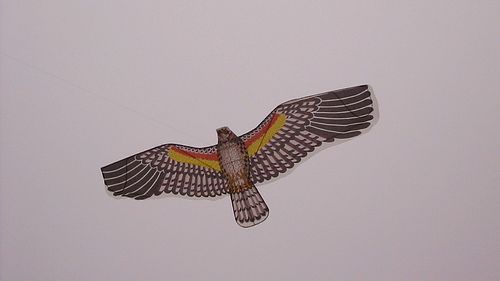 Photo taken at a Chinese kite festival, courtesy of Olivier
---
Chinese Kite Festival Survey
Some brief facts and figures...

Weifang International Kite Festival
Where: Shandong Province, eastern China
When: April 20-25 every year
Weifang has been a kite-making center for over 600 years! It claims to be the biggest kite festival in the world. Also noteworthy is the world-famous Weifang Kite Museum.
Beijing International Kite Festival
Where: north China
When: April each year
This city has been a kite-making center for over 100 years. Examples of kites from this entire period are put on show, besides all the modern kites from East and West. Large numbers of tourists attend this event since the city is well known for many other festivals and events.
Tianjin Kite Festival
Where: north-east China
When: Early April or late September, each year, for 2 days.
Yangjiang International Kite Festival
Where: Guangdong Province, southern China
When: October each year.
Guiyang International Kite Festival
Where: south-west China
When: April or May each year.
Yanqi Kite Festival
Where: An outer suburb of Beijing, north China
When: April each year.
---
E-book special of the month (
25% off

)...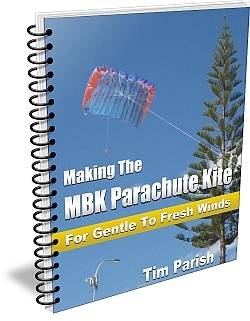 This printable e-book takes you step-by-step through making a 119 cm (4 ft) wide Parachute kite. It's not quite that wide in the air since the canopy takes on a distinct curved shape when inflated. This 14-cell kite performs best in moderate to fresh wind speeds. That's 20 to 38 kph or 13 to 24 mph. In gentle winds, this kite will hang in the air at fairly low line angles. In fresh winds, it pulls firmly for it's size, so small kids should only fly it while supervised!
Every kite design in the MBK Soft Series satisfies the following points...

Materials are plastic sheet, tape and line – and nothing more!
Tools are a ruler, scissors and a marker pen - and nothing more!
All cuts are along straight lines.
For the greatest chance of success, I make recommendations regarding the materials. For example, the type/weight of plastic, type/width of tape and line type/strength. Close enough should nearly always be good enough, since the design is well-tested and should be tolerant of small differences from my original.
Get the e-book for making the MBK Parachute kite. After making your first one in plastic and seeing how it performs, you can try soft Tyvek or rip-stop nylon for your next build.

The e-book is a PDF file - which means printable instructions to refer to while you make the kite. It also means convenient off-line access if that suits you better.

Aug 21, 17 03:11 AM

The local kite club bought a load of second hand gear - including kites - from interstate some months ago... With the power supposedly being cut sometime between 8am and 3pm today, it was an opportuni…
---
---
Return to Been To A Kite Festival? from At A Chinese Kite Festival

All the way back to Home Page