At A Chinese Kite Festival
... East Meets West
In some locations, a Chinese kite festival is a massive event complete with opening ceremony. Amazing eye-candy from all parts of the globe! Although China is not known for its kite festivals in the same kind of way as the U.S., it does have a small number of large and elaborate events which show off the incredible craftsmanship and artistry of Chinese kites.
Check out this
3D Chinese Dragon Kite
on Amazon and you will start to see what I mean.
Major kite festival activity in China could be summed up in 3 words...
Weifang, Beijing and Tianjin.
Also, some other less known events occur on a regular basis in other parts of the country.
Of course, China has a very long history of kite-flying so a massive amount of this activity happens all year round in parks, fields and beaches. Many Chinese fliers sporting gray hair have been enjoying the hobby since childhood.
---
What kind of flying creations are you likely to see at a Chinese kite festival? Well, besides the imported modern styles of the West, there is plenty of exposure for the traditional hard winged, soft winged and centipede style kites.
The hard winged variety have thin bamboo frames which totally surround the paper or silk sails. These come in an almost infinite range of designs which represent creatures, often with stunning realism. Just have a look at that bird kite in the picture below! The kite was bought by a French traveler, while passing through Tiananmen square in Beijing.
The soft winged variety also look like creatures, but some areas of the sails are free to billow in the wind. Like the Western Delta kite, but with more variety of form.
Last, but definitely not least, are the centipede kites. The most well known of these is of course the Dragon kite. A magnificent complex head piece, with a tail of many smaller flat kites that sometimes can stretch for hundreds of feet into the air! Absolutely spectacular.
Expert fliers in China can make a single-string bird kite behave realistically in the air. Hovering, climbing and swooping. This contrasts to Western kite festivals where it's mainly the inflatable sea creatures that exhibit realistic movement in the air.
The joy of flying kites is much the same the world over, and the largest Chinese events attract some of the cream of Western fliers and their creations. Sport kites, large inflatables, arty creations of carbon fiber and rip-stop nylon, all of these can be seen at a large Chinese festival of kites.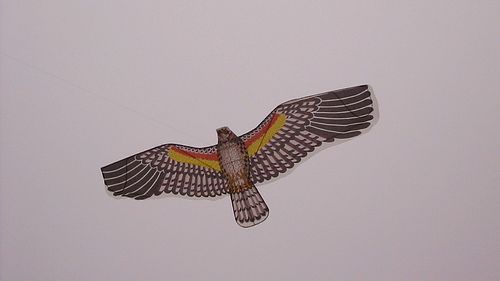 Photo taken at a Chinese kite festival, courtesy of Olivier.
---
Chinese Kite Festival Survey
Some brief facts and figures...

Weifang International Kite Festival
Where: Shandong Province, eastern China
When: April 20-25 every year
Weifang has been a kite-making center for over 600 years! It claims to be the biggest kite festival in the world. Also noteworthy is the world-famous Weifang Kite Museum.
Beijing International Kite Festival
Where: north China
When: April each year
This city has been a kite-making center for over 100 years. Examples of kites from this entire period are put on show, besides all the modern kites from East and West. Large numbers of tourists attend this event since the city is well known for many other festivals and events.
Tianjin Kite Festival
Where: north-east China
When: Early April or late September, each year, for 2 days.
Yangjiang International Kite Festival
Where: Guangdong Province, southern China
When: October each year.
Guiyang International Kite Festival
Where: south-west China
When: April or May each year.
Yanqi Kite Festival
Where: An outer suburb of Beijing, north China
When: April each year.
You might have noticed that this site has a monthly newsletter...
For single-line kite fliers and builders, it's always been a good read. But if you are interested in KAP and/or large home-made kites you won't want to miss it!

So sign up today, and download the free 95-page e-book "What Kite Is That?" straight away. Info-packed and fully photo-illustrated.
And there are even more free resources, such as a kite-making e-course, waiting for you in the next issue of this newsletter.

Sep 17, 14 06:33 AM

Well, it was the same reserve and a similar time of day. A bit closer to sun-down perhaps. Only the kite was different - the Dowel Barn Door kite this time, chosen to suit the 'gentle' strength wind gusts of between 15 and 20 kph.

The first flight went well, with the kite soaring straight up on around 45 meters (150 feet) of line. The late afternoon sun glinting off the panels as the kite moved about at steep line angles. In the gusts and lulls, the kite had a tendency to pull to the right at times.

As I was taking the kite down to do a bridle adjustment, the main problem became apparent. The horizontal spar had pushed through the tip-tape on the right corner of the sail, drastically reducing the sail area to the right of center. It was actually surprising how well the kite was still flying, given the gross problem with the sail!

On a second flight, with the tip repaired, there still appeared to be a slight pull to the right. So, after taking some video footage of the Barn Door's antics, it was brought down once again. This time the bridle knot was taken across by about a centimeter (1/2"). That was better! The 1.2 meter (4 feet) span pale orange kite shot right back up, showing much less tendency to pull across when under pressure.

After some more video was taken, with the kite soaring around almost directly overhead at times, it seemed safe enough to let out more line. It was surprising to feel the flying line touching my jeans while it was anchored under-foot! How much rising air can there be at this time of day? At the time I was concentrating on keeping the wandering kite in-frame as I took video.

Finally, after enjoying the kite doing its thing on over 60 meters (200 feet) of line, it came time to pull the Dowel Barn Door down. When within 30 feet or so of the ground it started to float and sink face-down. Then it was an easy matter to pull in the remaining few meters of line, keeping the kite flying until the bridle lines were in hand.

Weather stations were reporting around 10kph average wind speeds with gusts almost to 20kph.

"Simplest Dowel Kites": A free but very useful kite-making e-book. Make a super-simple Sled, Diamond and Delta - step-by-step with photos. Sign up for the e-book and get an emailed series of messages called "MBK Tips'n'Ideas". If you don't need the e-book, consider signing up anyway... You won't believe what's on offer in that message series!
---
---
Apologies for this site's current lack of video when viewed on mobile devices...
For now, please view this site on a Desktop or Laptop computer to see the videos. And there's plenty of them!

Return to Been To A Kite Festival? from At A Chinese Kite Festival

All the way back to Home Page