Which Bird Kite For You?
From America, Bali or China
Flying a bird kite is a very old idea. That doesn't stop Chinese kite makers and others from turning out endless variations!
In 2010, you are most likely to find these kinds of kites for sale from
The thriving kite-making industry in Bali, Indonesia
Exporters of traditional kites from China
U.S. children's kites manufacturers
Bird-like kites fall neatly into 2 categories. 2D (2-dimensional) and 3D (3-dimensional).
2D designs are more-or-less flat kites which have an outline resembling a bird. Hawks and eagles are popular, since they are soaring birds. An image of that bird is applied to the sail. This could be hand-painted in a remote village or the result of the latest material-printing technology in a factory. The main thing is, when in flight, there is no mistaking what it is supposed to be!
3D designs go a bit further to represent a living bird more accurately, by molding the shape of the head and body. Some examples even attempt to copy the flapping motion of the bird in flight! Interestingly, even some ancient Chinese kites fall into this rather clever category.
Designing kites to look like birds is an idea that pops up in many, if not most, kite-flying cultures. Even if it's just an image of a bird or bird's head on a large flat kite of some type. Ok, I guess that's a third category!
The attraction is obvious. It looks like a bird, birds fly extremely well, so hopefully so does the kite.

For a top-of-the-range example of what is available online, check out the
George Peters' Sky Bird
. Now
that's
a bird kite!
---
Bird Kites From Bali
This small island in Indonesia, just to the north-west of Australia, is home to a thriving artistic community. Wares from this location are widely available online.
2D and 3D kites of various birds are a popular choice for the artisans, who make them collapsible for transport. These are made in large numbers, and are also known as 'tourist kites' since most of them leave Bali in the cargo holds of commercial aircraft! The art-work is typically very vivid and colorful. Like many Chinese creature kites, the Balinese manage to achieve almost photo-realistic results with their hand-painted decoration.
Parachute fabric is used to cover the bamboo frames for many of the tourist kites in Bali. Rayon or nylon from other sources is also used.
---
The Chinese Bird Kite
Of course this is just one tiny category in the enormous range of traditional Chinese kite types.
The outline of the head, wings and tail are constructed from thin strips of bamboo. These are expertly formed into the required curves to match the outline, and attached with glue.
Next, the hand-painted sail is attached to the frame and trimmed where necessary. Finally, the bridle line(s) are attached to the frame. Unlike Western factory kites, many of these are made-to-order, and individually test-flown to ensure satisfaction.
Most of these kites seem to be 2D, although with details such as the head and claws cleverly painted to look 3D from a distance.
Dozens and sometimes hundreds of people at a time gather in one spot to fly kites, in many Chinese cities. In good weather, parks, reserves and other open spaces fill with people of all ages enjoying the relaxing hobby of flying single-liners.
---
The Western Shop-Bought Bird Kite
These are mainly aimed at children, and most are probably not great fliers by traditional standards. We've seen one of these occasionally, but not flying at any great height! No doubt some are better than others. If it flies at all, in a moderate breeze, the kite is probably doing a good job from a child's perspective!
These kites typically use nylon spars and also nylon cloth for the sails. Sometimes Tyvek, another durable modern material, is used for the sails. Mass-production techniques are used for applying colors and patterns to the sails. Often, tails are required for stability, and these are designed to appeal visually to the kids as well.
Here's a somewhat comical example, which seems to be flying quite successfully without a long flowing tail...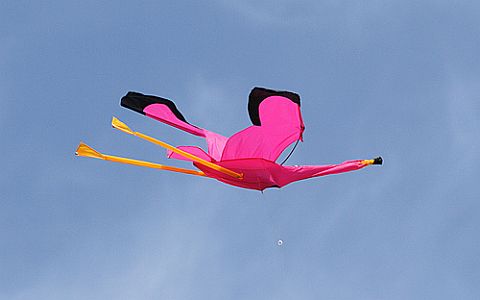 Photo courtesy of Michael Pereckas
---
E-book special of the month (
25% off

)...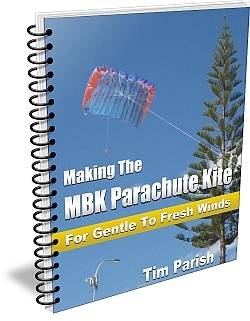 This printable e-book takes you step-by-step through making a 119 cm (4 ft) wide Parachute kite. It's not quite that wide in the air since the canopy takes on a distinct curved shape when inflated. This 14-cell kite performs best in moderate to fresh wind speeds. That's 20 to 38 kph or 13 to 24 mph. In gentle winds, this kite will hang in the air at fairly low line angles. In fresh winds, it pulls firmly for it's size, so small kids should only fly it while supervised!
Every kite design in the MBK Soft Series satisfies the following points...

Materials are plastic sheet, tape and line – and nothing more!
Tools are a ruler, scissors and a marker pen - and nothing more!
All cuts are along straight lines.
For the greatest chance of success, I make recommendations regarding the materials. For example, the type/weight of plastic, type/width of tape and line type/strength. Close enough should nearly always be good enough, since the design is well-tested and should be tolerant of small differences from my original.
Get the e-book for making the MBK Parachute kite. After making your first one in plastic and seeing how it performs, you can try soft Tyvek or rip-stop nylon for your next build.

The e-book is a PDF file - which means printable instructions to refer to while you make the kite. It also means convenient off-line access if that suits you better.

Aug 23, 17 06:00 AM

This previously published page gives a quick insight into the structure and materials of the original 'War Kites' by Samuel Cody. Plus some history and photos of course. Intriguing stuff...
---
---
Return to Paper Kites from Which Bird Kite For You?

All the way back to Home Page