Adelaide Kite Festival 2012
Lots Of Parafoils, Lots Of People
Great weather was a bonus this year, at the Adelaide Kite Festival 2012. This time there was a larger than ever assortment of flat single-line Parafoils. The bright solid colors suited them better than fancy graphics since they lacked the conveniently flat canvas of most sticked kites.
Some of the Parafoils looked distinctly Sled-like with 1 large keel at each wing tip. In fact, at one point it seemed that the commentator actually referred to them as 'Sleds'. I won't get into an argument about definitions here though...
The photo down there, giving an overall impression of the Adelaide Kite Festival 2012, is the only one on this page. It was selected because almost every type of kite and windsock flying in the official area north of the jetty is represented...
Rigid-sparred kites
Single-line parafoils
Diamond kites in an arch
Inflatable kites in a variety of sizes
Fancy line-laundry - 3D creatures and spinning windsocks
Ground-based wind art
Yes, that's Aren next to me, and I have no idea what he was pointing at... Perhaps a Parachuting Teddy about to pull the rip-cord!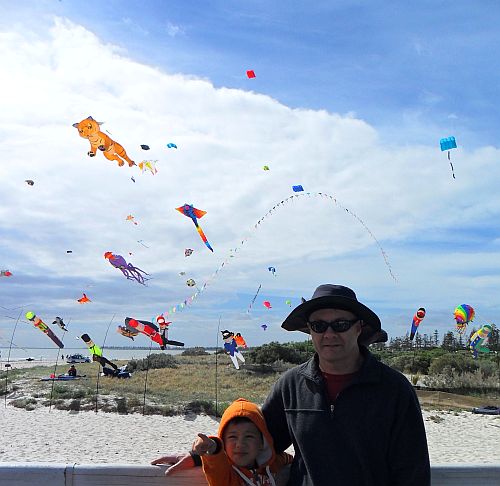 At the Adelaide Kite Festival 2012 -
kites on the North side of Semaphore jetty
Apart from the photo, my approach this time is to feature 16 quite short (5 second) movie clips. Plus a longer and larger panoramic clip right down at the bottom of this page. There is no particular theme or selection criteria - they just aim to give you a good impression of what went on. Some are close-up, others fit many kites into the viewfinder.
---
Adelaide Kite Festival 2012 In Motion
These clips were selected and extracted from over 40 digicam movies of half a minute or so duration each. Hope you enjoy these highlights! They were taken over the Saturday and Sunday afternoons in the order in which they appear...

SATURDAY AFTERNOON...


The wind strength was fairly light around the middle of the day, but strengthened to quite fresh for a short period in mid-afternoon. This increase made a noticeable difference for the largest kites, powering them up much higher.
| | |
| --- | --- |
| A big fat Tasmanian Devil windsock, held aloft by a large blue lifter parafoil. | Impressive kite arch of small Diamonds, which snaked around and stayed up there for ages. |
| Definitely a humorous feast for the eyes, this scuttling crab inflatable! Quite a large kite too. | This frill-necked lizard was a stand-out amongst the big inflatables. Large and yet exquisite. |
| Attractive big Power Sled. Its complex and colorful geometric patterns contrast with the understated Delta design nearby. | A quad-line stunt kite does its thing amongst the single-line scenery all around. I'm not a stunter man, but it's probably a Rev... |
| Ready for more hilarity? These inflatable MnMs (!) have stabilizing structures below them, cleverly disguised as legs. The short arms are purely for looks I'd say. | The famous Parachuting Teddy! Play /pause your way through this release / inflation sequence. He bangs out like a fighter pilot who's pulled the Eject handle. |
SUNDAY AFTERNOON...


With the wind blowing in from the West on this day, most of the kite lines in the official area were lined up with the jetty. Thus keeping the kites much closer to the jetty than on Saturday. Convenient for everyone capturing the Adelaide Kite Festival 2012 with their digital cameras and video gear...
| | |
| --- | --- |
| Another view of the long kite arch of small Diamonds. This time, few other kites are in the picture. | In previous years, the biggest and most striking kite was probably the Killer Whale. But now they have been eclipsed by the large and long Blue Whale! |
| A Peter Lynn Manta Ray inflatable. Eye-catching from a long way off due to the splashes of color and the long tail. | Watch this quad-line stunt kite expertly swoop around against a backdrop of big single-liners and line laundry. |
| We Aussies are less inclined than some to put our flag on things. This Aussie Flag Delta (top-right of center) is an exception. | Now here's something you don't see every day - a Tumbling Cellular kite. A unique kind of single-line stunter! |
| I managed to get myself right in the path of a Lolly Drop. One of many on the day. With my free hand, I managed to snag one of these lollies (candy) for my 6 year old Aren. | The traditional Adelaide Kite Festival Rok Battle. Most of the little white Rokkaku fighters are in the frame. Each was painted with a number, in both Japanese and English. |
---
Panorama From The End Of The Jetty
There they all are. This footage of the Adelaide Kite Festival 2012, showing almost all of the 'official' kite cloud was taken on Saturday afternoon. My wife liked the Tasmanian Devil windsock, while I preferred the 2 nice big high-tech Cody kites. And as for Aren - the lolly drops of course!
---
E-book special of the month (
25% off

)...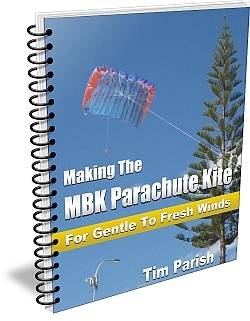 This printable e-book takes you step-by-step through making a 119 cm (4 ft) wide Parachute kite. It's not quite that wide in the air since the canopy takes on a distinct curved shape when inflated. This 14-cell kite performs best in moderate to fresh wind speeds. That's 20 to 38 kph or 13 to 24 mph. In gentle winds, this kite will hang in the air at fairly low line angles. In fresh winds, it pulls firmly for it's size, so small kids should only fly it while supervised!
Every kite design in the MBK Soft Series satisfies the following points...

Materials are plastic sheet, tape and line – and nothing more!
Tools are a ruler, scissors and a marker pen - and nothing more!
All cuts are along straight lines.
For the greatest chance of success, I make recommendations regarding the materials. For example, the type/weight of plastic, type/width of tape and line type/strength. Close enough should nearly always be good enough, since the design is well-tested and should be tolerant of small differences from my original.
Get the e-book for making the MBK Parachute kite. After making your first one in plastic and seeing how it performs, you can try soft Tyvek or rip-stop nylon for your next build.

The e-book is a PDF file - which means printable instructions to refer to while you make the kite. It also means convenient off-line access if that suits you better.

Aug 22, 17 06:00 AM

Metallic kite flying line and electricity grids don't mix well... ---------------------------------------------------------------- NEW DELHI: Independence Day is here and kites have returned to add co…
---
---
Return to The Adelaide International ... from Adelaide Kite Festival 2012

All the way back to Home Page