---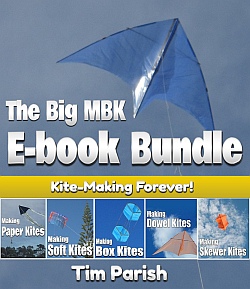 On this site, there's more kite-making info than you can poke a stick at :-)
Want to know the most convenient way of using it all?

The Big MBK E-book Bundle is a collection of downloads—printable PDF files which provide step-by-step instructions for many kites large and small.
Every kite in every MBK series.
---
First, some questions were directed to Peter: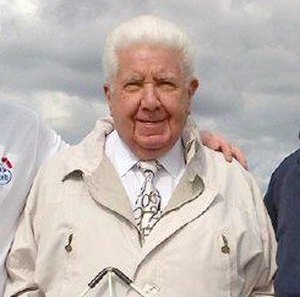 Peter Powell
1. What can you remember about the very first kites you flew, either homemade or store bought?

It was the early 60s and I was trying to help my young cousin fly his new kite—a traditional-shaped cloth kite with a string tail. I was in my twenties. The wind was wrong (either too low or too high) and he was so disappointed. From that moment forward I became obsessed with creating a kite that would fly in any wind.

2. Were you at all influenced by the Air-o-bian steerable box kite (designed in the 1930s) or the Garber aerial-gunnery target kite (a large steerable diamond from the 1940s)? Were there any other influences?

I had never heard of them at that time – however, I soon learnt lots about kiting. One of the key differences of the Peter Powell kites was that they had to be foldable because I had to walk along a busy main road to get to the King George V Playing Fields where I tested my kites. My kite was the traditional diamond shape but the added flex to be able to fold it also assisted greatly in high winds.


3. Tell us a little about the day you carved arcs in the sky with the very first ramin-and-plastic prototype! What happened and how did you feel?

Following the breakthrough one night where I realised the possibility of removing the centre line on the three-line kite (see question five below), I toiled over the potential problem of when the kite turned into a dive, would the controls be reversed? How easy would it be to fly in this way? At that point I had no idea, as I was entering unknown territory.
Other questions went though my head – if it was too difficult to control, would people buy it? Other concerns were what would happen when the lines became crossed over as the kite looped over and over? Would the line lock and then not be able to used to fly and direct the kite?
The day I attempted to answer these questions was actually over a large cabbage patch. To my greatest relief the kite controls behaved intuitively and not reversed. The lines did not lock together and the kite did indeed carve arcs in the sky – the anxiety was relieved – it flew!


4. Could you share a couple of your favourite anecdotes from the days when you advertised your kites by flying them at the Paignton seafront in England? What were some of the most memorable reactions from onlookers?

It started with an exhibition being held in Paignton. To help promote the event I launched one of my 6-foot single-line kites high into the sky, almost out of sight. Then, with a pulley located halfway up the line, a second line was connected to a large sausage-shaped aerial-advertising windsock with a knot in the one end. I had painted a message about the exhibition in white paint along the large sock then hoisted it high into the sky.
With some small slits down one side, a never-seen-before message barrel rolled slowly into the sky with no visible means of support.
I then went further along the coast in Torquay and again created this spectacle – the crowds grew and grew and I remained undiscovered for over four hours. That was enough time for me to call the local press office and tell them to look out of their windows to see some magic unfolding in the sky – suffice to say we made the evening news.
Another favourite memory was when I was in New York on the national television programme 'Today'. I flew my kite over the Hudson River, leaving a trail of falling water behind it as it soared skywards, before commencing a display. The US loved it – it was a very memorable day.


5. Did the immense popularity of your kite build up slowly right from the first release, or was it a later version that suddenly took off? Summarize your experiences and feelings as your enterprise gathered pace up to the mid 1970s.

It was years of work! Two years after I started I patented my first 6-foot kite – then went for a world record of highest-flying kite on Salisbury Plain. The lines snapped and I lost the kites.
After that, I decided to go bigger so made 30-foot kites and went for the man-carrying record that was then 3,000 feet. I sat 70-year-old Mary Hardy on a swing seat and suspended her from seven kites in front of the BBC camera. She became a world-famous figure overnight and was presented with the Charlie Chester Award for bringing such amusement to the headlines.
After that, I went on to make many other models but the breakthrough happened when I was flying one of my 6-foot kites; I noticed a list to one side which I tried to correct by attaching a separate line to the other side. Pulling gently corrected the list; pulling harder caused the kite to loop. Just for fun, I attached a third line and could now loop the kite to right or left but not much else. The breakthrough came one night when I thought about removing the centre line.
From then on it took two years of perseverance, hard work, burning the midnight oil and making many prototypes and the 4-foot steerable stunt kite was born.
Sales for this model really caught on when I attached the self-inflatable streamer, and even more when several kites were linked together for formation flying. In 1975/6 the producers of BBC Nationwide drove the country kite-crazy with a program about my stunt kites.


6. Does any particular kite festival or other event stand out, where stacked PP kites were flown by experts?  What's the best spectacle involving PP kites that you can remember?
It would have to be the kite event that the very first Peter Powell Stack or Pair (as it was that day) came into the public domain. It was a show much like any other put on by Ron Moulton (who was the editor of The Aero Magazine) and held at Old Warden, near Bedford.
In a display, I attached a second kite to the first and launched among other single kites. The commentator went berserk and the spectators loved it – with two kites flying in formation with tails in tow – it looked spectacular and Ron featured a well-documented translation of the commentator's ravings! This was the first-ever-seen multiple flying of Peter Powell kites.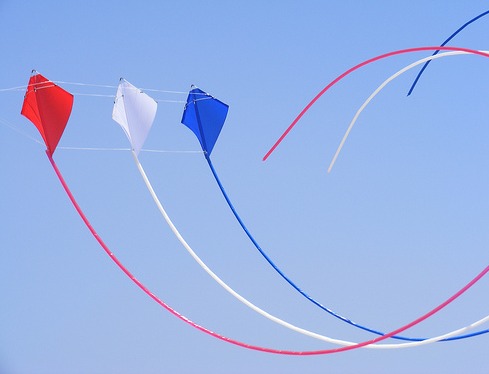 A three-kite stack of Peter Powell MkIII's
The following questions were directed to Peter's sons, Mark and Paul:


7. Apparently, your dad was very surprised when you unveiled the new prototype PP MkIII. What lengths did you go to, to keep your designing/constructing/testing activities secret, up to that point?
We wanted it to be a surprise for Dad so we turned into super spies whilst we were developing the MKIII – finding out where he'd be and when he was going flying so we could avoid him! We had all kinds of funny moments trying to hide the prototypes from him. Often we'd bump into him when we were on the way back from test flights, and one of us would have to distract him whilst the other one hid the pretty large kites!
It wasn't just the family who had to keep it a secret from him; we even had to rope in the village postman, to ensure none of our Peter Powell kite post was delivered to him by mistake, which would have spelled disaster. On occasions, Paul was able to sneak into Dad's house to use Dad's old kites, which we used to re-engineer the new model. Then, they were returned back without him ever knowing they had gone. That in itself was a big challenge.
We started off making our first prototypes in our lean-to conservatory, among the chaos of children, dogs, cat (who found the material very appealing to lie on at every opportunity) and a leaky roof! This was far from ideal! As soon as it started raining, we would have to grab the pots and pans to stick under the leak to save all our hard work from ruin.
We tested the kites hundreds of times, flying them off Leckhampton Hill, Cleeve Hill, and even making some long trips to Weston Super Mare, where there was wind, but we were always aware we could have been spotted by Dad, or even one of Dad's friends at any time. I think the fact that we wanted to keep it a secret from him added to the anticipation and excitement of the new kite we were developing.
We flew the kite in all types of weather; we even remember flying the kite in the dark, with only the glare from the moonlight making the kite visible. We would also find out when Dad was going out for the day before we rushed to our local playing field in Shurdington to test fly the new kite.


8. Besides generating income, there must be other motivations for resurrecting a classic kite design like the PP Stunt Kite. Were friends and/or associates involved?
It's not about financial reward for us – it was about bringing back a classic for another generation to enjoy. Apart from the postman keeping it a secret we also have had help from our friend Rob Lindsay with the business side. Some of Rob's friends Rachel and Jamie are helping with the PR and marketing side so it's still very much a family (with a little help from our friends) business.
There are a few reasons for bringing back the kite. First, Paul and I wanted to be given the opportunity to pick up the strings where Dad had left off. We wanted to see if it could be as successful as the kite was the first time around. And second, we wanted to create something for families to share together.
Having three children of my own, I realised the importance of time spent doing things as a family. What better way than to fly kites up the hill on a sunny day with a picnic! It also encourages the children to get off the games consoles or from sitting in front of the television etc and to spend time in the great outdoors. Going on from this, we think it makes a great family product and want other people, young and old, to be able to enjoy the kite with their own families.


9. The MkIII is a dual-line stackable kite that improves on the original Peter Powell MkII. Do your dreams extend to other kite types and line configurations or are you intent on pushing your dad's original concept as far as it will go?
We have plenty of new ideas in the pipeline for the foreseeable future, so the Peter Powell kite will be once again be pushed to new heights.


---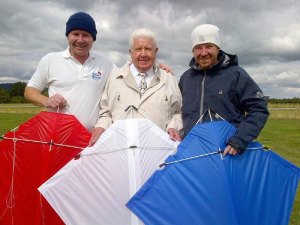 Peter Powell with a son on either side

In 1972, Peter Powell developed a steerable kite, using dual lines. The kites came with a long polyethylene tube tail that was inflated by the wind.
Peter Powell won the silver and gold diploma for his kite at the Exhibition of New Inventions and Techniques in Geneva in 1975. In 1976, the Peter Powell kite was elected toy of the year by the British Association of Toy Retailers. Millions of kites were sold, and flying steerable kites became a craze in the mid-70s in the UK.
After seeing his sons bring the PP MkIII kite to market in 2014, Peter himself passed away in January 2016.
---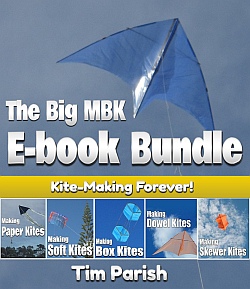 As mentioned earlier, there's more kite-making on this site than you can poke a stick at :-)
Want to know the most convenient way of using it all?
The Big MBK E-book Bundle is a collection of downloads—printable PDF files which provide step-by-step instructions for many kites large and small.

Every kite in every MBK series.