With the third and final version of the Minimum Tetra kite made up in bright purple, it was time to get some images...

A suitable sea breeze was blowing in from the south-west, down at a local beach. However, I decided to drop in at a nearer inland reserve to see if conditions would suit.
In fact, on getting out of the car, the breeze was pretty much the same in speed and direction as the online weather station was reporting down at the coast.
At shoulder height, my wind meter reported about 11 kph gusting to 17 kph. A little light for this zippy little kite, but it was worth a shot. Also, as usual, there would be a few more kph available some meters above the tree-tops. Particularly at this location as I have discovered from experience.
After an easy launch, the Minimum Tetra kite did tend to sink out from time to time. But the gusts were quite sufficient to get all the video and stills that were needed.
(Take a look at the Making Paper Kites e-book for a bunch of more advanced kites - using just paper and tape.)
Flights started with just a few meters of polyester thread out, for the close-up shots. Eventually around 30 meters (100 feet) of thread was used to illustrate the little kite soaring at suitably impressive heights over the trees. Mind you, creating an illusion of great height is easy with such a tiny craft!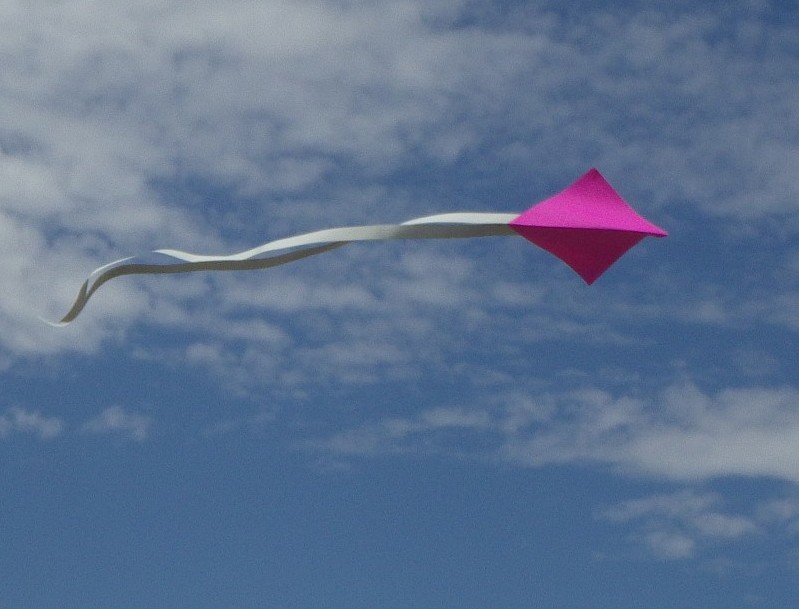 Tiny kites just do as they like sometimes!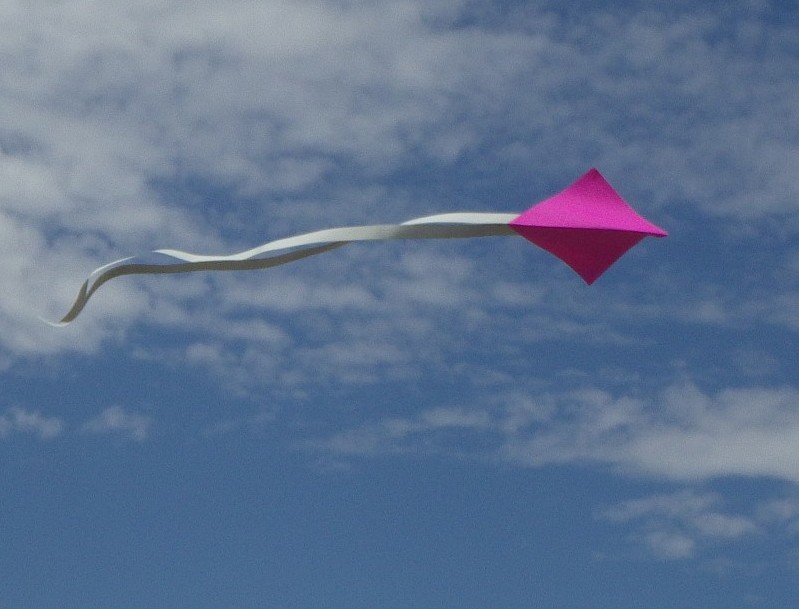 Tiny kites just do as they like sometimes!
The single-cell Tetra could stay up with just the weight of the paper winder holding it, as the thread draped over my kite gear bag. The kite just has so little sail area, it hardly pulls at all! From habit though, I generally held the thread with the heavy bag placed just down-wind of the winder.
A kite this small struggles to pull even 200 feet of thread taut, over it's entire wind range. However, if you make one for yourself, you'll find just 100 feet of thread provides so much good flying. The kite looks high on that length!
A video with some zoom was taken as the tiny Tetra glided about near a large bushy tree. Very convincing for those who might be wondering if the thing does actually fly! A distant helicopter threatened to steal the show but can hardly be heard (or seen) in the clip.
It was a short but satisfying outing. Photographic mission accomplished!
---
Minimum Tetra Kite Gallery

Click or tap on any photo below to start up the gallery viewer...