LOVE the Barn Door!
by Marcy Marchello
(Massachusetts, USA)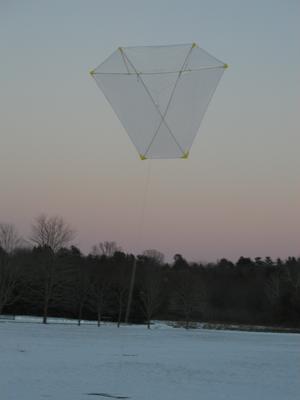 My second MBK kite and another very satisfying build-and-fly experience. With one more dowel than the diamond, the barn door needs just a little more wind to launch but is still a big easy flyer. Since they launch in very light winds, I can enjoy being out in the cold without much breeze while flying.

It almost disappears in the high blue sky at dusk, then reappears as the kite lowers into the horizon colors of pink and purple. One person walking by commented - "it looks like a big jellyfish in the sky!". With the translucent sail it really does remind me of a jellyfish in the ocean too, especially as the stars come out! I continue to enjoy evening flying with these MBK kites in winter - very poetic and soul nourishing!

Thanks again Tim!