Let us go back to the 1960s, an awesome period in the UK for innovation and change. Both were driven to a large extent by young adults. For the first time, we had a reasonable amount of disposable income and sufficient leisure time to enjoy a lifestyle impossible during the 1950s. We pursued excitement whether in fashion, music or in sport, including skiing and kite flying.

People had skied as a recreation on the hills of Northern England and on the mountains of Scotland for many years as ski-tourers, but we were hearing about the sport of downhill skiing from people who had been on an alpine ski holiday. Two centres for club skiing in Scotland and one in Northern England experimented with various means of providing 'uplift' for these skiers. A group of visionary entrepreneurs considered various sites in Scotland for ski centres where recreational skiers could enjoy snow sports without having to join a club.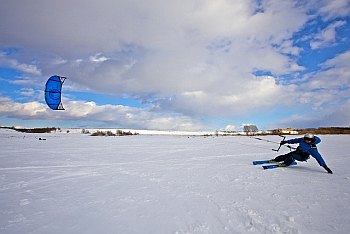 Kite-powered skiing – but not uphill here!
Recreational skiing flourished beyond the most optimistic dreams of those who made it possible. Between the 1960s and the 1990s it was said, with a large degree of truth, that 'all of Scotland went skiing'. Prior to the ski craze it was traditional at the end of the working week to ask colleagues if they were 'doing anything special at the weekend'. This changed. We knew what they would be doing if snow was on the hills – skiing – and the only question was 'Where?'

The huge popularity of skiing, while good for income generation at the centres, had an unfortunate consequence. The queues at the chairlifts and tows were very, very long, particularly at weekends. There were methods, all uncomfortable, for managing to obtain an early place for the first uplift of the day. However, after that, standing patiently in an orderly queue became a large and unwanted part of a Scottish ski weekend.
---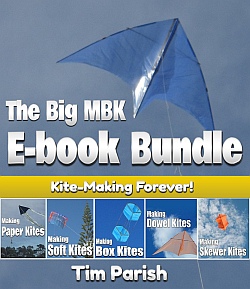 On this site, there's more kite-making info than you can poke a stick at :-)
Want to know the most convenient way of using it all?

The Big MBK E-book Bundle is a collection of downloads—printable PDF files which provide step-by-step instructions for many kites large and small.
Every kite in every MBK series.
---
Kite Skiing Beats the Queues! 
I wrote, in the first sentence, that innovation played a large part of life in the 1960s, and innovation was part of kite flying among some adventurous Scottish flyers. They had progressed beyond the basic heavy-framed diamond kites that most of us were using, and they realized that their expertise in flying their latest kites could be used to advantage to beat the dreaded queues.
They arrived with their skis and soft kites at Cairngorm Mountain where the Cairngorm Chairlift Company had constructed and were operating the facility. They unpacked their gear and began kite skiing uphill so avoiding the queues and the wasteful non-skiing time. So far so good. 
However it is probably fair to write that a skier who had taken a lift or tow 'up the hill' and was hurtling down the hill at a speed of perhaps 40 mph was unlikely to have considered the possibility of seeing a skier hurtling uphill towards them at a similar speed. The danger of a serious collision and the consequences were obvious and attracted the attention of the Centre Manager. I often wonder what his private thoughts were about the inventiveness of the kite flyers as he was quite a character. I do know that he took his job, including health and safety aspects, VERY seriously. He was not having any 'two-way' skiing at his resort. He was not going to have any kite-skiing uphill on his part of Scotland.
The kite flyers were forceful, assertive and most pleasant people with a tendency to pursue their objectives and rarely to back down. The Centre Manager was also a forceful, assertive and most pleasant person who pursued his objectives and did not back down.
'All of Scotland held its breath.'  We wondered if kite flying in part of Scotland was to be banned.
Fortunately a diplomatic solution was reached largely, it is said, because the Centre Manager was more forceful and assertive than those who liked kite skiing uphill.
The kite flyers were happy to move to other snow covered mountains to enjoy their sport away from the crowds, and indeed for a few years kite-assisted uphill ski races were held in Scotland while peace returned to the queues at Cairngorm.
---
The Kites
Finally, a few words about the soft kites used by these pioneers...
They were parachutes used for supply drops, and these became available when removed from active service. They were about 15 feet in diameter and typically had 16 strings. The strings were grouped into two sets and tied to handles. With practice, a degree of steering could be achieved while kite skiing uphill.
Kite skiing has developed since the pioneering days, and today kites provide wind assistance to several sports, including traverses of the Antarctic Plateau by some intrepid folk journeying to the South Pole.
---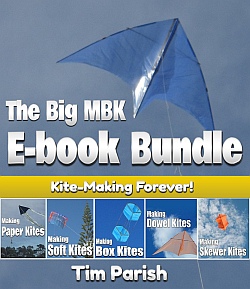 As mentioned earlier, there's more kite-making on this site than you can poke a stick at :-)
Want to know the most convenient way of using it all?
The Big MBK E-book Bundle is a collection of downloads—printable PDF files which provide step-by-step instructions for many kites large and small.

Every kite in every MBK series.