You have arrived at the right page to compare and contrast a number of these intriguing places. See it all on one page instead of going on a wild-goose chase :-)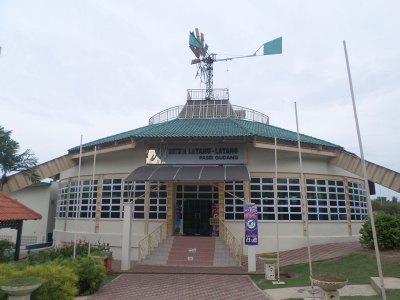 Quirky—windmill generated electricity!
Going by visitor comments on various travel sites, people are rarely disappointed when they visit a museum of this type. It's just the nature of kites that any and every collection will exhibit wondrous variety in structure, size, form, and color! Lightweight aerodynamic sculptures, that's essentially what kites are.

The very process of displaying kiting is a creative act and has resulted in some very different approaches. You can get hints of this fact from perusing the information below.
So, great variety exists in what the museums look like and how they function. That's quite apart from the kites themselves.
While putting this together, I noticed that large publicly accessible collections often start from an individual's collection. Some remain that way; others expand hugely if enough resources are at hand. Also, personal collections can be added later, breathing new life into existing collections.
---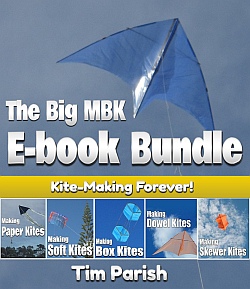 On this site, there's more kite-making info than you can poke a stick at :-)
Want to know the most convenient way of using it all?

The Big MBK E-book Bundle is a collection of downloads—printable PDF files which provide step-by-step instructions for many kites large and small.
Every kite in every MBK series.
---
Anyway, this page is light on history, you'll be glad to know :-)  Just a few pertinent points have been recorded for each place, as you'll see below. You just want to get there don't you?

Besides kites, other supporting items like descriptions, paintings, illustrations, photos, and video are used in the presentations and displays. Some museums do a rather complete job of using other media like this, while one or two rely almost totally on face-to-face interaction with the owner or a guide.
According to some people in the know, from the kite-loving nation of India: "The concept of the kite museum was initiated by Bhanu Shah when he donated all his kite collection to the Ahmedabad Municipal Corporation (1954)." With most major kite collections starting no earlier than the 1980s, either by an individual or under the roof of a museum, this seems like a strong claim! 

Which Kite Museum

According to some enthusiasts in Turkey there are currently 22 kiting museums on the planet. Finding all of them would have taken even more digging around. The one's I've found are listed below, together with helpful information in a consistent format. I hope it proves useful.
---
USA
Name: World Kite Museum
Address: 303 Sid Snyder Drive, Long Beach, WA 98631
Phone: 360-642-4020
Opening Hours:

  Spring: May 1 thru June 15, Wed. thru Sun., 11 am to 5 pm
  Summer: June 15 thru September 15, daily, 11 am to 5 pm
  Winter: September 15 thru April 30, Fri. thru Tues., 11 am to 5 pm
Cost: $5.00 adults, $4.00 seniors, $3.00 children.
Intro: Groups of 10 or more who arrive by appointment get a presentation by a staff member and a printed program. 
Collection: Over 1,500 kites, including 700 Japanese, Chinese, and Malaysian kites.
Activities: Make a kite to fly, plus there are various educational and entertaining audio-visuals. 
Building: A 10,360 square foot, two-story building.
Growth: In the late 80s, the museum had begun with an exhibit, a unique kite display on the beach, and a school kite-making class. From 1990 to 2004 the collection was stored and displayed in four rooms of a converted home. The current collection is still growing.
Highlight(s): Many!
---
China
Name: Weifang Kite Museum
Address: No. 66 Xingzheng Street, Weicheng District, Weifang 261041
Phone: +86 536 823 7313
Opening Hours:
  Spring and Summer: 8 am to 6 pm
  Autumn and Winter: 8 am to 5:30 pm

Cost: Free
Intro: You're free to wander. 
Collection: It's a very wide-ranging display of over 1,000 kites with plenty of room for the excellent layout and presentation of all the pieces. Mainly Chinese objects are on show as you would expect but also a sampling of kites from around the world. Expect amazing works of art—the hallmark of old Chinese kites.
Activities: One small room is dedicated to allowing visitors to get more hands-on.
Building: An enormous two-story building with traditional architecture—curved roof and all. In fact, this is the largest kite-museum building in the world.
Growth: There's no data on this, but no doubt it's state sponsored with many contributors.
Highlight(s): There are many—and not necessarily tied to sheer size. I can imagine this place would feel much like an art gallery. Kites and art are so closely entwined in Chinese culture.
---
Japan
Name: Ikazaki Kite Museum
Address: 1437 Ko, Ikazaki, Uchiko-cho, Kita-gun
Phone:  +81 893-44-5200
Opening Hours: Daily from 9 am to 4:30 pm, closed Mondays and New Year holidays (29 Dec. to 2 Jan.)

Cost: Adult: 300 yen, children 6 to 15 years old: 150 yen
Intro: You're free to wander.
Collection: There's 400 kites from all around the world, plus a focus on some of the largest traditional Japanese kites.
Activities: By making a reservation, you can try kite making or mini-kite making.
Building: Well, it has to be pretty spacious on the inside, considering the sheer size of some of the exhibits!
Growth: There were no details available that I could find.
Highlight(s): That would have to be the Odako giant kite in the entrance hall—a rectangle no less than 7 meters high and 6 meters wide! There are also original rokkaku battle kites on display. These have inspired many (including me) to make rokkakus.
Name: Tokyo Kite Museum
Address: 1-12-10 Nihonbashi,, Chuo 103-0027, Tokyo Prefecture
Phone: +81 3-3275-2704
Opening Hours: Daily from 11 am to 5 pm, closed Sundays

Cost: 200 Yen
Intro: You're free to wander this single room space, and the owner will explain anything, on request.
Collection: Hundreds of mainly Japanese kites, going all the way back to the Edo period. This place is the home of the Japan Kite Association.
Activities: Kite making for youngsters is available.
Building: "...one largish room on the fifth floor of an anonymous block on a back street in Nihombashi"—visitor comment!
Growth: Essentially, it's a life-long personal collection by the owner, who travels frequently.
Highlight(s): That would be the room itself really! Kites are plastered everywhere and hanging from the ceiling, covering virtually every square centimeter. And yet new items are slotted in somehow. It's a very special place, which I probably haven't done justice to in my few words on this page.
---
India
Name: Ahmedabad Kite Museum
Address: Sankar Kender, Bhagtacharya Road, Kocharab, Paldi, Ahmedabad, Gujarat 380007
Phone: +91 79 2657 8369
Opening Hours: Daily from 10 am to 12 noon and 4 pm to 6 pm, closed on Mondays.

Cost: Free
Intro: You're free to wander.
Collection: Extensive world-wide collection of kites and kite-making materials, plus illustrations and paintings.
Activities: I didn't see any mentioned, but kids will enjoy seeing the miniature kites :-)
Building: It's a great piece of architecture, designed by the famous French architect, Le Corbusier, in 1954. 
Growth: A large personal collection was donated to the Ahmedabad Municipal Corporation in the 1950s, at which point the museum was created. The collection has been gradually expanded for many years since then.
Highlight(s): The large Japanese kites and also some of the largest traditional Indian kites would turn heads in this display.
---
Indonesia
Name: Jakarta Kite Museum
Address: Jl.H. Kamang No. 38, Pondok Labu, South Jakarta 12450
Phone: +62 217 658 075
Opening Hours: Daily from 9 am to 5 pm (except national holidays)

Cost: Less than US$2
Intro: An assistant brings you to a small theater where they show a movie on the history of kites in Indonesia and the different kite festivals that are held around the country. After watching the movie you can tour the museum. 
Collection: It's a personal collection, but quite large and impressive. There's everything from miniatures to a Mega-Ray!
Activities: There's workshops on kite making and kite painting, plus several others on arts and crafts unrelated to kites.
Building: It's "homey and cosy" apparently! But it's certainly not the smallest in my list.
Growth: This personal collection grew for several years, before the museum opened in 2003.
Highlight(s): That would have to be the Mega-Ray :-) for most visitors. But you never know what might appeal the most, to some.
---
Malaysia
Name: Johor Kite Museum
Address: Aras 19, Menara Aqabah, Jalan Bandar, 81700 Pasir Gudang, Johor
Phone: +60 7251 3720
Opening Hours: Daily 9 am to 5 pm.

Cost: Adult: Malaysian RM2 / Foreigners: RM3; Children: RM1
Intro:  You're free to wander.
Collection: Going by a number of excellent photos on its website, the place has a relatively small collection. However, it does attempt to cover the full breadth of modern kiting. Some of the materials educate the visitor on kite history. Videos of the Pasir Gudang International Kite Festival display modern and traditional kites in action.
Activities: ???
Building: Talk about each one being different. The substantial six-sided structure has a windmill on the top that provides the electricity for the entire museum! 
Growth: The collection was established in 2002 and has a close connection with the Pasir Gudang festival mentioned earlier.
Highlight(s): Quite possibly this would be some of the largest traditional Malaysian kites, which feature great craftsmanship and art.
---
Turkey
Name: Mehmet Naci Aköz Museum
Address: Aziz Mahmut Hüdai Mahallesi Bakıcı Sokak Uncular Caddesi No 12-A, 34670 Üsküdar/İstanbul. But call before visiting since it's much easier than deciphering the address!
Phone: +90 216 553 2337
Opening Hours: Monday to Friday, 8:30 am to 5 pm. On Saturday, 9 am to 5 pm. Closed Sunday.

Cost: Free, except for the cost of materials for kite-making workshops.
Intro:  A "guidance counselor" :-) will lead you through a "theatrical and interactive program."
Collection: This is another personal but very substantial collection, well presented. He must be getting some help since there are over 2,500 pieces on display! That could be the world's biggest, numerically.
Activities: Workshop on kite making, educational tours.
Building: It looks like a medium-sized relatively modern and well-lit shop front, on the corner of a block.
Growth: Limited info, sorry.
Highlight(s): Well, I've seen a photo where a long, flat tiger kite is being propped up by a bunch of people posing outside the building. That kite could be a contender for some, particularly kids! It's quite a confronting piece of art realism.
---
The Netherlands
Name: Dutch Kite Museum
Address: Haven Oost 18, 7731 GT, Ommen
Phone: +31 529 453 860
Opening Hours: Wednesday, Friday, and Saturday, from 1 pm to 5 pm

Cost: Donations are appreciated. These guys are a bunch of artists battling along with limited funding, but they have a fine website, which deserves some attention. Visit the museum here.
Intro: I'm not sure about this, unless you have booked a tour...
Collection: It's promoted as "100 years of kite history." Initially, it was a personal collection, but it has been complemented by many international guest exhibitors since.
Activities: Workshops and tours are available by appointment, which are mainly for groups but also available for individuals.
Building: It's a substantial single-story structure with large windows on at least two sides.
Growth: Opening of a personal collection occurred in 1985. In 2000 came the founding of the Space Art Foundation. In 2012 the Kite Museum was opened in Ommen and four years later was drawing over 1,000 visitors a day.
Highlight(s): At night the entire building becomes a feature, with lighting ensuring a good view of the collection from the outside! See the photo below, which, although a daytime shot, does show the extensive glass areas in the walls.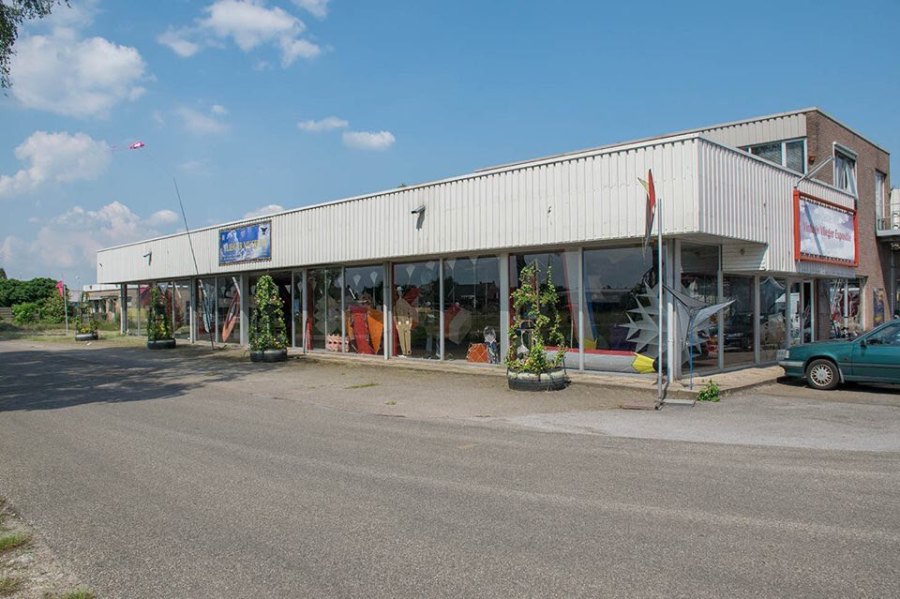 Dutch Kite Museum—on show to pedestrians outside!
---
More Observations

The following is a little ... random ... but stay with me.
It seems there are two main groups of people who visit these museums:
tourists
kite fanatics, both local and international
That's logical. And of course there would be the local kite fanatics as well.

None of the museums seem to be totally exclusive as regards the country of origin of the pieces on display. But you can expect an emphasis on the kites of the country you're in, of course.

Of all the kiting nations represented, it would appear the Chinese made the most effort to reproduce living creatures as realistic and very detailed works of flying art. Modern Western show kites, in comparison, are very much bigger. Even when there is significant realism, for example in a life-size inflatable whale, the fine detail is missing. Mind you, just putting the thousands of stitches takes a lot of time!
While compiling all of this, an unexpected theme showed up—some of these places are so hard to find! I guess you could always make that factor a part of the travel adventure. At least a couple of the mentioned museums are tucked well away from main roads. And of course there's the undecipherable Turkish address! A phone call gets you there, apparently.
Overall, the sheer breadth of variety in kites is incredible. It's no wonder, with so many artisans in so many nations, over so many centuries.
So I hope you have found some guidance on this page, with regard to finding an enjoyable activity to work into your travel plans. You might also want to search online specifically for your chosen museum for further details on the collection.
---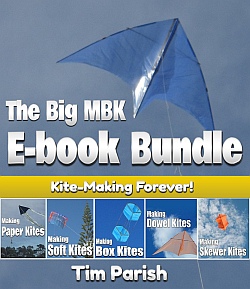 As mentioned earlier, there's more kite-making on this site than you can poke a stick at :-)
Want to know the most convenient way of using it all?
The Big MBK E-book Bundle is a collection of downloads—printable PDF files which provide step-by-step instructions for many kites large and small.

Every kite in every MBK series.