How To Make A Dopero Kite
Step-by-Step - Page 4 of 4
The MBK 1-Skewer Dopero 
---
How To Make A Dopero Kite
Flying!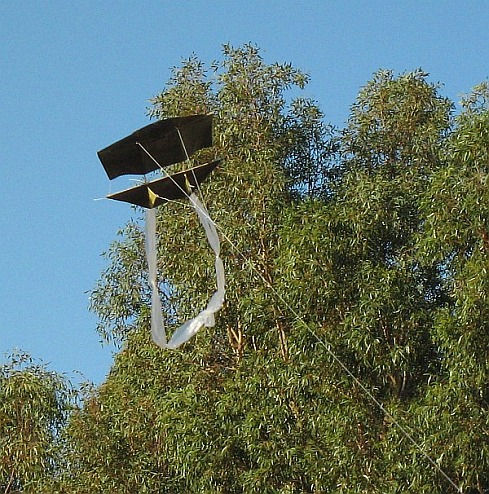 Before the first flight, you need to adjust the bridle...
Firstly, make sure the sliding knots on the upper and lower bridle loops are dead-center. An easy way to check this is to see if the kite hangs level, when you dangle it from the loop knot at the end of the bridle. Adjust both knots until everything looks square and level.
Out In The Field

Dopero kite stories of my real-life flying experiences are worth checking out!
Illustrated with photos and videos, of course.
Secondly, make sure that the sliding knot on the central bridle line ends up between the upper horizontal spar and the top edge of the sail. Check this when the kite is laying on its back on the floor or table, with equal tension in all the bridle lines. Shift the knot if necessary, and hold up the bridle lines again to check. Repeat until it looks right.
If it's very windy outside, stay home! This is a light-to-moderate wind kite and won't like being launched in a gale.
Assuming there is some breeze outside, just dangle the kite at arm's length until the wind catches it. As long as you feel the kite pulling, let out line slowly by taking loop after loop off the winder.
Another approach is to get a helper to hold the kite up and let it go, on the end of maybe 10 or 20 meters (around 50 feet) of line. This way, the kite soon gets high enough to make it easy to let more line out.
The picture up there shows the very first version of the 1-Skewer Dopero climbing away in a light breeze. The black plastic sail, yellow keels and clear plastic tail made a nice combination!

Have fun flying, and I hope you've enjoyed learning how to make a Dopero kite.
Now, just in case you have actually made and flown this kite at least once already...
---
Ever Made This Kite?
You've probably read a kite-flying story or 2 of mine, after they appear under the "what's new?" link on this site. I sometimes wonder if anyone else has made and flown this particular design...

If you feel your efforts really paid off when the the kite finally got airborne - please type a few paragraphs in here telling us all about it!

P.S. I can only accept stories of at least 300 words. Just mention a few details like the weather, onlookers, the kite's behavior and so on - 300 words is easy!
Flight Reports From Other Visitors
Click below to read about various kite-flying adventures, contributed by other visitors to this page...

The Boy From Philippines






I named it the boy from Philippines. Because firstly I'm a boy. Then secondly obviously I'm from Cebu, Philippines. I didn't have bamboo skewers so …
Return to page 3
---
Need winders, reels, flying line?
We earn a small commission if you click the following link and buy something. The item does not cost you any more, since we are an "affiliate" of Amazon.
Click here to buy anything you need. Just use the Search box in there if you need different weights or lengths of line, for example.
P.S. Keep an eye out for books by kite author Glenn Davison, a prominent kite person in the USA.

---
Sep 26, 18 06:00 AM

This previously published page is a compilation of short Flight Reports. All describing outings with the MBK Soft Sled design. Enjoy...
---
---
Return to How To Make A Kite from How To Make A Dopero Kite

All the way back to Home Page