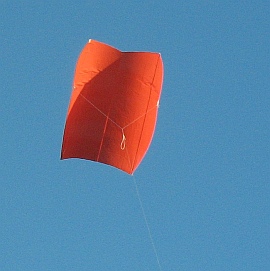 MBK Simple Sled
The steps are easy, hence this simple sled kite comes together very quickly!

You can attach two tails if you want to, just for looks. The kite does just fine without them though, as can be seen in the photo.

We still remember taking out our Simple Sled once in a while, even here inland where the air is a bit rough at times. Talk about convenient—just attach the flying line and up it goes! This design copes well and flies at a good angle on Dacron line.
The best place for flying single-surface sleds, like this one, is down at the beach. The air is quite smooth when it comes from over the ocean.
In any case, put plenty of space between the kite and the nearest upwind obstacles.
It only takes a light breeze to keep this sled design aloft. In some ways, it's actually more fun to fly single-line kites in light wind. By watching, you can learn a lot about what's happening up there.