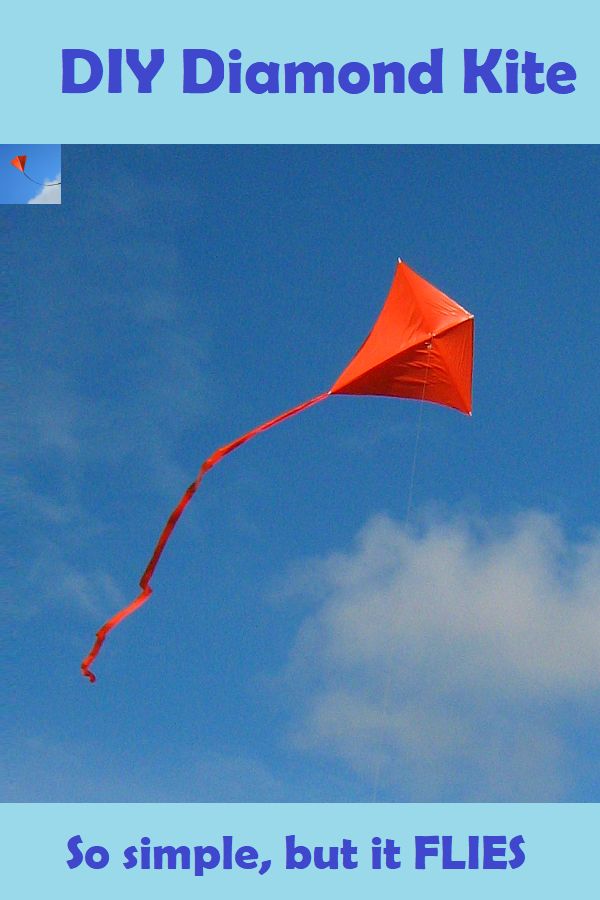 Don't worry about how long this page looks.
The steps are easy, hence this simple diamond kite comes together very quickly!
Sometimes I went out with my (then) young son to fly this kite. A classic picture of father and son, out flying a kite!
Like nearly every diamond, it's very reliable and easy to handle in flight. Watch it wing-waggle and swoop occasionally, staying up as long as the wind blows.
The tail is simplicity itself—just a long slim rectangle of the same plastic you use for the sail. For more stability in fresher winds, it's easy to just add on a bit more length to the tail.
50-pound line is the ideal weight for this kite.
(Regarding that pinnable image—it's much bigger when pinned.)
I hope you enjoyed learning how to build a diamond kite. There's ours in the photo above, flying around on a perfect day for it.
Click/tap the photo to see a bigger, higher-res version.
That's it, you're ready to fly. Take the kite out whenever you can see leaves moving in the trees or bushes. If it won't stay up, try letting out plenty of line and then towing it up at jogging pace. It might find enough wind higher up.
With plenty of wind, this kite will waggle from side to side, so make sure all the tip tapes are pressed down firmly and secure. I had one let go once, which brought the kite down suddenly. With some spare tape I had handy, the sail tip was soon fixed and the diamond waggled straight back up to full flying height.