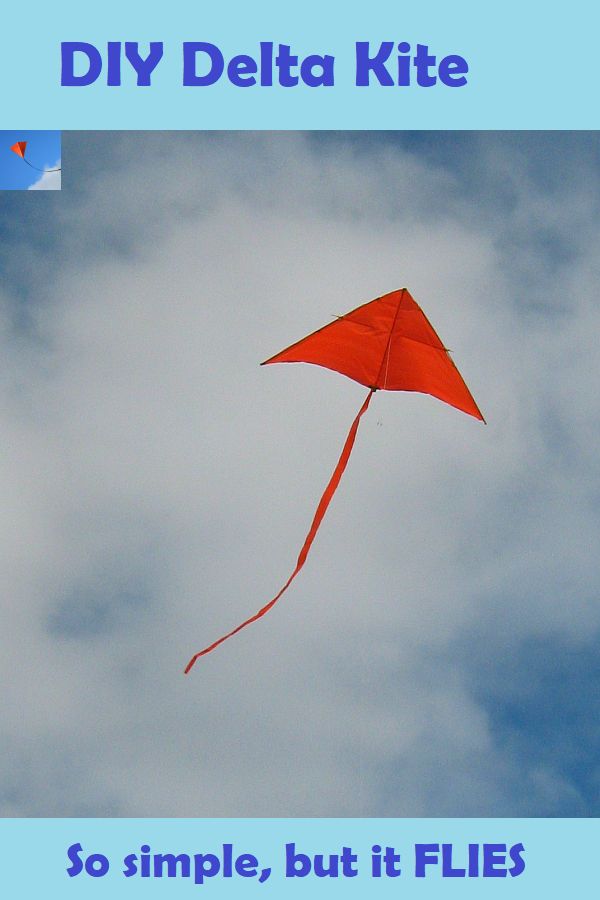 Don't worry about how long this page looks.

The steps are easy, hence this simple delta kite comes together very quickly!
We still remember taking out the Simple Delta occasionally. As long as the wind isn't too strong, it's as much fun as any similar-sized shop delta. It hovers at a steep angle on the end of a 20-pound Dacron flying line.
Let the line out to 90 meters (300 feet) or more, if you want to! Or, down at a beach in a sea breeze, this kite will hover reliably on quite a short line. Put some sand into a bag to act as an anchor.
The kite does best in quite light wind, so be prepared to add some more tail if you're trying to fly in a fresher breeze.
(Regarding that pinnable image—it's much bigger when pinned.)
I hope you enjoyed learning how to build a delta kite! The photo is another shot of our original Simple Delta doing its thing on a cloudy day with plenty of sun and just enough wind to keep the kite flying.
Click/tap the photo to see a much bigger, hi-res version.
That's it, you're ready to fly. Take the kite out whenever you can see leaves moving in the trees or bushes.
If the kite won't stay up, try letting out plenty of line and then towing it up at jogging pace. It might find enough wind higher up!