The Helicopter Kite
Unusual, But It Flies!
The helicopter kite operates on the same principle as a gyrocopter. It's something different! A large rotor is kept spinning by the airflow across it, like a fan being blown in the wind. Once spinning, the rotor develops 'lift' like a wing, and can lift the rest of the kite.
A small tail fin keeps the kite pointing into wind, like the tail does for a Diamond kite. Also, a small horizontal stabilizer at the back helps keep the rotor blade at the correct nose-up angle to the wind.
As far as my own products go, I haven't tackled a heli just yet. A bit hard to do in dowel and plastic sheet - or paper ;-)
But there's plenty more to choose from...
The Big MBK Book Bundle is a collection of downloads - printable PDF files which provide step-by-step instructions for many kites large and small.

---
The Helicopter Kite As A Toy
The most well known, and perhaps one of very few products of this type is manufactured in and distributed world-wide from a single location in the U.S. Besides Helicopter Kite, this toy also pops up under the names...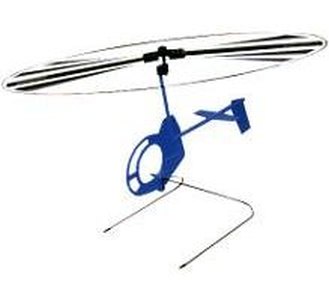 Gyro-Kite
SkyChopper
WindCopter
CopterKite
GyroCopter
CobraKite
All these products are essentially the same, with the differences being mainly in the packaging. The kite requires some assembly, but it's just a few simple plug-it-in operations as far as I can see.
I've seen videos of this toy in flight and it appears reliable and stable. However, don't expect it to reach the line angles of a good Delta kite! Having said that, I still think it would be something of a head-turner for the kids down in the local park. My little boy would love one, I'm sure...
It might take a while to get to it, but I intend one day to get one of these kites and spice up this page with a video and a photo or 2! Stay tuned.
AN UPDATE: Quality equivalents of the described type of toy don't seem to be available on Amazon right now (2014 and again in 2018!). However, I'll stick my neck out and suggest this
AttackCopter Nylon Kite
is probably worth a try. It's reasonably big and is a kite in the traditional sense, since the rotors are only images on the circular sail!
---
Helicopter Kites In History
I don't know if many large versions of these kites exist, but apparently the gyro-copter concept has been around since the 1920s. When improvements in helicopters made them practical, autogyros, as they were often called, faded in popularity. They were, however, used in the 1930s by major newspapers. Also, the US Postal Service used autogyros for a couple of mail service routes. One of these routes ended up on the roof of a large building, which says something about the slow-speed capabilities of these machines.
In World War II, Germany developed a tiny gyrocopter kite, the Focke-Achgelis Fa 330. This machine was towed by U-boats for aerial surveillance. Later, the Japanese Army developed the Kayaba Ka-1 Autogyro for reconnaissance, artillery-spotting, and anti-submarine warfare.
So it's a saga that began with war machinery and has ended up in the Children's Toys department!
Talking about children, most of my designs would be flyable by a child. Particularly in light winds...
The Big MBK Book Bundle is a collection of downloads - printable PDF files which provide step-by-step instructions for many kites large and small.

---
Need winders, reels, flying line?
Buy here from Amazon. Just use the Search box in there if you need different weights or lengths.
P.S. If you would like to support My Best Kite and the publication of new kite designs, please consider clicking that link for anything you need from Amazon :-)   We get a little cut, but you don't pay a cent extra.

---
Jul 21, 18 04:47 AM

Down at the same beach as last time, the breeze was much different... This time the wind was blowing ever so slightly off-shore and consequently was quite rough. The little delta flew smoothly in shor…
---
---
Return to Kids Kites from Helicopter Kite

All the way back to Home Page