Here's the 2 main ways a kite can be made funny...
Firstly, the kite can be the canvas for a funny face of some kind. Some of these images can be very simple, but someone's artistic talent has really turned on the humor!
Secondly, the kite can be a re-creation of a non-flying object. This always produces an interesting kite, but when the concept is particularly clever, it can be downright funny too! Movement in the air often adds some giggle factor as well.
The kites further down this page are in no particular order. Humor is like taste, everyone is different!
Just scroll down until you find something that puts a smile on your dial.
---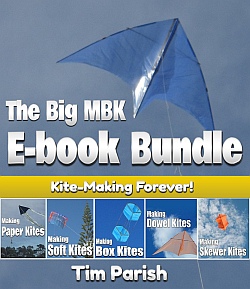 On this site, there's more kite-making info than you can poke a stick at :-)
Want to know the most convenient way of using it all?

The Big MBK E-book Bundle is a collection of downloads — printable PDF files which provide step-by-step instructions for many kites large and small.
Every kite in every MBK series.
---
Sailing Ship Novelty Kite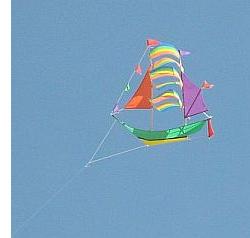 Let's keep going on the 'small' theme! Again, this complex little kite looked comical against the backdrop of other huge colorful creations floating far above.
By some miracle the little ship was actually stable. It flew at a barely respectable line angle. But there it was, a tiny galleon, parked in mid-air a short distance from the jetty!
The triangular sails fore and aft were quite realistic. Even the square sails amidships looked the part at first glance, billowing in the airflow.
If you look carefully, you can see the square sails were actually close to horizontal rather than vertical like real sails. Hence they provided the lift to support the kite in the air.
The creators of this novelty kite deserve some credit for making it both recognizable as a sailing ship and easy to fly! My wife saw it being packed down. The whole thing, sails and all, just folded down with no complex dis-assembly required.
---
Small Bat Kite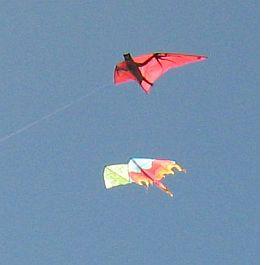 This was a personal favorite I saw at a big kite festival some years ago. Not much to it really, but this somewhat pathetic little flapping kite hit my funny bone.
There it was, chin up, gamely trying to keep up with all the other big impressive festival kites.
The black and red bat could only manage a 40 degree line angle, on its very modest length of flying line. Anchored to the jetty, it seemed out of place. It wasn't big, pretty or graceful!
Not surprisingly, this little kite drew the occasional chuckle from people walking past over the sand. 
---
Nosey Kite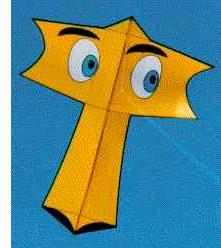 This is one of those funny face kites. The large eyes peeking to one side give the impression of a ummm nosey face looking where it shouldn't!
This creation by Charlie Charlton is based on the traditional Japanese Sode or Kimono kite. There are some differences however, which help to make this an interesting, distinctive and light-hearted design.
Charlie believes the Nosey flies a bit better than a traditional Sode too!
Well I don't know - people have never complained about my MBK Sodes...
---
Soccer Legs Kite And Ball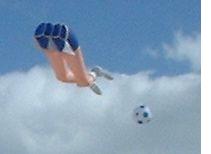 We've seen this thing twice now, although I think it was funnier the first time. It's available in online shops, so there are a few of these funny kites around now.
A pair of legs flying in mid-air would be a good joke, for a start. However, the creative type who designed this went further and added the soccer ball drogue! Nice touch.

Finally, by careful design and selection of materials, this thing actually kicks in a decent breeze! Now that adds to the humor! Will they push on with these funny kites and try for a matching goal plus goal-keeper next year?
---
Fugu Kite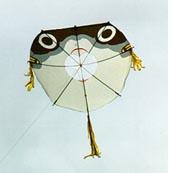 Firstly, thanks to Bob and Charmayne of 2kiters.com for that photo. A small amount of research turned up this Japanese Fugu or Blowfish kite that proves funny kites are not a Western invention!
Talking about sides, this kite looks like the round inflated fish from a head-on perspective. It's a 4-stick design, crossed in the middle to form a roughly circular or octagonal outline.
The hole in the middle helps stability, like the more well known rectangular Korean kite. Of course, that hole is also the mouth of the blowfish, which really adds to the humor!
OK, it's not side-splitting, roll-on-the-floor stuff, but more like the subtle kind of humor the Japanese have! Traditionally, these flying fish face funny kites have bold black, gray, red and yellow markings. Apparently, they range in size from 36 cm (14 inches) to 77 cm (30 inches) in diameter. The best ones are totally hand-made.
---
Hot Lips Kite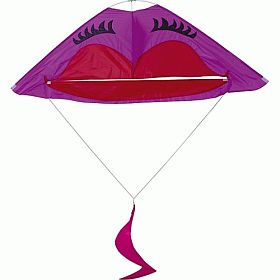 This is a fun kite aimed at children 4 years and over, or just the young-at-heart! A typical Western retail kite in many ways, by Premier Kites & Designs. Fiberglass spars, rip-stop nylon sail, and sold with 100 meters (300 feet) of line plus winder, all for under $20 U.S.
It looks like a spinner doubling as a tail there too, just for extra novelty! Yes, the humor is all in the 'face' with this kite. Somehow, the lips double as eyes, due to those eye-lashes. Weird. Perhaps the smaller the kid flying it, the more giggles it generates!
---
Cursor Kite
This is an interesting one that many people have found genuinely hilarious!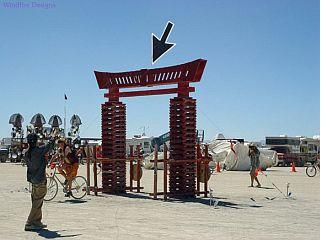 When you first see a photo of it on your computer screen, you might get the urge to quickly check where your real cursor is! That is, after realizing that it's the wrong size hence you weren't looking at the real one to begin with!

As far as I know, this is still a one-of. Unlike most funny kites.
The cursor kite was originally produced as a work of art by Tim Elverston of WindFire Designs. The cursor kite is a quad-line design that can be maneuvered around the sky like any quad. Well, I'm not sure how its handling compares to a retail quad, but the pictures seem to indicate it can be flown with some accuracy. It is claimed to feature asymmetrical framing, invisible stainless fittings, and opposed-bow tensioning for the sail.
What a hoot though! Pointing at stuff outdoors, with onlookers gawking... Instead of us jumping 'into the machine' like in that old sci-fi movie, it's as though a computer cursor image has mysteriously appeared out here in the physical world!
---
Well, that's it for funny kites. I hope you found something here that made it worth your while visiting this page!
---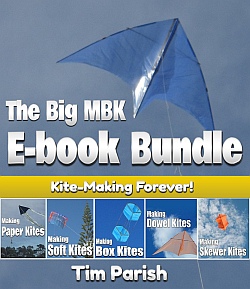 As mentioned earlier, there's more kite-making on this site than you can poke a stick at :-)
Want to know the most convenient way of using it all?
The Big MBK E-book Bundle is a collection of downloads — printable PDF files which provide step-by-step instructions for many kites large and small.

Every kite in every MBK series.