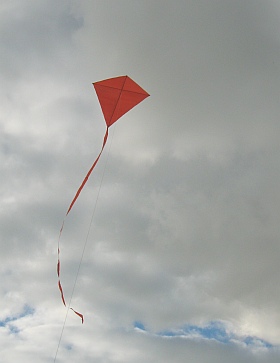 Our Simple Diamond wobbles up
Why do diamonds continue to be popular? If you have ever slapped one together and successfully flown it in light or moderate breezes, then it's obvious. With a long enough tail, it doesn't take a lot of skill to make a diamond that flies reasonably well. Hence, the success rate is pretty high.
Shops have had no trouble selling nicely constructed and decorated kites in the diamond shape for decades. People are just drawn to the familiar diamond shape.

The simplest kind of diamond is just a set of two crossed sticks of equal length, attached to a diamond shaped sail. With the crossing point set at 25% down from the nose, the kite does not even require a bridle. The flying line can simply be attached directly to where the sticks cross.
In fact, this is exactly how our MBK Simple Diamond is made. See it there in the photo!
We've been to a few kite festivals over the years and taken plenty of photos. However, festival flyers tend to avoid the diamond since it is so "been there done that"! Never mind, from the 100s of images we have, I did manage to spot three examples, which are displayed further down this page.
Here's three photos of diamonds, all of which feature streamer tails. That's an indication of how popular this quick-and-easy style of tail has become! The classic line-and-bows type of tail is not often seen nowadays. Perhaps a couple of exceptions are images in children's books and TV shows!