Flying line advertised as "polyester" has very similar properties.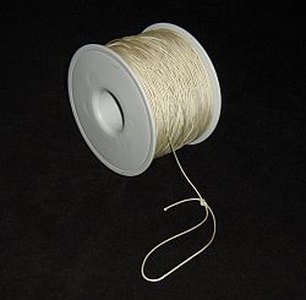 Some Dacron as delivered
There is some stretch in the material, but this is of no real concern when flying a single-line kite. If you ask me, there's nothing wrong with a bit of shock absorption in gusty winds!
Our own experiences with small Skewer Series kites on 20-pound line and larger Dowel Series kites on 50-pound line were very good.

The kites flew high with much less sag than a line made of cheaper material would have. Mind you, sharing a single flying-line among several kites makes the cost seem more reasonable!
The occasional tangles did still happen, but for us it was mainly due to carelessness.
You know, you're in a hurry winding up the line and you don't take enough notice of some resistance.
Next thing you know, a small pile of loose line has arrived at your hand in the form of a tangle! Usually, it's still fairly loose and it only takes a few minutes to sort out.
We flew most of our MBK kites on braided Dacron. The only exceptions were the Paper Series and Indoor Series designs which fly on polyester sewing-thread :-)

You could spend 30 minutes or so wandering the Web to find all the above info in several places, often buried in long paragraphs. But I suspect you would rather just glance at the list to take it all in, in under half a minute!
There's my roll of 200-pound braided flying line up there in the photo—in its natural color.