A Kite Bag for MBK Multi-Fly Diamonds
by Tony
(Adelaide, SA, Australia)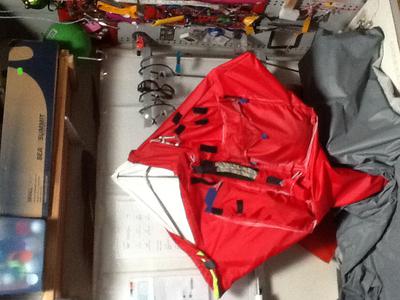 Bag with diamond train inside
Having received the 3 diamond kite train from Tim I thought the train deserved a carry case.

Yes, I could just carry the 3 assembled kites (and yes how easy they were to assemble) by gripping the 3 spine spars through the central diamond shape hole. But I wished to keep the tails from flying about. So ....

As with any design the afterthoughts kept piling up and I think buying shares in companies that make Velcro would have been the best afterthought!

The end result (see photos) looks like a shield cover with two pockets. I have outlined the photos with tailor's chalk. The red cloth is Oxford cloth made by Bainbridge.

In one pocket (left) is sited a trowel and a sand-anchor since I usually fly on the beach. The white corrugations on the sand-anchor are curtain tape sewn on to form drag barriers should the pull on the line start to shift the sandbag anchor. There is room for a plastic stake should I fly on a grass surface.

In the other pocket resides the line and winder with plenty of room for a larger winder.

Some tails reside in the bottom of the pocket and there is a Velcro-ed (? spelling) pocket which houses the pull down device in the large pocket flap itself.

This pull down device is the orange handled device with carabiner seen temporarily attached to the central line area of the bag. The pull down device is used to pull the kite down by attaching the carabiner around the flying line and running the device up the line. Then once the kite has been retrieved the line can be wound in without undue tension on the line or reel.

The handle of the bag is sited over the kite spines and held by elastic at each end. The handle has two thick lines and one thin line so that an adult can grip all three and a smaller handed person can grip the thinner cord only.

The bag can be carried under the carrying arm or held like a shield.

Lastly a carabiner is attached at the top of the bag to clip onto something and prevent the bag, full or empty being swept away by the wind.
I made the bag large enough to accommodate multiple trains of three diamond kites.