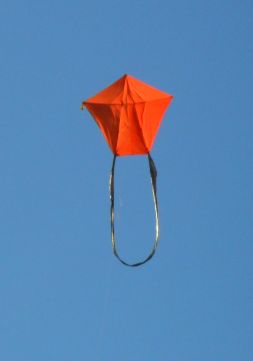 MBK 3-Skewer A-Frame
With only a few meters of line out, the kite just sank out every time after short tows into the air. Perhaps I had overdone it when shifting the towing point back. So, I edged the knot forward just a little and tried again with more line let out.
This time the kite climbed more willingly and found just enough air to hang up there at a modest 25 degrees or so of line angle.
Talk about marginal conditions!
Anyway, it did provide an opportunity to snap off a few photos. Also, I took a couple of videos. I always take more than one these days in case the camera focuses on something other than the kite! It's happened before.
After the photo session was done, it was time to see just how high the kite would go.
It was a rather slow climb, with the kite gradually heading out along the line of sight. Hence the line length was increasing somewhat faster than the altitude of the bright-orange kite. Never-the-less, after quite a few minutes there were signs of faster air. Only slightly faster, but it was enough to power the kite up over 50 degrees of line angle. That was more like it!
Finally, at about 300 feet above ground, there was a constant pull on the line. But it was nothing a 4-year-old child couldn't handle.
On this site, there's more kite-making info than you can poke a stick at :-)  Want to know the most convenient way of using it all?
The Big MBK E-book Bundle is a collection of downloads—printable PDF files which provide step-by-step instructions for many kites large and small.
Every kite in every MBK series.
The wooden winder slipped slowly across the grass when I put it down, which I did just out of curiosity. And this kite is nearly 1 m (3 ft.) across! The weight of my kite bag with another winder inside plus hat, tapes, and so on easily held the winder firm against the ground.
The 3-Skewer A-Frame kite was barely moving as it responded to tiny changes in the direction and speed of the breeze. The looped tail flowed out behind and twisted just a little here and there. But the air was remarkably smooth (compared to the usual inland turbulence we get), the location being several kilometers from the sea.
At this point, just over 120 meters (400 feet) of line was out. Several small children appeared and one of them excitedly pointed up to the small orange dot in the sky, with the black plastic tail barely visible.
Not long after that I checked the time on the digital camera, before starting to take the kite down. It was an easy job today with only light tension in the line.