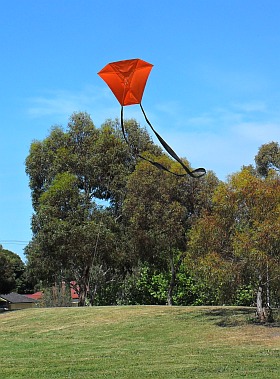 MBK 2-Skewer Barn Door
Just before leaving home, the weather website I refer to these days was indicating winds of 12kph gusting to 22kph. That didn't seem like a problem, since the recent test flight of this kite was done in similar winds.
Just to be safe, I shifted the towing point forward by about a centimeter (1/2").

For a while the bright orange Barn Door flitted around close to the ground, as I tried to get a few good close up shots. It's nice to get some trees and grass in these pictures rather than plain blue sky.
Meanwhile, the cloud cover overhead was thin, streaky and mid-level. Higher than cumulus, but not really high-altitude cirrus either. Now, after working the camera's auto-focus overtime, it was time to let the kite climb a bit higher...

The small Barn Door was up to its usual tricks, flying sideways for extended periods before straightening up and soaring high in the moderate-strength gusts.
Initially, it wasn't sensible to let out more than 60 meters (200 feet) of line. This was because the wind was blowing across the reserve, limiting the space available. Power-lines, houses and trees beckoned not much more than 60 meters downwind!

On this site, there's more kite-making info than you can poke a stick at :-)  Want to know the most convenient way of using it all?
The Big MBK E-book Bundle is a collection of downloads — printable PDF files which provide step-by-step instructions for many kites large and small.
Every kite in every MBK series.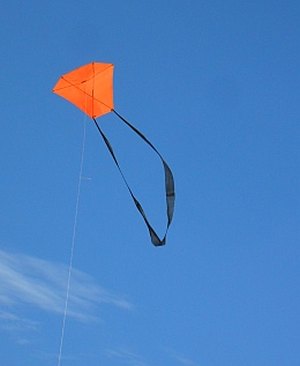 Looped tail tested!
However, since there were very few cars within the reserve grounds I sneaked across an access road and gained much more flying space. Soon, 90 meters (300 feet) of line was out, and the bow became more pronounced despite the windy conditions. Hey, the 2 Skewer Barn Door kite is less than 60cm (2 feet) across...

The 2 Skewer Barn Door kite was being pushed hard, occasionally being forced down to just above tree height before recovering in the slower air down there. There were also magnificent climbs and swoops as the bending bamboo and tape-edged plastic tussled with the relentless air pressure. This was particularly spectacular to watch when the kite was speeding past areas of cloud.

Thermal turbulence would sometimes cause abrupt changes in flight, as the kite stalled and then took off in a new direction. There were also moments of relative smoothness, when the looped black plastic tail would just hang with hardly a ripple.

It became clear after half an hour or so that the wind speed was increasing. Quite a bit! At times when the kite was low, the tops of the trees behind it could be seen lashing from side to side. No wonder the little Barn Door was grimacing with the strain.
In the end, the 2 Skewer Barn Door kite ended up on the ground and I called it a day. One of the diagonal spar tips was a bit sharp-edged and had punched through the cap tape. That caused a bit of sail slippage which might have been the real reason the kite had come down. The maximum gust strength above the trees' height must have been around 30kph.

Back home, I removed the flying line, sanded the sharp-edged bamboo tip a bit smoother and patched up the sail corner with a short length of tape. The tail had rolled up tight in several sections too, so that was another job.
In light enough winds, these tails will actually stay unrolled.

It's good to have a 2-Skewer kite to take out when it's clearly too windy for most of the other flat 2-Skewer kites.

In a somewhat secluded location, the wind meter had recorded an average wind speed of 6.6kph and a maximum gust of 20kph. However, on getting home and checking that online weather site again, it had changed to 20kph gusting to 30!