Who Invented The Kite?
Probably Someone From Ancient Asia
Is it possible to know for sure who invented the kite? No it isn't, but most research points to the Asian region - many hundreds of years BC!
While researching other history pages on this site, I got the impression that China was the birth-place of the kite. However, on re-searching the Web, it seems that the kite idea might have been independently discovered in Malaysia as well.
From these 2 regions, kites spread first to the rest of Asia, then eventually to the rest of the world.
A small but authentic
Chinese Dragon kite
is a good example of how far Chinese kite-making skills developed. Such artistry and fine bamboo engineering!
---
Interestingly, a few specific names do turn up in ancient Chinese literature. Here's a few, each of whom might have felt that they were the one who invented the kite in China...
5th Century B.C. Possibly the oldest reference to kite-making in literature. A master of joinery named Mu Zi developed a man-lifting kite over a period of 3 years. It was called the Wooden Black Eard Kite. Later, another master of joinery named Lu Ban made another kite to the same design.
4th Century B.C. An engineer called Kungshu Phan created a wooden kite in the shape of a bird that flew continuously for three days.
3rd Century B.C. General Han Hsin of the Han Dynasty flew a kite over the walls of a city during a military campaign.
In addition to these facts gleaned from actual written records, there is also a traditional belief or legend regarding who invented the kite. The story goes that a farmer attached his hat to a string to prevent it blowing away one day, and it managed to lift off and fly for a while. Thus creating the first kite!
---
But What About Malaysia?
This country doesn't have the same extensive literary records as China, but experts believe that simple leaf kites might have been flown here even earlier than the first wooden and silk kites in China. A very simple concept, but one that apparently works. It's just a large leaf that happens to be the right shape and works nicely as a kite when correctly tethered to a line!
Later, simple fishing kites came into use through many islands near South East Asia and in the Pacific Ocean. These kites were made from leaves or bark, fastened to simple frames of twigs or reeds.
---
E-book special of the month (
25% off

)...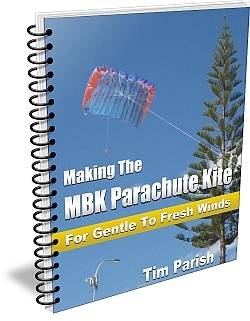 This printable e-book takes you step-by-step through making a 119 cm (4 ft) wide Parachute kite. It's not quite that wide in the air since the canopy takes on a distinct curved shape when inflated. This 14-cell kite performs best in moderate to fresh wind speeds. That's 20 to 38 kph or 13 to 24 mph. In gentle winds, this kite will hang in the air at fairly low line angles. In fresh winds, it pulls firmly for it's size, so small kids should only fly it while supervised!
Every kite design in the MBK Soft Series satisfies the following points...

Materials are plastic sheet, tape and line – and nothing more!
Tools are a ruler, scissors and a marker pen - and nothing more!
All cuts are along straight lines.
For the greatest chance of success, I make recommendations regarding the materials. For example, the type/weight of plastic, type/width of tape and line type/strength. Close enough should nearly always be good enough, since the design is well-tested and should be tolerant of small differences from my original.
Get the e-book for making the MBK Parachute kite. After making your first one in plastic and seeing how it performs, you can try soft Tyvek or rip-stop nylon for your next build.

The e-book is a PDF file - which means printable instructions to refer to while you make the kite. It also means convenient off-line access if that suits you better.

Aug 23, 17 06:00 AM

This previously published page gives a quick insight into the structure and materials of the original 'War Kites' by Samuel Cody. Plus some history and photos of course. Intriguing stuff...
---
---
Return to Paper Kites from Who Invented The Kite

All the way back to Home Page