Sky Dancers
Hilarious Inflatable Wind Art!
Sky Dancers are hilarious tall hollow figures which constantly move around in semi-realistic ways. We've seen them here and there around Adelaide, our home city in South Australia. These wind-art creations are actually sold as attention-getters for businesses and large events.
Yes, I'm going to call them 'wind art', since the best of these have obviously had some talented design input. Don't be surprised to see one or more of these things at a kite festival near you!
Some of the more expensive products have built-in lighting systems too, so at night the show gets even more spectacular.
How do these dancing puppets work? It's pretty simple. There is a cold air blower sitting on the ground, under each 'leg' of the inflatable. Air pressure keeps the shape inflated most of the time, but also causes constant erratic motion. The fabric is rip-stop nylon, and is attached to the blower using Velcro flaps.
I don't think anything else has been invented that catches the eye of so many so quickly!
Available on Amazon, this
Sky Dancer & Blower Combo Set
is ready-to-go and has great reviews.
Besides the photo up there, here's a video of what we saw when we attended the Adelaide International Kite Festival in March 2011...
---
Sky Dancers ... Or ... ?

The popularity of these randomly-moving tubular figures seems to be on the rise, with many manufacturers jumping on the band-wagon. Other names in use for these or similar products include:
SkyDancer Puppets
Sky Tube Guys
Puppet Guy
Air Dancers
Air Dancer Man
Flailing Tube Man
Fly Tube Guys
Dancing Sky Men
Stick Men
Some of these inflatables are huge, at 18 meters (60 feet) in height. At this size, they are visible to the entire crowd at a large public event. Others are just several meters high, and thus suitable for parking in front of a shop or other business premises. These are the kind we have driven past on many occasions. At this size, they tend to be a little simpler, sporting just a tubular body plus a couple of arms.
Check out this smile-inducing image of a dancing tube man!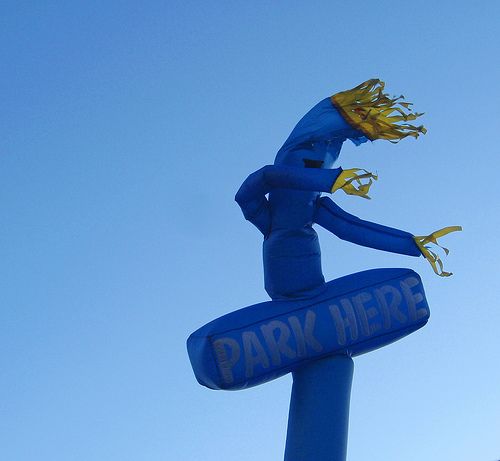 Photo courtesy of Mykl Roventine
This
Sky Dancer & Blower Combo Set
would be a good attention-getter for many small bricks-and-mortar businesses.
---
E-book special...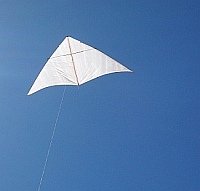 This month, it's the Dowel Delta.
Get the e-book for making this super-light-wind design.
The e-book is a PDF file - which means convenient off-line access while you make the kite. It also means printable instructions if that's what you prefer.
Jul 20, 16 07:00 AM

This previously published page documents our son's early kite-flying experiences. See him grow up, flying a variety of MBK home-made kites...
---
---
Return to Kite Festival from Sky Dancers

All the way back to Home Page