Sky Dancers
Hilarious Inflatable Wind Art!
Sky Dancers are hilarious tall hollow figures which constantly move around in semi-realistic ways. We've seen them here and there around Adelaide, our home city in South Australia. These wind-art creations are actually sold as attention-getters for businesses and large events.
Yes, I'm going to call them 'wind art', since the best of these have obviously had some talented design input. Don't be surprised to see one or more of these things at a kite festival near you!
Some of the more expensive products have built-in lighting systems too, so at night the show gets even more spectacular.
How do these dancing puppets work? It's pretty simple. There is a cold air blower sitting on the ground, under each 'leg' of the inflatable. Air pressure keeps the shape inflated most of the time, but also causes constant erratic motion. The fabric is rip-stop nylon, and is attached to the blower using Velcro flaps.
I don't think anything else has been invented that catches the eye of so many so quickly!
Available on Amazon, this
Sky Dancer & Blower Combo Set
is ready-to-go and has great reviews.
Besides the photo up there, here's a video of what we saw when we attended the Adelaide International Kite Festival in March 2011...
---
Sky Dancers ... Or ... ?

The popularity of these randomly-moving tubular figures seems to be on the rise, with many manufacturers jumping on the band-wagon. Other names in use for these or similar products include:
SkyDancer Puppets
Sky Guys
Sky Tube Guys
Fly Guys
Puppet Guy
Air Dancers
Air Dancer Man
Flailing Tube Man
Fly Tube Guys
Dancing Sky Men
Stick Men
Some of these inflatables are huge, at 18 meters (60 feet) in height. At this size, they are visible to the entire crowd at a large public event. Others are just several meters high, and thus suitable for parking in front of a shop or other business premises. These are the kind we have driven past on many occasions. At this size, they tend to be a little simpler, sporting just a tubular body plus a couple of arms.
Check out this smile-inducing image of a dancing tube man!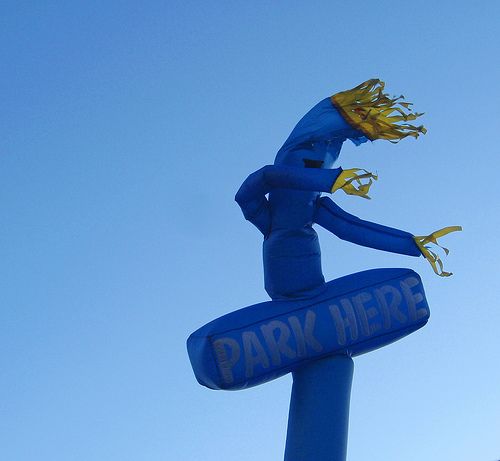 Photo courtesy of Mykl Roventine.
This
Sky Dancer & Blower Combo Set
would be a good attention-getter for many small bricks-and-mortar businesses.
You might have noticed that this site has a monthly newsletter...
For single-line kite fliers and builders, it's always been a good read. But if you are interested in KAP and/or large home-made kites you won't want to miss it!

So sign up today, and download the free 95-page e-book "What Kite Is That?" straight away. Info-packed and fully photo-illustrated.
And there are even more free resources, such as a kite-making e-course, waiting for you in the next issue of this newsletter.

Jul 28, 14 05:06 AM

This was an experiment with mounting a camera directly onto the kite. With winds gusting to over 30kph up high, the Fresh Wind Barn Door kite was selected...

In a word, it was tricky. I mounted the camera as close as possible to the center of gravity of the kite, but it still ended up quite a few cm closer to the trailing edge than I would have liked. It was only practical to mount he camera - on its bendy tripod (!) - near the diagonal spars crossing point. Electrical tape secured 2 short tripod legs to the diagonal spars, holding the camera upright with the kite sitting on its trailing edge.

It was a struggle to get enough lift to gain much height, and the kite swung dangerously from side to side. Might try the drogues next time! I did my best to urge the kite higher in mid-swing.

Eventually, for a few seconds, the kite got to around 100 feet on almost 200 feet of 200 pound Dacron.

A video clip will of course be forthcoming on Facebook. And only seasoned kite fliers will bother watching it all the whole way through, possibly wrestling with sea-sickness all the while. Hence the title of this post. Still, it was an interesting, if slightly nerve-wracking, outing! At shoulder level, the breeze measured around 9kph gusting to 18.5kph. Some low cloud over the hills was absolutely tearing along, perhaps up around 40kph.

Huge Homemade Kites And Aerial Photography: This is often the topic for posts which appear here. New things are always being tried so sign up for my newsletter to stay right up to date with the latest developments!
---
---
Apologies for this site's current lack of video when viewed on mobile devices...
For now, please view this site on a Desktop or Laptop computer to see the videos. And there's plenty of them!

Return to Kite Festival from Sky Dancers

All the way back to Home Page