Rokkaku Kites
Reliable, High Flying Without Tails!
Rokkaku kites are dependable, steep fliers and tail-less. Here's a few we have seen over the years, with comments.
All Roks have one vertical spar and two bowed horizontal spars, forming a six-sided figure when covered with sail material. In theory, a single-point bridle could work, but most Roks have at least 4-point bridles to keep them steady in the air. Like the Dowel Rokkaku in the book cover over there on the right.

We've been to a few kite festivals over the years and taken plenty of photos. There's some Rokkaku pictures among them, so see below for a few large and elaborately decorated examples.
This
Kabuki Rokkaku Koi
on Amazon is a typical store-bought Rok.
---
Rokkaku Kites Seen At Festivals
Here's 6 Rokkakus, each with a unique decorative design on the sail. Firstly, 3 Roks with face designs from Japan. Yep, the 'real deal'. We saw these being flown by men in traditional kite-flying garb. Next comes a modern design, another traditional but non-face design and finally an ad for a local kite shop!
This stern Sumarai looks like he is about to lop your head off with a sharp sword... At least, that was my first impression. It might actually be a Japanese deity or something else entirely! Anyway, it's a traditionally decorated Japanese Rokkaku.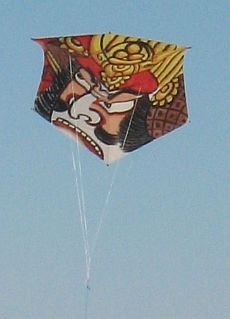 And another
For reasons known only to the Japanese, this fearsome toothy character has powdered his nose completely white... Another traditional Rokkaku.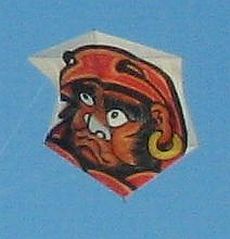 Another Rok face (har har)
What is it with the white noses? Another striking face on a Rok kite.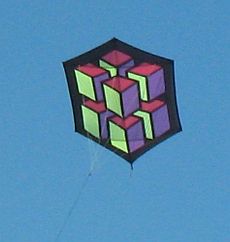 Geometric decoration
I really like this design. A simple, but highly effective 3D graphic in bold colors. Perfect!
Brushwork?
Distinctly Asian in form and color, the painting on this large Rok really stood out against the pale blue sky. Nice one!
Roks make good bill-boards
So it's advertising a local kite shop... What the heck, it's a very nice Rok!
The
Kabuki Rokkaku Koi
is an example of a Rok kite which can be bought on-line - from Amazon in this case.
---
Out In The Field

Rokkaku kite stories of my real-life flying experiences are worth checking out!

Illustrated with photos and videos, of course.
There's our Dowel Rokkaku in flight, in the video above...
That's about it for this page on Rokkakus. Hope you enjoyed the pics!

---
E-book special of the month (
25% off

)...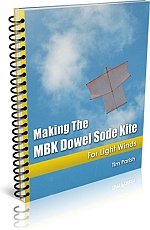 The Sode is a traditional Japanese design, and this MBK version is exciting to watch in rough air!

If you have made Diamonds before, this kite takes a little more time to make. It's still a straight-forward build though, using the same techniques as used for my Dowel Diamond. 

Get the e-book for making the MBK Dowel Sode kite. The cambered sail makes this a very efficient design. Of the Dowel kites, this design is one of my personal favorites!

This Sode flies steep and steady over the Light wind range, and starts to move around quite a bit when the wind picks up to Moderate levels. Tail(s) are entirely optional, but may be added for looks.

The e-book is a PDF file - which means printable instructions to refer to while you make the kite. It also means convenient off-line access if that suits you better.
Dec 07, 16 09:00 AM

This page features some KAP work by site visitors. From the 'just having a go' to the rather more professional!
---
---
Return to Types Of Kites from Rokkaku Kites

All the way back to Home Page