The RC Kite Craze
Kite And RC Flying Passion Combined

An RC kite is pretty much what it sounds like. That is, a kite-like aircraft fitted with RC (radio control) receiver and pulled through the air with a propeller. In structure, it has a lot in common with kites and yet it is flown around like an RC plane.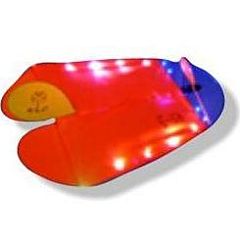 Flying a kite by remote control was a concept first embodied as the IFO (Indoor Flying Object), developed in the U.S.A. by WildRC Inc. Their prototype flew in 1997. IFOs still enjoy an enthusiastic following today, particularly in the U.S.
Since the year 2000, a similar product has been developed by Mr Michael Lim from Singapore. However, this was no mere 'knock-off'. The RC Kite was also the result of careful and extensive research and development. See the photo over there of the Pro III entry-level kite.
Mr Lim was formerly a jewelry designer but now finds it hard to drag himself away from further development of these amazing little flying machines!
---
Actually, my wife knew about these kites before I did, but that's because she is from Singapore. A crowded city-state-island in South-East Asia, it has an enthusiastic and growing crowd of kite fliers. Both conventional and RC! In typical Singapore fashion, the scene is very organized with simulator training, a ranking system for fliers and scheduled events. This city runs like clockwork. I know, I've been there! Pilots of all skill levels can be seen flying at a central location on Fridays and Saturdays.
So what exactly can an RC kite do? It can...
float around like a glider, with the motor idling
perform all the basic aerobatic maneuvers like a light aircraft
'hang on the prop' in hovering or very slow flight, nose high in the air
zip around pylons like the Red Bull racers
I should add, only a well-trained pilot can do all the above!
---
The Best RC Kites Are Singaporean
The first design from GoFlyKite was named the FireFly and emerged onto the market in the year 2000. This kite featured LED lights around its rim for night flying. The effect gave a lot of pleasure to both the fliers and those looking on.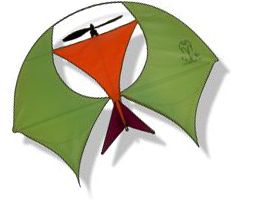 2001 saw the next generation of kites, named Golden Ingot. But Mr Lim didn't rest, finally bringing out the popular Pro III which is the current entry-level kite. The original colored-LED lights idea has persisted, making night flying a big part of this silent kite-flying phenomenon. In fact, many Singaporeans refer to these craft as LED kites.
Other kites have been developed too, for specific characteristics. For example, that green and orange Scorpion pylon racer up there.
The frame and RC housing of the kites are made from carbon fiber. That's the same material that is used for the very best spars in ordinary kites. Strong and yet very light. The sails use polyester canvas which resists scratches and tears quite well.
Although Singapore is the hot-spot, being the place where these kites were most popularised, cheap knock-offs have been around for several years. Is that really surprising? I don't think so! Hence the flying of RC kites is not unknown in other parts of the world, where it is sometimes known as the air kite. However, the cheapies don't perform like the much more expensive IFOs or RC Kites. This is also not surprising! In particular, decent radio gear is used with these designs which are considered model aircraft, not toys.
In 2008, people's video of flying events and gatherings are increasing awareness of the RC kite. Some excellent flying can be seen on the Web! It's fascinating to watch real precision aerobatics and also the very slow flight capability of RC kites.
---
The RC Kite 'Starter Kit'
This kit is so named because many parts are interchangeable. Extra components can be bought later so you can advance to flying more challenging designs. The starter kit contains:
Pro III Kite with Lights
Futaba 4EXA 4 Channel Transmitter
Futaba Receiver
GFK Aluminium Carry Case
Propeller
Front Bar
Brushed Motor
Speed Controller
Micro Servos (1 pair)
Kite Bag
Push Rod Set
Rudder
Lipo Battery 10C 1300mah
Lipo Battery Charger
Also, membership of the GoFlyKite flying community comes with purchasing the Starter Kit.
Here's a few basic specs on the Pro III:
680mm x 540mm x 55mm in size
kite itself weighs 45 grams
kite ready-to-fly weighs 260 grams
---
Personal Thoughts On The RC Kite
Well, my first reaction to reading about this whole scene was similar to most people's reaction to those tiny indoor RC aircraft. That really looks like fun! With miniaturization as advanced as it is now, something like this had to happen sooner or later. Also, flying indoors takes away a lot of the limitations that the weather imposes on outdoor RC flying.
In my twenties I did have some experience with RC aircraft, mainly trainers and gliders. Flying indoors with mini RC airplanes was science fiction you could only dream about! Another fascinating area of model aircraft is the flying of tiny RC helicopters. Get one of these and start teasing your pet cat!
I guess for some successful RC fliers, used to the noise and speed of powerful fuel-driven RC planes, these kites could seem a bit tame. A floating kite just doesn't re-create the feeling of 'flying an aircraft' like a fuel-powered RC plane does.
The whole concept of a miniature kite-like craft is so Singaporean! Would you expect anything big and loud to come out of a cramped and urban country where even big dogs are banned from the streets? :-)
At over 600 Singapore dollars for the starter kit, these are not toys, as already mentioned. However, these kites do appear flimsy and toy-like at first. Only after looking into it a bit more do you appreciate the achievements of those involved in developing the unique technology. Also, watching expert piloting helps illustrate how good the technology is!
On reading all about it at the GoFlyKite website, I noticed a tendency to talk up the product as a way of freeing oneself from the flying lines of ordinary kites. There was an air of 'these have so many advantages over ordinary kites'.
By the way, the images on this page are used with the permission of the GoFlyKite company
I personally don't think there's any kind of competition going on. RC kite technology is far closer to RC models than kite flying. Particularly in light of the trend to lighter and smaller RC models of all kinds! RC kites are just a particularly unique branch of those little RC craft. Flying tethered kites has a uniqueness all of its own, which some people will always prefer. RC flying is a world apart with a totally separate set of attractions.
And another point, while I'm on my soap-box here... :-) The organized flying events in Singapore use much 'RC flying' language. The atmosphere is more like typical weekend RC club flying at the club grounds than a kite festival with people wandering through.
There. I've got it all off my chest now. Don't get me wrong, I still think these kites are wonderful!
---
In Conclusion
It's possible you're wondering why I'm even bothering to write up the RC kite, since it seems to have more in common with RC aircraft than with normal tethered kites.
Well, the construction is very kite-like, with the sail fabric stretched between a surrounding frame. This isn't much like the well-known diamond kite in the West, but it does have something in common with a particular class of traditional Chinese kite. I'm talking about those kites that have molded bamboo spars and hard edges.
On the other hand, the vertical fin of the Pro III does look more like a model plane fin than the flexible keel of a kite!
In any case, everybody is calling these things RC kites, or air kites so kites they are! Hence they deserve a spot on my website.
You might have noticed that this site has a monthly newsletter...
For single-line kite fliers and builders, it's always been a good read. But if you are interested in KAP and/or large home-made kites you won't want to miss it!

So sign up today, and download the free 95-page e-book "What Kite Is That?" straight away. Info-packed and fully photo-illustrated.
And there are even more free resources, such as a kite-making e-course, waiting for you in the next issue of this newsletter.

Sep 21, 14 09:44 PM

Victoria Park adjacent to the Adelaide CBD in South Australia, that is. This large grassed area which forms part of the eastern parklands of the city is used for various events from time to time. Including, in the past, major horse racing and a section of a Formula 1 Grand Prix track.

An invite had gone out to various kite enthusiasts to meet and fly, since the weather looked good. We arrived after lunch, only to discover very light winds. A lone R/C flier was enjoying the easy conditions with his 3-channel electric trainer. Like a tiny Cessna, if you're not familiar with model aircraft.

For a while it seemed we were alone, before spotting a power kite in the distance, making brief forays into the air. Victoria Park is rather large!

It actually turned out to be quite an enjoyable outing, with the 2.4m (8ft) Multi-Dowel Barn Door kite just scraping into the air. But then, thermals were everywhere. It wasn't long before the large pale blue kite went right overhead! At other times, I simply toyed with the Barn Door, floating it way out on a long line then pulling it up to over 200 feet.

Another RC flier was now having success launching his glider, finding thermals, and gaining height in them.

We were eventually joined by two other AKFA members including the President. A couple of ripstop-and-carbon light-wind kites went up, with plenty of success. By now the breeze had come across the park from just about every point of the compass. Variable indeed!

In the distance, someone had been lofting a large but light-wind parafoil. It was interesting to see it sink out as an utter 'bag of washing' during a dead calm spell! Someone else had some success with a small blue Delta for a while.

All up, a worthwhile day IF you were flying lightly-loaded kites! No luck for Mike with his power kite and skateboard...

About This Post: These days, most flight reports are in the short format you've just seen, above. Usually, photos and/or video from the day are posted a few days later on the MBK Facebook Page. However, longer format reports are done occasionally, which also feature photos and video taken on the day. Here is a link to all those full flight report pages on this site.
---
---
Apologies for this site's current lack of video when viewed on mobile devices...
For now, please view this site on a Desktop or Laptop computer to see the videos. And there's plenty of them!

Return to Paper Kites from The RC Kite Craze

All the way back to Home Page