The Peter Powell Stunt Kite
Classic Steerable Diamond Kite
The Peter Powell Stunt Kite is a classic, and copies popped up such as the Cayman stunt kite in the next section down below. Unlike most modern stunters, it was a steerable Diamond. This design enjoyed huge popularity and is still well-known today. Every kite came with a 30 meter (100 feet) plastic tubular tail which aided stability and put a grin on the face of anyone watching!
Peter and his sons have recently (in 2014) re-introduced a design based on the original, called the Sky Stunter MkIII. An exciting development for fans of this classic kite!

It was fairly straightforward to stack the Powell kites too, so people had fun flying several at a time. This is set to continue, with the MkIII available in a stack of three.

You have to wonder if all those super-long tails ever got tangled when more than one kite was attached to the lines. Perhaps only one tail, on the furthest kite, was the way to go...
In the 1970s, millions of Peter Powell Stunt Kites were sold when stunt flying became a craze in the U.K. Mr Powell himself lives in that corner of the world and has sons who no doubt have flown a kite or 2 themselves by now.
Although multi-line kites have also been around for a long time, it was the Peter Powell kite that really boosted the popularity of this kind of controlled kite-flying. Instead of just a handful of expert enthusiasts being involved with stunters and traction kites, the general public ended up embracing all kinds of multi-line kiting.


The is currently offering this kite plus other related products and accessories. Have a look in there for some extra background info.

---
'Cayman' Peter Powell Stunt Kite

These kites are not available for sale any more. However, you might find these technical details interesting, particularly if you have never actually handled the kite itself.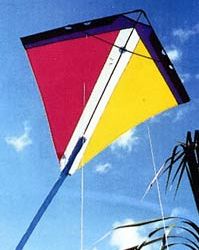 The photo over there shows a red and yellow Cayman. See how this sport kite is actually a Delta in disguise! It has nearly everything a single-line Delta has, except a keel. The 2 leading spars are there, as is the spine down the middle and the spreader keeping the leading edges apart. However, the spine is so long that the sail shape looks just like a Diamond from a distance!
Here's some specs:
Wind Range: 13-65 kph (8-40 mph)
Wingspan: 122 cm (48 inches)
Height: 120 cm (47 inches)
Weight: 240 grams (8.5 ounces)
Sail Fabric: Rip-stop Nylon
Spar Material: Fiberglass
Thanks are due to the guys at windpowersports.com for the above details plus the photo.
---
A History:
The Peter Powell Stunt Kite
Early 1970s
The very first kites came with bamboo spars! That's a great choice for home-made kites, but perhaps they don't lend themselves to mass production. These stunters had black plastic sails.
Mid 1970s
By this time, things were going crazy. The distinctive Diamond stunter was being churned out en mass with aluminum spars. The initial color choices for the sail were Red or Blue, but Yellow, Pink and Black and others soon followed.
Enormously long tubular tails which inflated in the wind came in bright red and yellow, and probably some other colors as well.
Wooden handles for the flying lines were supplied and the instructions were printed on parchment.
Mid 1980s
This was the age of fiberglass spars, and the Peter Powell design followed suit. Maybe safety was a concern too! Aluminum is a great conductor of electricity. Not a great material to hoist way up into the air on the end of a couple of wet kite strings, in bad weather. Could be a ... erm ... shocking experience!
Black sails were still available at this stage, although the material was now that great kite-making stuff, rip-stop nylon. I imagine the range of color schemes was more varied than ever before, by this time.
Post Millenium (2000 onwards)
A little birdie told me that Mr Powell gave up selling the design altogether, back in 2006. I suppose serious historians rely on more than little birdies, but anyway...
The value of these old kites, some of which are still lying around forgotten in cupboards and old sheds, continues to rise. In fact, it's getting harder to put your hands on one now. If you try a search on eBay, you might just have to make do with a poster showing some Peter Powells in flight... Perhaps people are hanging on to them, now that the value of a flyable original is climbing past US$100 or so in 2009!
Kite fliers still reminisce about the Peter Powell Stunt kite online in forums and other meeting places. A handful of kids are lucky enough to have a genuine original that was once flown by their father or even grandfather. The excitement reverberates around, with talk of how easy they were to fly and how impressive those long tails were. Some of the kites that are still flyable limp into the air with packing-tape patches.
The Peter Powell Stunt Kite lives on!
2014
Yet another little birdie told me that genuine PP kites are again being manufactured from a design by Peter and his sons. The PP MkIII. Pricey but very good I'm sure.


AN UPDATE: We have now had the pleasure of flying this kite, and can't recommend the enough. It's very durable, and easy to assemble and fly in a wide range of wind strengths. A little more care and skill is required in strong winds, of course.

You might have noticed that this site has a monthly newsletter...
For single-line kite fliers and builders, it's always been a good read. But if you are interested in KAP and/or large home-made kites you won't want to miss it!

So sign up today, and download the free 95-page e-book "What Kite Is That?" straight away. Info-packed and fully photo-illustrated.
And there are even more free resources, such as a kite-making e-course, waiting for you in the next issue of this newsletter.

Sep 23, 14 01:22 AM

This day's flying had been anticipated for at least a couple of weeks. A 'drag bucket' added to the tail end of the 2m (7ft) span Carbon and Tyvek Diamond was an attempt to raise the upper limit on the flyable wind speed for the kite. From earlier experiences it seems the unmodified Diamond becomes unstable at around 30 kph.

The first flight was done with the drag bucket adjusted for fairly minimal effect. As half expected, the kite soon started to fly way over to the left and right. So, the wind speed up there must be at least 30kph! This was down at Brighton Beach, but all thoughts of doing KAP soon evaporated, due to the high wind speed. Not to mention the turbulence coming from some high buildings directly upwind.

For a second attempt, the Velcro fastener was re-adjusted to considerably open up the intake of the bucket. The bucket being two Tyvek flaps which come together over the tail-most region of the sail. This had an immediate effect. More stability! Unfortunately, the extra drag also helped keep the kite at a lowish line angle in some of the fiercer gusts. Lots of line tension ensued, with a huge amount of distortion apparent in the sail.

At this rate, something was going to break pretty soon, so I struggled to get the kite down to the sand. After shifting the towing point forward by about 3cm (1") the kite seemed a little more comfortable. When the sail of a Diamond distorts badly, it reduces the amount of effective area below the towing point. This is like shifting the towing point back - adding to the problems of too much wind!

And then the inevitable happened. The already broken-and-repaired horizontal ferrule gave way and the kite promptly folded up and sank to the sand. But not before I had carefully observed every second of the kite's struggles, trying to learn more about Diamond kite behavior in high winds.

Just an hour after arriving home, the weather station at the nearby airport was reporting gusts to 50kph! It was less further down the coast, but I suspect the Carbon Diamond felt the brunt of around 40kph for at least a few seconds at a time.

"Simplest Dowel Kites": A free but very useful kite-making e-book. Make a super-simple Sled, Diamond and Delta - step-by-step with photos. Sign up for the e-book and get an emailed series of messages called "MBK Tips'n'Ideas". If you don't need the e-book, consider signing up anyway... You won't believe the value on offer in that message series!
---
---
Apologies for this site's current lack of video when viewed on mobile devices...
For now, please view this site on a Desktop or Laptop computer to see the videos. And there's plenty of them!

Return to Stunt Kites from The Peter Powell Stunt Kite

All the way back to Home Page