"The Big MBK Book Bundle"
ALL The E-book Published Content
From 'My Best Kite'
- At A Hefty Discount!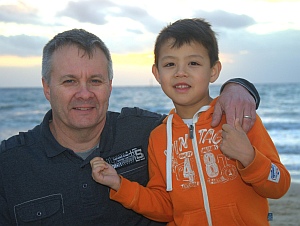 Hi! I'm Tim Parish, the 'kite nut' behind this website.
Perhaps you have seen one or more of my e-books already. People were starting to ask about getting all of the for-sale titles in one hit, so now you can!
That's no less than 40 kites that you can make, all up.

(A download link is supplied for each of the 9 e-books in the Bundle.)

---
Just in case you are not already aware of the convenience factor with these books....
Each one is a PDF file sitting on your computer or mobile device, so it doesn't take up space on a shelf.
Nicely-formatted printouts can easily be obtained - for just the kite you are working on, if that suits you best. Recycle the pages as scribble paper after the kite is finished!

Just look at all this...
That's a lot of kite info!
Take this chance to save $$$ and time, rather than spending what all the books are worth individually.

Note:
The MBK Book Bundle is made available as separate links, one for each book. No installing, no extracting, just PDF files going straight to your hard drive.
Also, you can skip any book you already have, which means you spend less time downloading.

A testimonial...

" 30+ years ago, I tried making a kite using the 'instructions' in a free kite-safety booklet. What a disappointment for a young boy.
 Your instructions and methods are wonderful. You help the builder to focus on accuracy, without making it hard. Also, you use materials that are durable, yet cheap!"
- David D. (CA, USA)

---
Now, I will summarize the contents of each individual book, in case you are unfamiliar with any of them...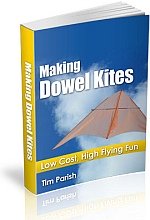 "Making Dowel Kites - Low Cost, High Flying Fun"
This printable book features an 8-kite series of Dowel designs which use 1.2m (4 feet) long spars. Everything from the big Sled with its eye-catching diamond cut-outs to the Dopero which soars like an eagle on the slightest whiff of rising air.
Also some 2.4m (8 feet) spar designs. A giant Sled, Diamond, Barn Door, Rokkaku and Delta. Most impressive in the air!

13 kites in all.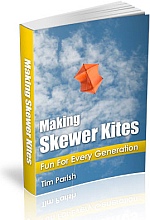 "Making Skewer Kites - Fun For Every Generation"
This printable book brings together an 8-kite series of 1-Skewer designs and a more advanced 8-kite series of 2-Skewer designs. In addition, there is the Tiny Tots Diamond and a Tetrahedral kite.
Finally, there are the much bigger 3-Skewer Sled and 3-Skewer A-Frame kites. Great performance for a dirt-cheap price.

That's 20 kites in all.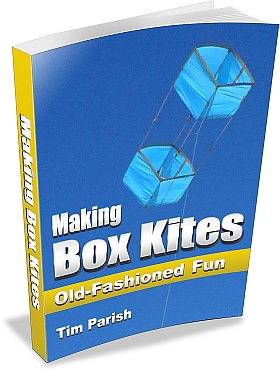 "Making Box Kites - Old Fashioned Fun"
This printable book brings together Skewer and Dowel designs based on the traditional square box concept which flys on one edge. A 1-Skewer Box, a 2-Skewer Box, two Dowel Boxes for different wind ranges and a giant Multi-Dowel Box kite.
That's 5 kites in all.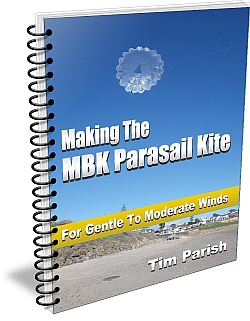 "Making The MBK Parasail Kite"
This printable book shows you how to make the second of the Soft Series kites. The Parasail looks like a jellyfish in the air, when made from clear plastic. Quite unusual and unique! Onlookers often comment on it.
The first was the Soft Sled and is available free from this website. The rest are coming over the next few months!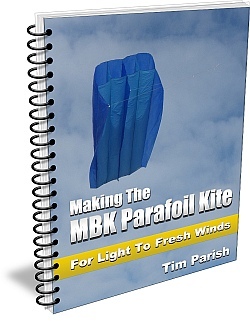 "Making The MBK Parafoil Kite"
This printable book shows you how to make the third of the Soft Series kites. The Parafoil is a simple low-aspect-ratio foil that stays in the air over a rather wide range of wind speeds. Handy!
When the Soft Series is complete, it will be released as the compilation e-book "Making Soft Kites" and will replace the individual soft-kite books in this Bundle.
In the meantime, the value of this Bundle keeps going up, kite design by kite design!


"All About Kites - 'Ask Tim' Q&As"
This contains all the questions I was asked through 2011 and 2012, and all the detailed and sometimes researched answers I provided. A clickable Table of Contents is organized into chapters for easy reference.
Are you are a beginner? Chances are someone has already asked for info that you might find helpful too. Particularly on bridles!

"Climbing Kites - 10 Selected Thermal Tales"
After coming home from flying a kite, I usually write it up as a Flight Report. This e-book is simply a collection of the best thermal-flying tales I could put together from these reports. Featuring kites from either of the two Skewer Series.
The 2-Skewer kites really excel at this type of flying, but occasionally things get interesting with a little 1-Skewer design as well!
If these tales don't get you curious, even excited, about the possibilities of thermal flying with your own latest Skewer kite... Well, I'll eat my hat, sun flap and all.



"MBK Clip Art Tutorial - Draw It Onto ANY Plastic Kite!"
This tutorial leads you step-by-step through a process to get any 2-tone clip-art image off the Internet and on to your kite sail!
Not all of us are artistically gifted, but this tutorial goes a long way to narrowing the gap, when it comes to the final result. When people ask 'did you do it yourself?' you can answer 'sure I did!' even though you were not the original design creator.
Is copyright an issue? Perhaps a gray area here, but if the design is quirky and relatively unknown, and you just put the the kite up occasionally for your personal enjoyment, I can't see any problems. Particularly if you swap some colors around or use new ones. Or even change line thickness and so on.

"The Adelaide International Kite Festival"
Every year, we go along to this large festival to fly kites, take pictures and video, and generally enjoy the spectacle.
Check out some of the best imagery we have archived, and my commentary on it all, in this convenient e-book format. The years 2007 to 2009 inclusive are covered.
If you have never been to a kite festival before, you might just want to attend one, after seeing all this!

Download Now

Are you ready to immerse yourself in building, decorating, flying and reading about kites? The Big MBK Book Bundle is just the thing.
From MBK (My-Best-Kite.com)
Here's the button for secure purchases via Stripe or Paypal...



GUARANTEE
Risk-free, 60 day trial.
During this time, you can ask for a full 100% refund,
if you are not completely satisfied.


---
---