Kite Running
As In The Book And The Movie!
'Kite running' in some cultures is chasing down a kite after its string has been cut, during a bout of kite-fighting. The winner of the bout continues flying.
I guess a looser definition of this activity could include a Western child happily towing a kite around a field or back-yard. Or a child trying to catch the tail, as in the photo over there!
Perhaps even a toddler quickly closing in on a hapless paper kite while its owner screams Nooooooo! Just imagining the terrible work those strong little fingers are about to do on the delicate craft...
Let's look a bit deeper into the first definition. Actually, I'll ignore the others ;-)
The practice of having someone else chase after your kite is not limited to Afghanistan. That country is probably the most strongly associated with kite fighting and running due to the very popular book The Kite Runner, and the movie which followed.
Pakistan and India also use the term. However, the kite runners in those countries have a much more urban environment to deal with, as they scramble after tissue and bamboo drifting in defeat.
The fighter kites in these 2 countries are somewhat smaller than the Afghan ones, which average around 1 meter (3 feet) in width and height. Sometimes, it's the flier himself who runs after his free-flying kite. Yes, it's a male-dominated activity in these countries.
---
Some Dangers Of Kite Running
Talking about scrambling with your eyes on the sky... It's not hard to imagine how dangerous this is, for those who happen to be crossing a busy street at the time! The danger doesn't end when the kite is down either. Runners might find that it's up a tree or jammed in the gutter of a multi-story building. Apparently, kite running gets people killed from time to time, from accidental falls to the ground while attempting a retrieve.
There is a reward for these death-defying antics - you get to keep the kite! Not sure that I would risk my life for a piece of tissue and bamboo, however nicely made and decorated. Oh yes, nearly forgot - it's not unknown for a motorcyclist to nearly lose his head in these situations. I'm not referring to road-rage either! This can happen when glass-coated flying line ends up tightly strung across a narrow alley, barely visible to approaching traffic.
---
Digging A Little Deeper...
Where did it all start? Many historians believe that kites made their way out of China and down the South East Asian peninsula and eventually across into many Pacific islands. Similarly, they also spread towards the Middle-East through India and Pakistan, finally reaching Afghanistan over 100 years ago. In all these countries, young and old are equally keen on the sport. While mainly men and boys participate, people from many walks of life can be seen battling it out in the skies with these maneuverable single-string kites.
Wait a sec - single string? How do you steer these things? I must admit I had heard about kite fighting long before I came across the explanation of just how these kites are controlled.
Now, about the photo below... They are Afghan kite runners - the real thing! See another couple of lads in the background, scanning the sky for kites as well.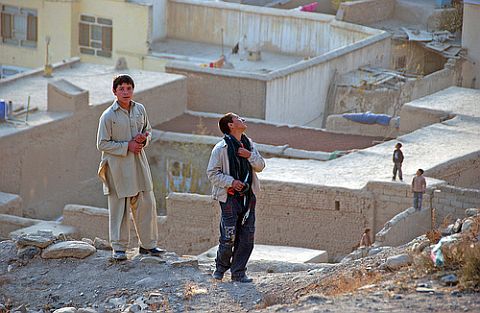 Kite running, Afghan style. Photo courtesy of Eric Sutphin.
The kites are actually unstable when there is only light tension in the line. Check out the movies on YouTube, where you can see fighting kites moving slowly in tight circles. To move in a particular direction, you wait until the kite is pointing there. Then you tug the line to load up the kite sail with air pressure and off it shoots in a straight line... for a few seconds.
To get really good at this requires years of practice. To get really good at kite running requires fitness and a hard-working Guardian Angel!
You might have noticed that this site has a monthly newsletter...
For single-line kite fliers and builders, it's always been a good read. But if you are interested in KAP and/or large home-made kites you won't want to miss it!

So sign up today, and download the free 95-page e-book "What Kite Is That?" straight away. Info-packed and fully photo-illustrated.
And there are even more free resources, such as a kite-making e-course, waiting for you in the next issue of this newsletter.

Jul 28, 14 05:06 AM

This was an experiment with mounting a camera directly onto the kite. With winds gusting to over 30kph up high, the Fresh Wind Barn Door kite was selected...

In a word, it was tricky. I mounted the camera as close as possible to the center of gravity of the kite, but it still ended up quite a few cm closer to the trailing edge than I would have liked. It was only practical to mount he camera - on its bendy tripod (!) - near the diagonal spars crossing point. Electrical tape secured 2 short tripod legs to the diagonal spars, holding the camera upright with the kite sitting on its trailing edge.

It was a struggle to get enough lift to gain much height, and the kite swung dangerously from side to side. Might try the drogues next time! I did my best to urge the kite higher in mid-swing.

Eventually, for a few seconds, the kite got to around 100 feet on almost 200 feet of 200 pound Dacron.

A video clip will of course be forthcoming on Facebook. And only seasoned kite fliers will bother watching it all the whole way through, possibly wrestling with sea-sickness all the while. Hence the title of this post. Still, it was an interesting, if slightly nerve-wracking, outing! At shoulder level, the breeze measured around 9kph gusting to 18.5kph. Some low cloud over the hills was absolutely tearing along, perhaps up around 40kph.

Huge Homemade Kites And Aerial Photography: This is often the topic for posts which appear here. New things are always being tried so sign up for my newsletter to stay right up to date with the latest developments!
---
---
Apologies for this site's current lack of video when viewed on mobile devices...
For now, please view this site on a Desktop or Laptop computer to see the videos. And there's plenty of them!

Return to Paper Kites from Kite Running

All the way back to Home Page