Kite Running
As In The Book And The Movie!
'Kite running' in some cultures is chasing down a kite after its string has been cut, during a bout of kite-fighting. The winner of the bout continues flying.
I guess a looser definition of this activity could include a Western child happily towing a kite around a field or back-yard. Or a child trying to catch the tail, as in the photo over there!
Perhaps even a toddler quickly closing in on a hapless paper kite while its owner screams Nooooooo! Just imagining the terrible work those strong little fingers are about to do on the delicate craft...
Let's look a bit deeper into the first definition. Actually, I'll ignore the others ;-)
The practice of having someone else chase after your kite is not limited to Afghanistan. That country is probably the most strongly associated with kite fighting and running due to the very popular book The Kite Runner, and the movie which followed.
Pakistan and India also use the term. However, the kite runners in those countries have a much more urban environment to deal with, as they scramble after tissue and bamboo drifting in defeat.
The fighter kites in these 2 countries are somewhat smaller than the Afghan ones, which average around 1 meter (3 feet) in width and height. Sometimes, it's the flier himself who runs after his free-flying kite. Yes, it's a male-dominated activity in these countries.
---
Some Dangers Of Kite Running
Talking about scrambling with your eyes on the sky... It's not hard to imagine how dangerous this is, for those who happen to be crossing a busy street at the time! The danger doesn't end when the kite is down either. Runners might find that it's up a tree or jammed in the gutter of a multi-story building. Apparently, kite running gets people killed from time to time, from accidental falls to the ground while attempting a retrieve.
There is a reward for these death-defying antics - you get to keep the kite! Not sure that I would risk my life for a piece of tissue and bamboo, however nicely made and decorated. Oh yes, nearly forgot - it's not unknown for a motorcyclist to nearly lose his head in these situations. I'm not referring to road-rage either! This can happen when glass-coated flying line ends up tightly strung across a narrow alley, barely visible to approaching traffic.
---
Digging A Little Deeper...
Where did it all start? Many historians believe that kites made their way out of China and down the South East Asian peninsula and eventually across into many Pacific islands. Similarly, they also spread towards the Middle-East through India and Pakistan, finally reaching Afghanistan over 100 years ago. In all these countries, young and old are equally keen on the sport. While mainly men and boys participate, people from many walks of life can be seen battling it out in the skies with these maneuverable single-string kites.
Wait a sec - single string? How do you steer these things? I must admit I had heard about kite fighting long before I came across the explanation of just how these kites are controlled.
Now, about the photo below... They are Afghan kite runners - the real thing! See another couple of lads in the background, scanning the sky for kites as well.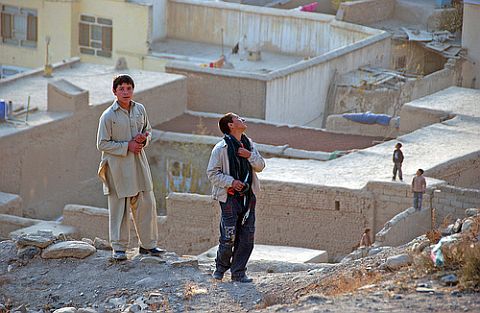 Kite running, Afghan style. Photo courtesy of Eric Sutphin.
The kites are actually unstable when there is only light tension in the line. Check out the movies on YouTube, where you can see fighting kites moving slowly in tight circles. To move in a particular direction, you wait until the kite is pointing there. Then you tug the line to load up the kite sail with air pressure and off it shoots in a straight line... for a few seconds.
To get really good at this requires years of practice. To get really good at kite running requires fitness and a hard-working Guardian Angel!
You might have noticed that this site has a monthly newsletter...
For single-line kite fliers and builders, it's always been a good read. But if you are interested in KAP and/or large home-made kites you won't want to miss it!

So sign up today, and download the free 95-page e-book "What Kite Is That?" straight away. Info-packed and fully photo-illustrated.
And there are even more free resources, such as a kite-making e-course, waiting for you in the next issue of this newsletter.

Aug 25, 14 03:57 AM

Last week I came home from a KAP (Kite Aerial Photography) session down at Brighton beach, here in Adelaide, South Australia. The photos were a disaster, being totally washed out. Over-exposed, to be a little more technical. At the time I thought the problem was purely the position of the sun, relative to the direction of the camera...

Well guess what. Down at the same beach today, the photos had the same problem - and this time it definitely wasn't the sun. Camera damage seemed a small possibility since the rig had hit the sand at some speed last time, during a white-knuckle experience with the kite in rough air! Which turned out OK, but that's another story.

Anyway, once back home today, I did a little investigating with the camera, taking some test pictures from the back yard. It was a great relief to find the explanation for the bad images...

It seems that setting a fixed ISO is not a good idea for this camera in very bright lighting conditions. It can cause the camera to run out of adjustment room for other parameters, like shutter speed or aperture. When the camera was allowed to set ISO automatically, the exposure problem disappeared. Whew!

The Tyvek-sailed Carbon Diamond performed wonderfully today. It was, for the first time, hoisting the KAP rig into the air. Never has the rig been so steady for so long. Sway was almost non-existent. But whenever I handled the line the camera twisted back and forth due to the rather steep line angle from the rig to the kite. Without enough horizontal separation, the suspension lines do not provide the maximum resistance to twisting. It might be an idea to separate the attachment points even further, on the flying line.

The 2 meter (7 ft) Diamond was struggling to lift the camera in the fairly light winds coming off the ocean. At times, people on the beach had to duck under the line from me to the camera! The camera was behaving as a sort of aerial tether point, with the kite flying at a steep line angle from there.

Measured at shoulder height, the on-shore breeze was about 4.5kph gusting to just under 7kph. More of a day for the Multi-Dowel Sled really, which hardly feels a 280g weight on the line!

"Simplest Dowel Kites": A free but very useful kite-making e-book. Make a super-simple Sled, Diamond and Delta - step-by-step with photos. Sign up for the e-book and get an emailed series of messages called "MBK Tips'n'Ideas". If you don't need the e-book, consider signing up anyway... You won't believe what's on offer in that message series!
---
---
Apologies for this site's current lack of video when viewed on mobile devices...
For now, please view this site on a Desktop or Laptop computer to see the videos. And there's plenty of them!

Return to Paper Kites from Kite Running

All the way back to Home Page