Kite Clip Art
Tips To Help You Find The Best!
Looking for kite clip art? Frustrated by not always finding a 'kites' category? Here's the info you need! It's mainly just a matter of going to the right websites and using the search function.
To save you some bother, I've conveniently listed some good sites which provide a variety of great clip art depicting kites. I also give detailed instructions to find and use the site's search function, so it returns only relevant clip-art results.
Although there's plenty of free clip art on the Web, you will find that very little of it is searchable. Hence you can't select out just the kite-related stuff. You will probably have to spend a few dollars to get quality images onto your hard drive. Times have changed!
---
Some Good Sources Of Kite Clip Art
The images on the listed sites tend to belong to one of the following types...
Black and white caricatures
Color caricatures on white background
Color caricatures on colored backdrops
Cartoon-style frames
---
Site: ShutterStock
How To Search: Click in the large edit box which has an orange button at the right hand end.
Type in 'kite', select Vectors in the drop-down box (which initially says All Images) and click on the orange button.
You can also try the Illustrations selection in the drop-down.
Comments On Available Images:
When I tried it, 45 pages of Vector images came up and 62 pages of Illustrations. However, a small number of these images could not be called kite clipart!
---
Site: iClipArt
How To Search: There's a search box at the top-center of the Home Page for this site. Click in the box, then type in 'kite' and click the green Go button.
Comments On Available Images:
Last time I looked there were over 320 great-quality images.
---
Site: CanStockPhoto
How To Search: Near the top of the page, you will find a big white search box...
Click in the search box and type in 'kite'.
Click the light-blue Search button.

In the Image Search section over on the left, check the Illustrations check-box.
Comments On Available Images:
Over 2300 images came up when I last looked.

---
Site: Foto Search
How To Search: At the top of the page, you will find a block of sample photos, with a large search box on the bottom edge.
Click in the search box and type in 'kite'.
Click on the radio-button called Illustration
Click on the blue Search button to the right of the search box.
Comments On Available Images:
When I last checked, there were over 900 illustrations. The quality is great, however a significant number of photos and irrelevant images pop up here and there. Clicking on each kite clip art image brings up the available resolutions and pricing, starting at $9.
---
Site: BareWalls
How To Search: Click in the big search box, near the top-center of the Home Page. Then...
Type in 'kites'.
Click on the magnifying-glass symbol.
Comments On Available Images:
When I tried it, over 8000 matches came up. It doesn't appear that any refinement of the search is possible, but there are certainly many great and useful images to be found as you wade through them all.
---
E-book special of the month (
25% off

)...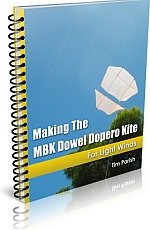 The Dopero is someone's clever idea to combine 2 Roller kites! Double Pearson Roller is where the name comes from. The resulting flat portion of sail in the middle makes this a very efficient design in light wind.
Even more so than the Roller before it, this kite has an attractive aircraft-like appearance in the air. This MBK version also excels in light winds.

If you have made Diamonds before, this kite takes somewhat more time to make. With the help of my instructions, it's still do-able by a beginner.

Get the e-book for making the MBK Dowel Dopero kite. After making your first one in plastic and seeing how it performs, you can try soft Tyvek or rip-stop nylon for your next build.

This Dopero can fly in quite a wide range of wind speeds thanks to the 4-pont bridle. The bridle lines keep the frame more rigid than a 2-point bridle could. Tail(s) are entirely optional, but may be added for looks.

The e-book is a PDF file - which means printable instructions to refer to while you make the kite. It also means convenient off-line access if that suits you better.
Mar 22, 17 09:00 AM

This knot doesn't have the greatest reputation - but it's simple and does have it's place in some less-critical kiting scenarios. Usually with the addition of a drop of glue ;-) ...
---
---
Return to Paper Kites from Kite Clip Art

All the way back to Home Page