The Humble Kite Bag
Simple Calico Bags & Fancier Solutions
Not surprisingly, there's a style of kite bag which corresponds to most of the major kite categories.
Perhaps I'm a little unusual in that I avoided even using a bag for quite a while. No, really. All these homemade kites lying around here, stacked against walls, hanging from walls like pictures. Our house is something of a wood-and-plastic kite museum. And yet, we tend to go out with just 1 or 2 kites at a time, depending on conditions. Three at the most.
For at least a couple of years I was in the habit of using a 30cm (12") tall calico shopping bag to carry...
winders (20 and 50 pound line)
digital camera
wind meter
spring scales for observing line tension
sun hat
repair tape
scissors
hammer and stakes for anchoring a reel (200 pound line)
The big garden hose reel was carried separately of course, if it was needed at all. And the kites were just rolled up and sat nicely between the handles of the bag, as I walked out to the launch area.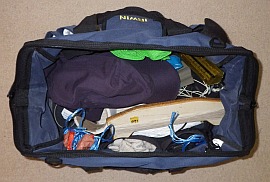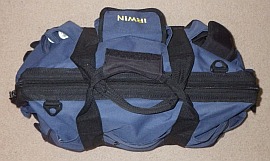 More recently, a builder's carry-bag replaced the calico bag. See the two photos over there, taken from above.
The major advantage of this bag was the multitude of pockets of various sizes and shapes. Absolutely ideal for keeping most of the bits and pieces neatly separated and easy to find.
And the handles still come in handy for holding a rolled up kite or two while walking to the launch area.
This
Carryall Polyester Kite Pack
on Amazon looks like a good solution if you habitually, or need to, bring along a larger number of kites to the field. It would be useful for stunt kites too.
Out of curiosity, I have done a little research to see what kinds of bags are out there. How are people are using them? Here they all are...
---
Surfing Kites And Other Power Kites
Such as soft stunters and traction parafoils. Being soft construction, the bags for these can be quite compact rather than long and thin as for sparred kites.
A new traction parafoil or surfing inflatable kite is sold with a bag of course, and it usually includes flaps or compartments for storing the various accessories needed. The latest products are designed to be as light as possible, while still being rugged enough for the job. Sometimes compression straps are included, to squeeze the whole thing down to a more manageable size.
What if you have multiple kites and the purpose-built bags seem rather expensive?
Sniffing around a few forums led to the discovery that an economical option for many kite surfers is the golf bag! Some are too heavy, but others are actually well-suited to carting around a load of gear. Stories abound of how people get past airport scrutiny... Some go as far as including a golf club or 2! The weight is the main issue though.
Another trend is the sale of a kite bag that swallows entire boards as well! Not so compact but at least everything is together.
If the kite is old and second or third hand perhaps, the original bag might have gone missing. Hence some kiters make their own, from hard-wearing materials such as Cordura or Nylon. A few of the keener ones have even drawn up plans and published them online.
Nylon and polyester are also good choices for sewing thread. These materials are far less prone to rot in moisture, like cotton for example!


---
Sparred Stunt Kites
The keenest of these guys like to travel with an entire collection of kites. Roll-up bags are the norm here, with pockets to keep multiple kites separate, and often extra smaller pockets for accessories. Modern touches include Velcro flaps to keep things secure and a padded shoulder strap for convenience. Also, if the pockets are made of mesh at one end, dry sand and debris can easily drop out. Very helpful!
Now there are bags and there are top of the range bags out there for well-heeled stunt fliers. Bags that are, and I quote "beautifully embroidered". You can spend more on one of these bags than I would spend on a very good single-liner! But I guess it's not surprising since competition-grade stunt kites are priced in the 100s of dollars. A fully packed bag could be worth several thousand.
Other kiters are not so fussy, and are content with a long thin bag that everything can just be tossed into. Probably practical enough for just a couple of kites and minimal accessories. A winder, some repair tape.
Besides the fit-all style of roll-up kite bag, some are purpose-designed for a series of stacked kites. I suppose the entire stack would be sold with the bag.
Again, some people have published plans online for these bags. Are you the DIY type? If not overly fancy, a bag can be made in less than a day, for low cost.
---
Single Line Soft Kites
Like the steerable parafoils, these kites can pack down to a very compact size for transport. Although most would come with a bag when sold new, there are a few options for substitute bags. For example, those clear-plastic quilt storage bags available in department stores. Another much smaller plastic bag can be used for any extra bits and pieces.
Simple 'stuff bags' would be ideal for this kind of kite as well.
---
Single Line Sparred Kites
This is a bit closer to home for me. Roll-up bags are used by many single-line fliers too. Makes sense, if you are in the habit of going out with several kites for each flying session.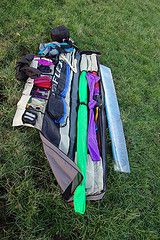 In fact, it appears the roll-up kite bag is used interchangeably for both stunt kites and single liners. Both types of kites break down to long thin packages after all.
The photo over there is courtesy of Ross Goodman.
Laid out on the grass, a kite bag like this is also handy as a work-bench, in case small repairs or mods need to be carried out. It makes it harder to lose small bits and pieces like rolls of tape or fittings.
Some good quality single liners are sold with their own carry-bag.

---
My ideal bag? Perhaps a 1.5 meter (5 feet) long thing, zipped along its length. With padded compartments for digital camera and wind meter. Another compartment for small bits and pieces, mainly repair tape. Perhaps also an internal fold-over Velcro strap to secure a couple of line winders. Maybe the broad-brimmed hat could get tossed in there as well! Sure looks a bit weird driving along wearing one of those :-)
Question: Do you need to own and use a kite bag to be considered a 'serious' kite flier? Slightly tongue-in-cheek question, but I guess the answer might be Yes. Ooops, better get cracking on that DIY kite bag design...
You might have noticed that this site has a monthly newsletter...
For single-line kite fliers and builders, it's always been a good read. But if you are interested in KAP and/or large home-made kites you won't want to miss it!

So sign up today, and download the free 95-page e-book "What Kite Is That?" straight away. Info-packed and fully photo-illustrated.
And there are even more free resources, such as a kite-making e-course, waiting for you in the next issue of this newsletter.

Jul 28, 14 05:06 AM

This was an experiment with mounting a camera directly onto the kite. With winds gusting to over 30kph up high, the Fresh Wind Barn Door kite was selected...

In a word, it was tricky. I mounted the camera as close as possible to the center of gravity of the kite, but it still ended up quite a few cm closer to the trailing edge than I would have liked. It was only practical to mount he camera - on its bendy tripod (!) - near the diagonal spars crossing point. Electrical tape secured 2 short tripod legs to the diagonal spars, holding the camera upright with the kite sitting on its trailing edge.

It was a struggle to get enough lift to gain much height, and the kite swung dangerously from side to side. Might try the drogues next time! I did my best to urge the kite higher in mid-swing.

Eventually, for a few seconds, the kite got to around 100 feet on almost 200 feet of 200 pound Dacron.

A video clip will of course be forthcoming on Facebook. And only seasoned kite fliers will bother watching it all the whole way through, possibly wrestling with sea-sickness all the while. Hence the title of this post. Still, it was an interesting, if slightly nerve-wracking, outing! At shoulder level, the breeze measured around 9kph gusting to 18.5kph. Some low cloud over the hills was absolutely tearing along, perhaps up around 40kph.

Huge Homemade Kites And Aerial Photography: This is often the topic for posts which appear here. New things are always being tried so sign up for my newsletter to stay right up to date with the latest developments!
---
---
Apologies for this site's current lack of video when viewed on mobile devices...
For now, please view this site on a Desktop or Laptop computer to see the videos. And there's plenty of them!

Return to Kiting Accessories from The Humble Kite Bag

All the way back to Home Page