How To Build A Delta Kite
Step-by-Step - Page 1 of 4
The MBK 2-Skewer Delta
This set of instructions on how to build a Delta kite assumes you know absolutely nothing about kite making. You might already have some of the simple tools and materials required. Anything you don't have is easily bought. If not exactly what I used, then at least something pretty similar!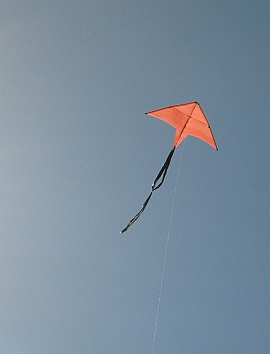 The MBK 2-Skewer Delta Kite is a medium-sized Delta 96cm (38") across and 58cm (23") tall, with a single fairly short tail.
The horizontal spars are bowed to give extra stability and shorten the amount of tail required. Hence it's a bit different to a store-bought Delta with a single spreader.
The 2-Skewer Delta is a very nice light-to-moderate wind flier. Take it out when there seems to be hardly enough wind to keep any kite up.
Watch this kite go straight overhead when a thermal comes through. Avoid flying in strong wind however, since this design flaps rapidly in that situation!


NOTE: Video views from this website don't appear to be counted.
---
How To Build A Delta Kite
Frame
Have you read the page on kite materials? If you haven't already, do it now to see what's needed for building a Delta kite.
For this Delta, you need to glue skewers together to form the 3 spars plus spreader.
Snip the points off 6 bamboo skewers, then check to see that they are all exactly the same length. Trim some if necessary.
Put aside another 2 skewers, leaving the points on for now.
From another skewer, snip off 6 lengths of bamboo, each 0.1SL (3cm, 1") long.
Arrange all 8 skewers together with the short lengths as in the photo, with some paper underneath to catch excess glue - tape that paper down to the table.
Get down to table top height and look along the spars, and make sure they are as straight as possible.
Lay down a thick line of glue all the way down each join, as in the photo.
---
E-book special of the month (
25% off

)...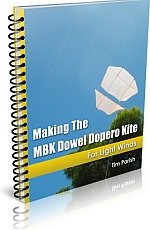 The Dopero is someone's clever idea to combine 2 Roller kites! Double Pearson Roller is where the name comes from. The resulting flat portion of sail in the middle makes this a very efficient design in light wind.
Even more so than the Roller before it, this kite has an attractive aircraft-like appearance in the air. This MBK version also excels in light winds.

If you have made Diamonds before, this kite takes somewhat more time to make. With the help of my instructions, it's still do-able by a beginner.

Get the e-book for making the MBK Dowel Dopero kite. After making your first one in plastic and seeing how it performs, you can try soft Tyvek or rip-stop nylon for your next build.

This Dopero can fly in quite a wide range of wind speeds thanks to the 4-pont bridle. The bridle lines keep the frame more rigid than a 2-point bridle could. Tail(s) are entirely optional, but may be added for looks.

The e-book is a PDF file - which means printable instructions to refer to while you make the kite. It also means convenient off-line access if that suits you better.
Mar 22, 17 09:00 AM

This knot doesn't have the greatest reputation - but it's simple and does have it's place in some less-critical kiting scenarios. Usually with the addition of a drop of glue ;-) ...
---
---
Return to How To Make A Kite from How To Build A Delta Kite

All the way back to Home Page