The French Military Kite
A Classic Box Kite Variation
The classic French Military kite is still made from time to time by box kite and ham-radio enthusiasts around the world. Some people have called this design a cross between a Diamond and a Box kite, since the 2 'wings' do look just like the 2 halves of a Diamond. In between these 2 wings is a simple 2-celled triangular box kite.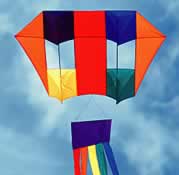 A Double French Military
This design is also known as the Pilot Kite. The term 'French Rescue' pops up as well.
Actually, there's a bit more involved in making such a triangular design rigid, if you're making one from scratch.
That's interesting since a simple square box kite has more sides, so you would think it would the more complex to brace!
Names, Names, Names...
Now, you might have heard of the Conyne. This is a more general term for any box kite with wings, as far as I know. Of all the winged box kites, perhaps the Delta Conyne is the most popular. Instead of the 2 halves of a Diamond, it's the 2 halves of a Delta. At least, that is the way it looks from a distance.
This
Alpine Delta Conyne kite
on Amazon is a good example.
---
Double French Military Kites
If you are interested in buying a French Military Kite (FMK), there are a few designs which have made their way into online kite stores. But not Amazon, at this writing! One of these is an even more purpose-built lifting kite - the Double FMK (DFMK). Up there near the top of this page is an image of a typical shop-bought Double French Military kite.
A flat section is attached between 2 triangular 2-cell kites, for some serious pulling power. Both the Single and Double versions have rip-stop nylon sails and fiberglass spars. Perhaps the Double design sells pretty well because I had a hard time finding a decent picture of a Single...
I can imagine how that flat center section makes the DFMK more efficient than the Single, also. Our Dopero kites have that feature, and they are certainly more efficient than the simpler Roller kites they resemble.


Oh, does the French Military really use this kite? Not any more, but they did use it for reconnaissance, over 100 years ago!
---
Ham Radio
If you thought this hobby went out with WWII, or perhaps the 60's, think again. It seems that there are still a number of keen radio enthusiasts to be found, raising up long wires to transmit and receive signals. You can probably guess what's coming next...
Yes, the FMK is quite suited to the task! Stable and strong. If even more lifting power is required, for example if winds are a bit too light or the aerial is heavier, more than one kite can be attached to form a 'train' along the flying line.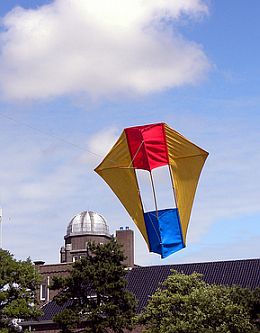 Photo courtesy of Joost J. Bakker
There's an old factory-built French Military kite in the photo, from the 60s actually.
Of course hoisting long pieces of wire high into the sky is never done when there is any threat of lightning!
My closest brush with lightning was while sitting in an office, quite close to a brick wall. All of a sudden a bolt of lightning struck and destroyed the power transformer which was located in a metal box just 2 or 3 meters (7 - 10 feet) on the other side of the wall. Can you imagine the noise! I never want to get any closer than that.
In contrast to the old FMK in the photo, this
Alpine Delta Conyne kite
would be a much more efficient lifter, thanks to its carbon fiber spars and rip-stop nylon sail material. Very light!
---
E-book special of the month (
25% off

)...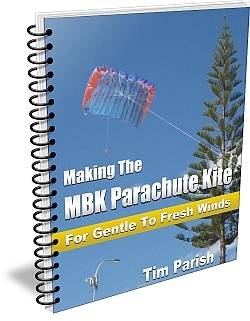 This printable e-book takes you step-by-step through making a 119 cm (4 ft) wide Parachute kite. It's not quite that wide in the air since the canopy takes on a distinct curved shape when inflated. This 14-cell kite performs best in moderate to fresh wind speeds. That's 20 to 38 kph or 13 to 24 mph. In gentle winds, this kite will hang in the air at fairly low line angles. In fresh winds, it pulls firmly for it's size, so small kids should only fly it while supervised!
Every kite design in the MBK Soft Series satisfies the following points...

Materials are plastic sheet, tape and line – and nothing more!
Tools are a ruler, scissors and a marker pen - and nothing more!
All cuts are along straight lines.
For the greatest chance of success, I make recommendations regarding the materials. For example, the type/weight of plastic, type/width of tape and line type/strength. Close enough should nearly always be good enough, since the design is well-tested and should be tolerant of small differences from my original.
Get the e-book for making the MBK Parachute kite. After making your first one in plastic and seeing how it performs, you can try soft Tyvek or rip-stop nylon for your next build.

The e-book is a PDF file - which means printable instructions to refer to while you make the kite. It also means convenient off-line access if that suits you better.

Aug 23, 17 06:00 AM

This previously published page gives a quick insight into the structure and materials of the original 'War Kites' by Samuel Cody. Plus some history and photos of course. Intriguing stuff...
---
---
Return to Box Kites from The French Military Kite

All the way back to Home Page