Have you been down at the beach and seen these little sled kites flying? With no sticks involved, you can even carry one around in a pocket. Soft sleds are popular since they are so quick and easy to get in the air!
Sure you can buy one, but did you know it's not hard to make a soft sled yourself...
The instructions in my free e-book show you how to make a soft sled kite step-by-step. All illustrated by high-quality close-up photographs. But first, let me tell you a few things about this kite which 'looks like a bought one' when in flight...
---
Brief Summary
The kite is 60cm (24") long.
These are also known as para-sleds since the inflatable spars are similar to the open cells of a parafoil.
In flight, the MBK Soft Sled copes with a respectable range of wind speeds, from fairly light to moderate.
Although big sleds have a reputation for tremendous pulling force, the MBK Soft Sled has a very light pull on the flying line. This is due to it's small size.
Like most soft kites, setup time is essentially zero. Just attach the flying line and let some breeze into the inlets to inflate.
The whole kite and bridle rolls up into a compact bundle. It would fit in many jacket pockets and some jeans pockets too.
Here's the download button...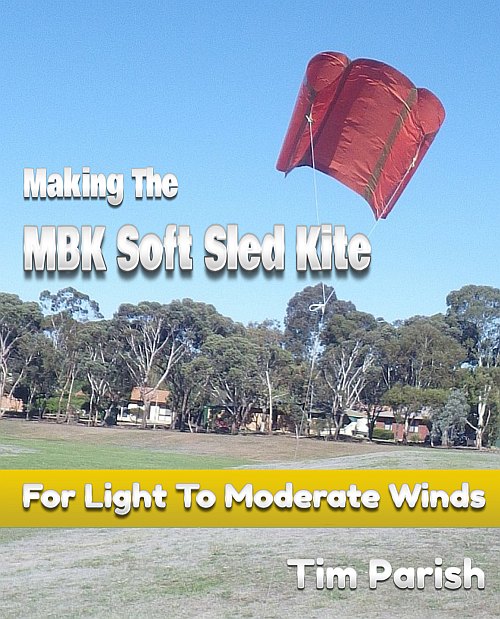 ---
Does it fly? You bet! Check this out...