YOUR Stunt Kite Stories!
Interesting, Memorable, Anything...
A stunt kite is fast! Anybody with any sense keeps well clear. But occasionally, someone with less sense than most gets a lot of laughs by ... Thwack!
You've seen the videos, on shows like 'Funniest Home Videos'. Don't you just love the sound effects they use. Screaming Junkers dive bomber sound, building to a crescendo ... before the inevitable impact, and canned laughter.
Now, a collision might not be the only reason you remember a stunt kite flying session. As the stories below demonstrate, this corner of the kiting world can generate a whole range of experiences.
This
Prism Jazz stunt kite
is typical of the current breed of popular delta 2-liners. It has a heap of great reviews too.
---
What's YOUR Best Stunt Kite Experience?
Memorable, funny or interesting for any old reason. If you have ever had a flight or even seen some flying which ended up as something of a talking point, please share it here!
Stunt Kite Stories Left By Other Visitors
Click below to read incident reports and general stories from other stunt kite pilots or observers...

---
Are you a keen and experienced sport kite pilot? Think back to all the things that ever went wrong. Or maybe nothing actually went wrong as such. Perhaps a passing bird dragged its feet over the lines or something. It's happened to me, while flying a small single-liner in a stiff sea breeze! There has to be a story in there somewhere.
Buy something like the
Prism Jazz stunt kite
if you are yet to try this very hands-on style of kite flying. Down at the beach in a moderate sea breeze is a good place to start.
---
E-book special of the month (
25% off

)...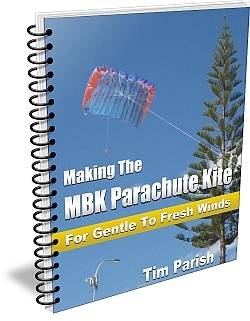 This printable e-book takes you step-by-step through making a 119 cm (4 ft) wide Parachute kite. It's not quite that wide in the air since the canopy takes on a distinct curved shape when inflated. This 14-cell kite performs best in moderate to fresh wind speeds. That's 20 to 38 kph or 13 to 24 mph. In gentle winds, this kite will hang in the air at fairly low line angles. In fresh winds, it pulls firmly for it's size, so small kids should only fly it while supervised!
Every kite design in the MBK Soft Series satisfies the following points...

Materials are plastic sheet, tape and line – and nothing more!
Tools are a ruler, scissors and a marker pen - and nothing more!
All cuts are along straight lines.
For the greatest chance of success, I make recommendations regarding the materials. For example, the type/weight of plastic, type/width of tape and line type/strength. Close enough should nearly always be good enough, since the design is well-tested and should be tolerant of small differences from my original.
Get the e-book for making the MBK Parachute kite. After making your first one in plastic and seeing how it performs, you can try soft Tyvek or rip-stop nylon for your next build.

The e-book is a PDF file - which means printable instructions to refer to while you make the kite. It also means convenient off-line access if that suits you better.

Aug 23, 17 06:00 AM

This previously published page gives a quick insight into the structure and materials of the original 'War Kites' by Samuel Cody. Plus some history and photos of course. Intriguing stuff...
---
---
Return to Flying Kites from YOUR Stunt Kite Stories!

All the way back to Home Page