Red Baron ..Look Out!
by Ken C
(Two Rivers, WI, USA)
Several years ago I bought a G-Kites Red Baron. We took it to our local kite fest here in Two Rivers, WI. and flew it for the first time. After looking at all of the kites in the air that day, I commented to my wife that there really should be a Snoopy up there with him. This is something I have toyed with for the last few years...

Well, a few weeks ago, I decided, enough thinking, it was time to sit and attempt to design this thing. And so the doodling started. After a lot of eraser marks, it started to take shape, on paper at least.

Now, I have never designed a kite, especially not a 3D kite. The thoughts of will this thing actually work were running rampant, but in my mind, I was pretty certain I had it figured out, and so construction began.

Basically I designed a box kite with an attached roof. The Snoopy image was found online. The frame is constructed with 3/16" dowels and covered with red plastic table cloth. Keep in mind that this is just a prototype to see if it would work. If the design proved worthy, then I would build it out of nice rip stop nylon.

The corners are joined with plastic drinking straws, a method I also found online. Snoopy himself is 2 pieces of white plastic glued together on the edges with 2 dowels and a loop of weed eater line to help him hold his shape. He is attached to the roof with a few small tabs if Velcro. 2 well placed holes in the roof help filter air into his body for added support.

Construction was done and it was time for the initial test flight. I attached the line in the center of the "X" and the roof point. The wind picked up and there it went, only to tip and nose dive into the ground, breaking one of my dowels. After replacing the broken dowel, I did some more brainstorming. I was now confident that if I could bridle this thing correctly, it would work. I decided to try a 5 point bridle, testing and measuring in an attempt to get the angles right, all while sitting on my kitchen table. My wife, of course, thought I was becoming obsessed. I was going to get it right, one way or another.

Time for the 2nd test flight, this time, success! The wind picked up to around 8 mph., and, up he went, this time flying as he should. There is nothing like the feeling of designing something and seeing it work for the first time, no matter how complex or simple that thing might be. The wind let up and again the roof tipped down, but this time, as the wind picked back up, he righted himself and flew as he should. As he came back down, I waited for the wind to pick back up again. This time I held him upside down to see what it would do. The wind took the dog house and he flipped right side up and away he flew! Success!

I just made a trip to the fabric store to get my rip stop nylon. Now to get cutting. Red Baron, look out!
---
E-book special of the month (
25% off

)...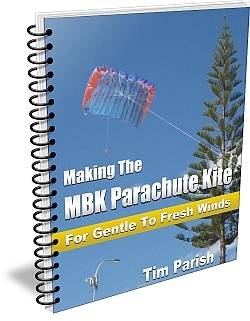 This printable e-book takes you step-by-step through making a 119cm (4 ft) wide Parachute kite. It's not quite that wide in the air since the canopy takes on a distinct curved shape when inflated. This 14-cell kite performs best in moderate to fresh wind speeds. That's 20 to 38kph or 13 to 24mph. In gentle winds, this kite will hang in the air at fairly low line angles. In fresh winds, it pulls firmly for it's size, so small kids should only fly it while supervised!
Every kite design in the MBK Soft Series satisfies the following points...
Materials are plastic sheet, tape and line – and nothing more!
Tools are a ruler, scissors and a marker pen - and nothing more!
All cuts are along straight lines.
For the greatest chance of success, I make recommendations regarding the materials. For example, the type/weight of plastic, type/width of tape and line type/strength. Close enough should nearly always be good enough, since the design is well-tested and should be tolerant of small differences from my original.
Get the e-book for making the MBK Parafoil kite. After making your first one in plastic and seeing how it performs, you can try soft Tyvek or rip-stop nylon for your next build.

The e-book is a PDF file - which means printable instructions to refer to while you make the kite. It also means convenient off-line access if that suits you better.

Jun 28, 17 06:00 AM

A presumptuous name really - it's just a chunk of wood! Names aside, this previously published page is a handy guide to making a style of winder that I have enjoyed using for quite a number of years.
---