Making Paper Kites For Kids
The MBK Paper Sled. No Sticks!
Perhaps you've read about making paper kites from single sheets of copier paper with 2 sticks or straws forming the spars. Little Sleds in other words, which dance around in light breezes outdoors or perhaps are towed around indoors if there is enough space.
Well, this design goes one step further and eliminates the sticks. It does have spars, but they are folded into the sail, origami-style!
I went out one day for a test fly, in almost calm conditions.
Every now and then, a puff of wind came through. It proved just enough to loft the little Sled up around tree height, for some video and still shots. Perhaps for half a minute or so each time. But it certainly flew.

Making paper kites in this way does not require any ruler measurements or scissor cuts! Read on to find out how...
So, the only materials required for this super-minimal design are
1 sheet of plain copier paper. It should be A4 or Letter size.
12mm (1/2") clear sticky tape. In a dispenser preferably.
Very light Dacron or Nylon flying line. Strong cotton thread can also be used.
No joke, that's it!
Regarding flying line, this
QuikRetrieve Kite Winder
from Amazon has 20 pound line. More than strong enough and yet not too heavy for flying on 30 or 40 feet or so.
The tool required is a skewer, of any type of material. It just has to be sharp, to poke a couple of holes. In fact, I got by with a bamboo BBQ skewer!


Later on, you might get the urge to try a much bigger and better Sled which will fly over a wider range of wind speeds.
That's the time to look at 'Making The MBK Dowel Sled Kite', an e-book which has step-by-step instructions and photos. Also, there are plans and a flight report. Kids like the eye-catching diamond-shaped cutouts!
---
Step 1 - Find The Center-Line
Fold the sheet so the longer sides bend. Line up 2 of the corners as accurately as you can.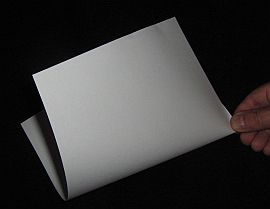 Don't crease the paper all the way along the fold. Instead, just pinch it right near one end as in the photo. Then line up and pinch the other end too.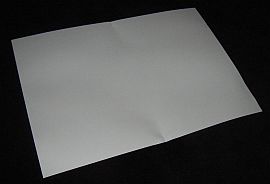 Lay the paper flat. You should see the 2 tiny creases as in the photo.
---
Step 2 - Fold Up The 'Spars'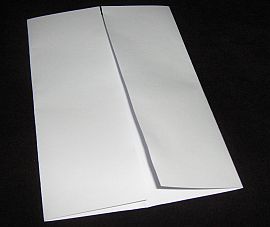 Fold the sheet in from both sides so the shorter edges meet exactly in the middle.
Lay the folded sheet on a smooth hard surface, and sharpen the creases with your fingernail. That's right, press firmly and run your fingernail up and down the creases.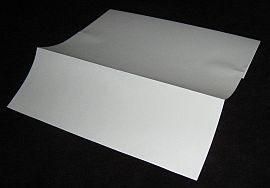 Turn the paper over and unfold one flap, as in the photo.
With both hands, pinch a small width of the crease and fold it back towards you. After sharpening the new crease, it should look like the photo.
How's that - making paper kites without anything extra for the spars!

Now do the other side the same. Don't worry, I've found it's quite easy to get them both very similar in width. Just do it so it 'feels' the same.
---
Step 3 - Fold And Tear Leading Edges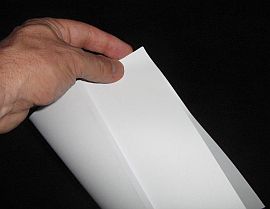 Fold the paper and line up 2 corners as shown.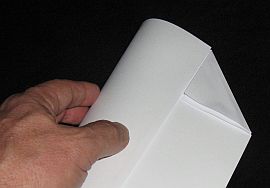 Fold both layers of paper into a triangular flap as shown. The fold line starts right next to the spar-folds that are already there.
Crease sharply using your trusty fingernail. An essential 'tool' for making paper kites!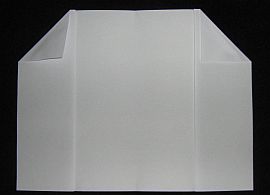 Open out the whole paper kite, and sharpen the crease of both flaps individually. Now fold them both back the other way, and sharpen the crease again with your fingernail.

Do this 8 times on both flaps to weaken the fold-line, then carefully tear them off.
OK, if you want to cheat on that last step, go grab a pair of scissors. I admit it's quicker, but you can't brag that you used no tools at all except a skewer!
Now this paper kite is starting to look like a Sled!
---
Step 4 - Adding The Bridle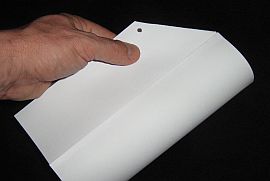 Fold the paper kite as in the photo and line up the corners.
Then poke your sharp skewer through both layers of paper, where the black dot is.
You don't have to mark a black dot, I just marked it to make the position clear in the photo.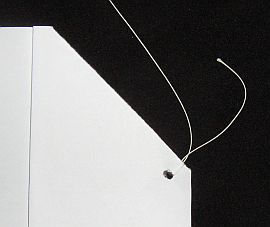 Cut off a piece of flying line or strong thread that is at least twice as long as the longest side of a sheet of copy paper.
Tie each end through a hole in your paper kite. Without crushing the paper, as in the photo.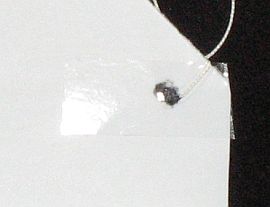 Stick a length of tape in place to reinforce the bridle attachment. Make it long enough to fold a similar length around and onto the other side of the paper. Try to make it look just like the photo.
Do the other hole the same way.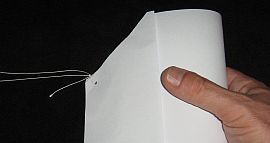 Fold the kite to bring the corners and holes together, and hence find the exact center of the bridle line.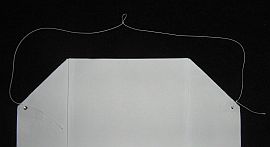 Tie a small loop into the bridle line at dead center. There it is at the top center of the photo. If you look hard!
---
Step 5 - Flying Paper Kites!
That's the kite all made up. All that remains is to attach a flying line to that little loop and watch the little Sled soar up to the ceiling!
Out In The Field

My collection of real-life Sled kite stories is worth checking out!

Illustrated with photos and videos, of course.
There's really not much to making paper kites in this way...
Outdoors, you will need to wait for gentle winds of between 5 and 8 kph (3 to 5 mph) for best results. Or, in a dead calm, just jog along slowly to tow it up.
You will have best results if you use ordinary polyester sewing thread for the flying line.

The
QuikRetrieve Kite Winder
line from Amazon is slightly heavier, but is still a good choice if you want to fly other small kites on it as well.
Have fun, and here's a video of this folded paper kite for encouragement...

---
Ever Made This Kite?
You've probably read a kite-flying story or 2 of mine, after they appear under the "what's new?" link on this site. I sometimes wonder if anyone else has made and flown this particular design...

If you feel your efforts really paid off when the the kite finally got airborne - please type a few paragraphs in here telling us all about it!

P.S. I can only accept stories of at least 300 words. Just mention a few details like the weather, onlookers, the kite's behavior and so on - 300 words is easy!
Don't forget to try the MBK Dowel Sled after you have had plenty of fun with this tiny paper version. The Dowel Sled looks much more impressive and will float around hundreds of feet up, even in very light wind.
You might have noticed that this site has a monthly newsletter...
For single-line kite fliers and builders, it's always been a good read. But if you are interested in KAP and/or large home-made kites you won't want to miss it!

So sign up today, and download the free 95-page e-book "What Kite Is That?" straight away. Info-packed and fully photo-illustrated.
And there are even more free resources, such as a kite-making e-course, waiting for you in the next issue of this newsletter.

Sep 21, 14 09:44 PM

Victoria Park adjacent to the Adelaide CBD in South Australia, that is. This large grassed area which forms part of the eastern parklands of the city is used for various events from time to time. Including, in the past, major horse racing and a section of a Formula 1 Grand Prix track.

An invite had gone out to various kite enthusiasts to meet and fly, since the weather looked good. We arrived after lunch, only to discover very light winds. A lone R/C flier was enjoying the easy conditions with his 3-channel electric trainer. Like a tiny Cessna, if you're not familiar with model aircraft.

For a while it seemed we were alone, before spotting a power kite in the distance, making brief forays into the air. Victoria Park is rather large!

It actually turned out to be quite an enjoyable outing, with the 2.4m (8ft) Multi-Dowel Barn Door kite just scraping into the air. But then, thermals were everywhere. It wasn't long before the large pale blue kite went right overhead! At other times, I simply toyed with the Barn Door, floating it way out on a long line then pulling it up to over 200 feet.

Another RC flier was now having success launching his glider, finding thermals, and gaining height in them.

We were eventually joined by two other AKFA members including the President. A couple of ripstop-and-carbon light-wind kites went up, with plenty of success. By now the breeze had come across the park from just about every point of the compass. Variable indeed!

In the distance, someone had been lofting a large but light-wind parafoil. It was interesting to see it sink out as an utter 'bag of washing' during a dead calm spell! Someone else had some success with a small blue Delta for a while.

All up, a worthwhile day IF you were flying lightly-loaded kites! No luck for Mike with his power kite and skateboard...

About This Post: These days, most flight reports are in the short format you've just seen, above. Usually, photos and/or video from the day are posted a few days later on the MBK Facebook Page. However, longer format reports are done occasionally, which also feature photos and video taken on the day. Here is a link to all those full flight report pages on this site.
---
---
Apologies for this site's current lack of video when viewed on mobile devices...
For now, please view this site on a Desktop or Laptop computer to see the videos. And there's plenty of them!

Return to Making A Kite For Kids from Making Paper Kites

All the way back to Home Page