Making A Box Kite
Step-by-Step - Page 1 of 3
MBK Dowel Box (mod. winds)
This set of instructions on making a Box kite assumes you know absolutely nothing about kite building. You might already have some of the simple tools and materials required. Anything you don't have is easily bought. If not exactly what I used, then at least something pretty similar!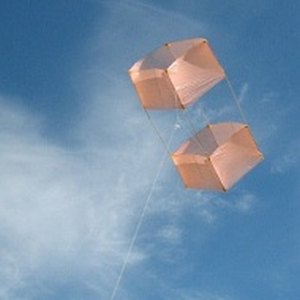 The instructions on how to make a Box kite might look awfully long, but each step is quite simple to do. Just quickly work your way through from top to bottom, skimming over any detail that you don't need.
The MBK Dowel Box kite (moderate wind version) is a 1.2 meter (4 feet) long design which is very similar to the traditional Box. This design flies best in moderate winds, but will also stay in the air in wind strengths below and slightly above this range.
The Dowel Box is designed to roll up into a slim cylindrical package like a Sled, thanks to the detachable cross-pieces. Setting up on the flying field takes a few minutes at first, but gets quicker with practice.
Also, it's handy to set up in a spot that is sheltered from the wind. Of course, if you have room, you can always leave this Box ready-to-fly.


Videos on the My Best Kite website are now being embedded from Facebook. 'About time' say all the visitors using phones and tablets - who couldn't see any video before! Here's the latest: Dowel Box in flight.

Posted by My Best Kite on Wednesday, March 30, 2016
NOTE: Video views from this website don't appear to be counted.

I have chosen to make '1 Dowel Length' equal to 120cm for every kite in the Dowel series. If you are in North America, 48" of 3/16" dowel is close enough to 120cm of 5mm dowel. This will result in a kite with similar flying characteristics to my original.

Now's the time to read up on the kite making tools and materials required for making an MBK Dowel kite, if you haven't already.
---
Making A Box Kite
Sail

The Template over there represents one cell of the kite, laid flat. That's so it can be cut from a single, large plastic bag. Now transfer the measurements to the sail plastic as follows...
Firstly, take a large light plastic bag and lay it flat on the table. I use cheap orange garden bag plastic – the more expensive bags are usually 2 or 3-ply, which are more durable but somewhat heavier.
Measure and mark the outline of the whole cell first, with your black marking pen and ruler. If the bag isn't long enough, do the template shape in 2 halves, using 2 bags if necessary.
Now measure and mark the fold lines. There's my template marked out in the photo below – just 1 bag was enough.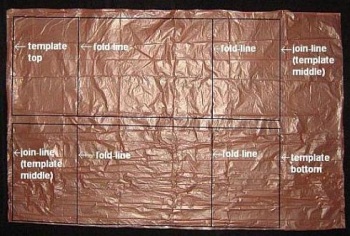 Flip the bag(s) over and trace over all the lines.
Cut where necessary to open the bag(s) out flat, so it lays out as a single thickness of plastic.
Cut around all the rectangular outlines, one at a time. Don't attempt to cut both thicknesses of plastic at once, since the bottom one will tend to slip out of position, causing an inaccurate cut.
If you halved the template shape, join the halves together using clear sticky tape on both sides. Do not overlap the plastic, just butt the edges together.
Lay down lengths of clear sticky tape, along all the long edges of the 2 cells. See below, left. You can just see the tape on the right edge.
Add extra lengths of sticky tape, at the right hand end of every fold-line. See the close-up photo on the right.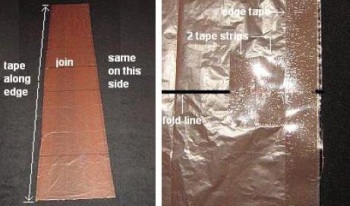 ---
E-book special of the month (
25% off

)...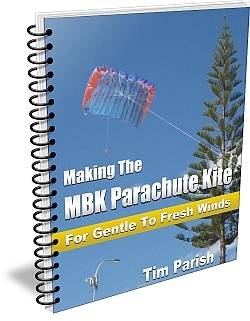 This printable e-book takes you step-by-step through making a 119 cm (4 ft) wide Parachute kite. It's not quite that wide in the air since the canopy takes on a distinct curved shape when inflated. This 14-cell kite performs best in moderate to fresh wind speeds. That's 20 to 38 kph or 13 to 24 mph. In gentle winds, this kite will hang in the air at fairly low line angles. In fresh winds, it pulls firmly for it's size, so small kids should only fly it while supervised!
Every kite design in the MBK Soft Series satisfies the following points...

Materials are plastic sheet, tape and line – and nothing more!
Tools are a ruler, scissors and a marker pen - and nothing more!
All cuts are along straight lines.
For the greatest chance of success, I make recommendations regarding the materials. For example, the type/weight of plastic, type/width of tape and line type/strength. Close enough should nearly always be good enough, since the design is well-tested and should be tolerant of small differences from my original.
Get the e-book for making the MBK Parachute kite. After making your first one in plastic and seeing how it performs, you can try soft Tyvek or rip-stop nylon for your next build.

The e-book is a PDF file - which means printable instructions to refer to while you make the kite. It also means convenient off-line access if that suits you better.

Aug 23, 17 06:00 AM

This previously published page gives a quick insight into the structure and materials of the original 'War Kites' by Samuel Cody. Plus some history and photos of course. Intriguing stuff...
---
---
Return to How To Make A Kite from Making A Box Kite

All the way back to Home Page