Kite Racing
A Fast Growing Kite Sport
It seems that a small number of people have been kite racing on land for quite some time. Indeed, this became popular enough for manufacturers and designers to take notice and produce special racing traction kites. For example the Ozone Yakuza and the PKD Combat.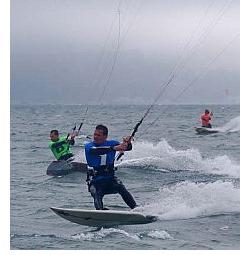 And they're away...
However, in 2005 a very significant new direction was taken in the traction kiting world.
A big sailing club and a kite surfing organization got together and experimented with sending kite surfers around a course. It was an interesting melting-together of a sailing regatta and a kite surfing competition.
Top riders from other countries also started to experiment with course racing. Many were looking for 'somewhere else to go' after having been immersed in the freestyle kite surfing scene for years.
Meanwhile, in the United States, the level of involvement and enthusiasm finally resulted in a national competition being organized in 2007. By this stage, many different approaches had been tried, with regard to technique and also equipment. For example, boards with a hydrofoil underneath were very quick upwind, but proved slow in other directions. 'Directional' board designs proved to be much more competitive than other types. Boards with too many fins were slower, and so on.
Flying the
Slingshot B2 trainer kite
or similar design over sand is the starting point for would-be racers. You have to get the feel for handling a hard-pulling power kite before hitting the water!
---
Kite Racing - The Spectacle
When run close to shore over relatively short courses, kite racing is a real spectator sport!
As the riders wait for the start, a gaggle of colorful water kites weave around above the waves as they jostle for position. Just as in a sailing race, the starter's gun goes off and it's a race for the line.
As riders pick up speed, long white trails appear behind them as the boards carve through the water. If the conditions are challenging, the occasional rider might come off the board and hit the water while others skim past! The most skillful round the marker buoys closely, hardly dropping any speed as they smoothly make adjustments to the kite which is powering their progress.
Because of the boards' small size, kite surfing is actually faster than any other motor-less water craft in light and medium wind. Including windsurfing boards! The riders try to fly the largest kite that they can handle in the conditions, in order to extract maximum pull from the kite and therefore maximum speed through the water.
---
The Racing Kites
This is a kite site after all, so here's a quick roundup of the type kites that have been used in kite racing.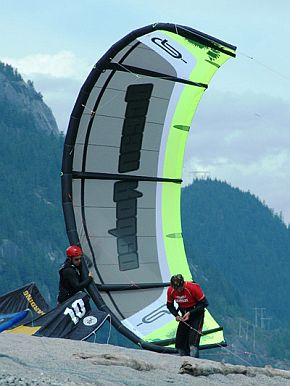 A large LEI or Leading Edge Inflatable kite
Generally, the so-called flat inflatables are the ones to beat, when riders use them to their full potential. These kites can be fully de-powered if necessary, which is good for safety. Apparently, speeds approaching 50 knots are not unknown!
Inflatable refers to the hollow leading edge spar which is pumped up with air. This helps the kite keep its shape in the air and also prevents it from sinking if it happens to hit the water. Hence the term LEI or Leading Edge Inflatable has been part of the kite surfer's language almost since the sport started. Because of their shape in the air, these kites are also known as C-kites. They can be relaunched from the water.
Any old LEI kite will get a rider around a race course, but of course manufacturers have always been under pressure to come up with faster and better kites. Hence the first generation of 'Bow' kites made an appearance in 2005. With less curve than the C-kite, these became known as flat LEI kites. They had performance advantages over the standard LEI kite, but were more of a handful to operate, for a number of reasons.
The second generation of flat LEI kites in 2006 solved most of the Bow kite's problems and in 2008 are still the kite of choice for kite racing. They are called Hybrid or Supported Leading Edge kites, SLE for short. The bridle is more complex, with attachments at various points along the leading edge of the kite.
---
This is only an overview of kite racing for those who haven't come across this variation of kite boarding yet, so I'll leave it there!
This
Slingshot B2 trainer kite
or the slightly larger B3 is great for getting the required kite-handling skills.
Photo courtesy of Brendan Lally
---
E-book special of the month (
25% off

)...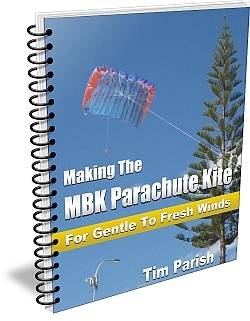 This printable e-book takes you step-by-step through making a 119 cm (4 ft) wide Parachute kite. It's not quite that wide in the air since the canopy takes on a distinct curved shape when inflated. This 14-cell kite performs best in moderate to fresh wind speeds. That's 20 to 38 kph or 13 to 24 mph. In gentle winds, this kite will hang in the air at fairly low line angles. In fresh winds, it pulls firmly for it's size, so small kids should only fly it while supervised!
Every kite design in the MBK Soft Series satisfies the following points...

Materials are plastic sheet, tape and line – and nothing more!
Tools are a ruler, scissors and a marker pen - and nothing more!
All cuts are along straight lines.
For the greatest chance of success, I make recommendations regarding the materials. For example, the type/weight of plastic, type/width of tape and line type/strength. Close enough should nearly always be good enough, since the design is well-tested and should be tolerant of small differences from my original.
Get the e-book for making the MBK Parachute kite. After making your first one in plastic and seeing how it performs, you can try soft Tyvek or rip-stop nylon for your next build.

The e-book is a PDF file - which means printable instructions to refer to while you make the kite. It also means convenient off-line access if that suits you better.

Aug 22, 17 06:00 AM

Metallic kite flying line and electricity grids don't mix well... ---------------------------------------------------------------- NEW DELHI: Independence Day is here and kites have returned to add co…
---
---
Return to Power Kites, Traction Kites from Kite Racing

All the way back to Home Page