How To Make A Box Kite
Step-by-Step - Page 1 of 3
The MBK 1-Skewer Box
This set of instructions on how to make a Box kite assumes you know absolutely nothing about kite making. You might already have some of the simple tools and materials required. Anything you don't have is easily bought.
If not exactly what I used, then at least something pretty similar!
The instructions on how to make a Box kite might look awfully long, but each step is quite simple to do. Just quickly work your way through, skimming over any detail that you don't need. All in all, it should be quite hard to make a mistake!
The MBK 1-Skewer Box Kite is rather small at just 29cm (11 1/2") long, with cell panels measuring 14.5cm x 8.7cm (5 3/4" x 3 1/2"). It will stay airborne in moderate winds, but does even better in fresh winds.
Like all the other MBK 1-Skewer kites, this design can't be taken apart for transport. However, that's not much of a problem due to it's small size! Just be sure to treat it with care when handling or transporting it.
The video shows an extra tail in action, trimming the kite straight. You will need to experiment a little, since adding too much side-tail will make the kite loop around in the opposite direction...


Videos on the My Best Kite website are now being embedded from Facebook. 'About time' say all the visitors using phones and tablets - who couldn't see any video before! Here's the latest: 1-Skewer Box in flight...

Posted by My Best Kite on Wednesday, March 30, 2016
NOTE: Video views from this website don't appear to be counted.
---
How To Make A Box Kite
Frame
Select 4 bamboo BBQ skewers that seem fairly straight. Check this by rolling them across a table top, one by one. Or just look down their length.
In addition, try to ensure that 2 of those skewers have very similar flexibility. Either bend them by hand to try and judge this, or get a little more ingenious by suspending the ends and putting a weight in the middle... Getting this right will help the finished kite to fly straight without needing too much tail. Put a mark on these 2 skewers so you know which ones they are. They are the top 2 spars in the photo.
Snip the point off one skewer, then measure it to establish '1 skewer length' (1.0SL) for your kite. For me, this was 29 c.m.
Snip the points off the other 3 skewers, to exactly the same length as the first one. These 4 skewers will now be referred to as the 'spars'
Take another 2 skewers, and snip one of them to exactly 0.7SL (20.3cm, 8") in length. Make the other one just 0.5cm (1/4") longer. These are the 'cross pieces'. The longer one will be trimmed to fit, later.
---
How To Make A Box Kite
Sail
The template up there represents one cell of the kite, laid out flat. Transfer the measurements to the sail plastic as follows...

Firstly, take a light, single-ply plastic bag and lay it flat on the table. I use cheap orange garden-bags. The more expensive bags are usually 2 or 3-ply plastic, which is heavier and less see-through.
Near one edge of the bag, measure and mark a rectangular outline according to the Template. Use a black marking pen and ruler.
Now measure and mark the fold lines. See the photo.
Flip the bag over, and trace over all the black lines. Use the ruler, of course!
---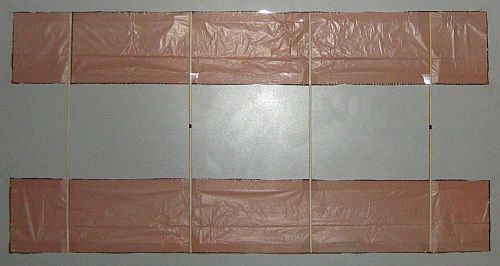 Cut the bag down one side and open it out.
Cut around the 2 rectangular outlines with scissors. I don't recommend trying to do both rectangles at once, since the plastic tends to slip!
Arrange the 4 bamboo spars over the plastic as in the photo, covering up the drawn fold-lines. Make sure the marked side-spars are positioned as shown in the photo!
Tack down all 8 corners of the sails to the table top with small square pieces of sticky tape. This stops unintended shifting of the plastic while you are trying to...
Lay down 4 long lengths of clear sticky tape, securing the spars to the plastic. The tape is just visible in the photo - look for where the plastic is smoother and slightly darker, near the edges. Each tape goes all the way from left to right, over the 4 spars.
---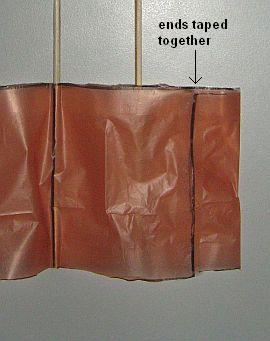 Remove everything from the table top, either pulling off or trimming away the small square bits of tape at the corners.
Fold the sails, bringing the short edges together and sticking them with tape. The photo gets close-up on one of the 2 joins.
Now open the box kite out, and carefully lay down tape along the inside edges as well, to make the 2 joins even more secure. A bit tricky, take your time!
---
E-book special of the month (
25% off

)...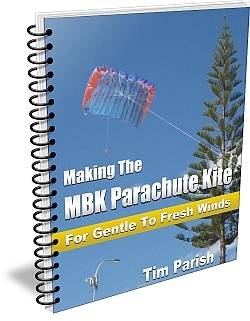 This printable e-book takes you step-by-step through making a 119 cm (4 ft) wide Parachute kite. It's not quite that wide in the air since the canopy takes on a distinct curved shape when inflated. This 14-cell kite performs best in moderate to fresh wind speeds. That's 20 to 38 kph or 13 to 24 mph. In gentle winds, this kite will hang in the air at fairly low line angles. In fresh winds, it pulls firmly for it's size, so small kids should only fly it while supervised!
Every kite design in the MBK Soft Series satisfies the following points...

Materials are plastic sheet, tape and line – and nothing more!
Tools are a ruler, scissors and a marker pen - and nothing more!
All cuts are along straight lines.
For the greatest chance of success, I make recommendations regarding the materials. For example, the type/weight of plastic, type/width of tape and line type/strength. Close enough should nearly always be good enough, since the design is well-tested and should be tolerant of small differences from my original.
Get the e-book for making the MBK Parachute kite. After making your first one in plastic and seeing how it performs, you can try soft Tyvek or rip-stop nylon for your next build.

The e-book is a PDF file - which means printable instructions to refer to while you make the kite. It also means convenient off-line access if that suits you better.

Aug 23, 17 06:00 AM

This previously published page gives a quick insight into the structure and materials of the original 'War Kites' by Samuel Cody. Plus some history and photos of course. Intriguing stuff...
---
---
Return to How To Make A Kite from How To Make A Box Kite

All the way back to Home Page