How To Build A Rokkaku Kite
Step-by-Step - Page 1 of 3
The MBK 2-Skewer Rokkaku
This set of instructions on how to build a Rokkaku kite assumes you know absolutely nothing about kite making. You might already have some of the simple tools and materials required.
Anything you don't have is easily bought. If not exactly what I used, then at least something pretty similar!
The MBK 2-Skewer Rokkaku Kite is a medium-sized Rokkaku 58cm (23") across and 73cm (29") tall.
Some 'dihedral' on both the horizontal spars gives ample stability for flight without a tail.
Also, the bridle allows the lower spar to bend a little more when the wind picks up, giving a bit more stability when needed.
This 2-Skewer Rokkaku is an efficient light wind flier. Take it out when it seems there's barely enough wind to fly!
NOTE: Video views from this website don't appear to be counted.
---
How To Build A Rokkaku Kite
Sail
Now's the time to read up on the 'tools' and materials required for making a Skewer kite, if you haven't already.
The template shown above represents one side of the kite sail. You will now transfer these measurements to the sail plastic as follows...
Take a light plastic bag that will fit the entire Template shape within one side, and lay it flat on the floor.
Mark dots on the plastic, corresponding to the corners of the Template. There is no need to use a T-square, since any small error will be duplicated on the other side of the sail. And it will make hardly any difference to how the kite flies.
Using the marking pen, rule lines between the dots to create the Template shape.
---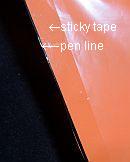 Flip the plastic bag over, and trace over all the black lines using your marker pen and ruler.
Cut out a rectangular section of the bag containing the kite sail, open it out and lay it flat on the floor - you can now see the complete sail outline, as in the photo.
Run clear sticky tape along every straight line, leaving most of the tape on the inside of the sail edges.
Cut along the black lines with scissors, to create the sail. See the close-up photo on the right.
---
E-book special of the month (
25% off

)...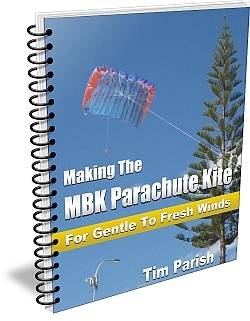 This printable e-book takes you step-by-step through making a 119 cm (4 ft) wide Parachute kite. It's not quite that wide in the air since the canopy takes on a distinct curved shape when inflated. This 14-cell kite performs best in moderate to fresh wind speeds. That's 20 to 38 kph or 13 to 24 mph. In gentle winds, this kite will hang in the air at fairly low line angles. In fresh winds, it pulls firmly for it's size, so small kids should only fly it while supervised!
Every kite design in the MBK Soft Series satisfies the following points...

Materials are plastic sheet, tape and line – and nothing more!
Tools are a ruler, scissors and a marker pen - and nothing more!
All cuts are along straight lines.
For the greatest chance of success, I make recommendations regarding the materials. For example, the type/weight of plastic, type/width of tape and line type/strength. Close enough should nearly always be good enough, since the design is well-tested and should be tolerant of small differences from my original.
Get the e-book for making the MBK Parachute kite. After making your first one in plastic and seeing how it performs, you can try soft Tyvek or rip-stop nylon for your next build.

The e-book is a PDF file - which means printable instructions to refer to while you make the kite. It also means convenient off-line access if that suits you better.

Aug 16, 17 06:00 AM

This previously published page is full of general info on this type of kite, including some history. With a video clip and a good photo, it's worth checking out...
---
---
Return to How To Make A Kite from How To Build A Rokkaku Kite

All the way back to Home Page