Fighter Kites
In The Hands Of Young And Old
The basic idea of flying fighter kites is pretty much the same the world over. The last kite in the air wins, and this is usually achieved by cutting the flying lines of the other kites. By friction against other flying lines, not with scissors!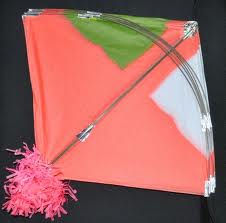 Photo courtesy of Modh Mahboob
However, a pair of scissors did make an appearance during one highly irregular Rokkaku Battle. That was during a South Australian kite festival some years ago, here in Adelaide! So a little birdie told me.
Most other fighter designs are actually unstable in the air while there is low tension in the flying line.
For example, Indian fighters like the Patang over there in the photo. Handling one of these fighters well is quite a skill so it's not just 'kids stuff'.
This
George Peters' Indian Fighter Kite
on Amazon is a design made from
modern
materials, but it looks very similar to the traditional Indian version.
At a recent kite festival, we took a video of a small fighter being expertly handled over the sand...


NOTE: Video views from this website don't appear to be counted.

As mentioned earlier, flying fighters is not necessarily 'kids stuff'. However, huge numbers of kids in the countries with a kite-fighting culture do participate. The skills, in both construction and flying, have been passed down for generations. In addition to Japan's Rokkaku, a number of other countries have one or more distinctive local fighter kite designs. Here are the main examples, followed by the name of the traditional kite:
India and Pakistan, with the Patang design. Other Indian Fighter designs exist, which are not so often flown by children.
Afghanistan, with the Gudiparan design - Afghan Fighter to most of us. These are made in a range of sizes, all much bigger than the Indian kites. I can't imagine the very biggest Afghan fighters being flown by children!
Korea, with the Pangp'aeyon design - or Shield Kite. These have a distinctive large hole in the middle. There's lots of good info in this Korean kite blog, which refers to this type of kite as 'Bangpae'.
Brazil, with the Piao design. Known as Top Kites since the shape and traditional patterns make them look like spinning tops. Tails are used on these kites.
Cuba, where kites are known as Papalotes.. Children fly fighters that are rather small, 6-sided designs that also use a tail for stability. No fighting kite is too stable though! That would make it an easy target.
Here is a picture of all 5 types, in order corresponding to the points above:

Fighter kite designs from around the world
Now, getting back to those child fliers, in all cultures... The kids make fairly crude designs from whatever materials are available. Crude in comparison to what can be bought from the local kite makers...
Kite masters or designers and their assistants turn out extremely neat and well-balanced fighter kites for sale. Often these kites are exquisitely attractive to look at too! The smallest and cheapest of these are often flown by kids. Bamboo still dominates as a great traditional spar material, but the traditional sail materials of tissue and silk are starting to give way to more modern materials such as nylon, mylar and plastic.
---
E-book special of the month (
25% off

)...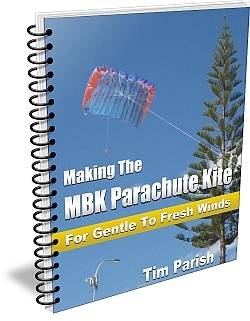 This printable e-book takes you step-by-step through making a 119 cm (4 ft) wide Parachute kite. It's not quite that wide in the air since the canopy takes on a distinct curved shape when inflated. This 14-cell kite performs best in moderate to fresh wind speeds. That's 20 to 38 kph or 13 to 24 mph. In gentle winds, this kite will hang in the air at fairly low line angles. In fresh winds, it pulls firmly for it's size, so small kids should only fly it while supervised!
Every kite design in the MBK Soft Series satisfies the following points...

Materials are plastic sheet, tape and line – and nothing more!
Tools are a ruler, scissors and a marker pen - and nothing more!
All cuts are along straight lines.
For the greatest chance of success, I make recommendations regarding the materials. For example, the type/weight of plastic, type/width of tape and line type/strength. Close enough should nearly always be good enough, since the design is well-tested and should be tolerant of small differences from my original.
Get the e-book for making the MBK Parachute kite. After making your first one in plastic and seeing how it performs, you can try soft Tyvek or rip-stop nylon for your next build.

The e-book is a PDF file - which means printable instructions to refer to while you make the kite. It also means convenient off-line access if that suits you better.

Aug 23, 17 06:00 AM

This previously published page gives a quick insight into the structure and materials of the original 'War Kites' by Samuel Cody. Plus some history and photos of course. Intriguing stuff...
---
---
Return to Kids Kites from Fighter Kites

All the way back to Home Page