The Dowel Sode Kite

Smooth Stable and Predictable!

The re-vamped Dowel Sode kite proved itself to be a smooth, stable and predictable flier in moderate winds today. Yet, it was also a somewhat exciting single-liner to fly due to it's high efficiency and the wide range of line tension. It remained smooth even when pulling like a horse!
On arrival at the reserve, winds were light to moderate at ground level. The gusts bordered on being 'fresh', which was a bit of a concern!
This being the 4th or 5th time, the kite went together fairly quickly. Practice makes perfect. Puffs of wind were swirling around the trees near the edge of the reserve. Hence it took 3 tries to get the Dowel Sode kite launched since I hadn't bothered to move further out.
Once above 3 meters or so, the pale-orange Sode rose up smoothly and quickly.
Walking towards the center of the grassed area, I let out line to around 40 meters or so.
The gusty winds were causing the occasional loop, and yet the kite's behavior was very smooth and predictable. The instant the kite was under less air pressure, the tail would swing down like a pendulum.
One thing you can do with tail-less designs is to ensure the heaviest end of the vertical spar is at the tail end! It really helps.
At this height, just a little zoom was sufficient to get some good pictures and video. Pity about the almost solid cloud backdrop though, with hardly any blue showing through. Around about this time, the thought occurred to me that 'this is an exciting kite to fly!'. Why?
Line angle going to 80 degrees at times - remember these were not light-wind thermal conditions!
Heaps of tension on the flying line while despite the kite flying at over 60 degrees from the horizontal.
So predictable and stable thanks to the slightly rear-ward balance point and 4-point bridle.
No matter how extreme the wind speed, just silence from the Dowel Sode kite!
Mind you, with ear touching line, there was a high pitched whistle as the moderate-to-fresh wind streamed past the line. During the strongest gusts, there was also a strange scratchy kind of vibration coming down the line.
Letting out more line proved a bit tricky, due to the tension! One of these days I need to invest in a proper kite reel with winder and brake. The Sode flew on 90 meters of line for some time. Often, I found it more comfortable to use both hands as the fresh gusts tore at the kite. Remarkably, all this was happening at rather high line angles!
A passenger jet took off from Adelaide Airport, circled around to an Eastern heading and climbed out overhead.
For a moment, the moon, Dowel Sode kite and jet were aligned not far from each other.
Some minutes after the jet had disappeared over a cloud bank, I was amazed to notice that it's wake had carved a long slot in the cloud bank! A long thin area of blue sky showed through, maybe twice as wide as the jet's wingspan. That's a first for me.
After 1/2 hr or so, with sun approaching the horizon, winds moderated and smoothed. Delightful kite-flying conditions, with comfortable 1-arm flying! The sun later went behind a bank of thick cloud, enveloping the entire reserve in shadow. With line tension more manageable, I let out to 120 meters, and the kite still nudged a 75 degree angle a couple of times, in weak lift.
At this height, the Sode's span of 1.2 meters (4 feet) was less than the apparent diameter of the moon. The kite flew between 300 and 400 feet altitude, depending on air speed and lift. Eventually I just dropped the winder on the grass and walked towards the kite, pulling it down and laying line onto the grass.
There was still a little too much line tension to just wind straight onto the winder.
With the Dowel Sode kite rolled up and line removed, I went back to the reel and wound on all the line. A great outing really, although all on my own this time!
The story above was an actual flying experience with the described kite. My write-ups are definitely warts-and-all since things don't always go totally as planned. However, half the fun of kiting is anticipating the perfect flight. When it happens, it's magic!
---
E-book special of the month (
25% off

)...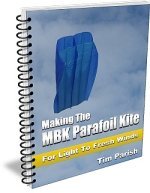 This printable e-book takes you step-by-step through making a 120cm (4 ft) tall Parafoil kite. This 4-cell kite performs best in gentle to moderate wind speeds. That's 12 to 28kph or 8 to 18mph. Even in light winds, this kite will hang in the air, although at low line angles. In fresh winds, it pulls firmly for it's size, so small kids should only fly it while supervised!
Every kite design in the MBK Soft Series satisfies the following points...
Materials are plastic sheet, tape and line – and nothing more!
Tools are a ruler, scissors and a marker pen - and nothing more!
All cuts are along straight lines.
For the greatest chance of success, I make recommendations regarding the materials. For example, the type/weight of plastic, type/width of tape and line type/strength. Close enough should nearly always be good enough, since the design is well-tested and should be tolerant of small differences from my original.
Get the e-book for making the MBK Parafoil kite. After making your first one in plastic and seeing how it performs, you can try soft Tyvek or rip-stop nylon for your next build.

The e-book is a PDF file - which means printable instructions to refer to while you make the kite. It also means convenient off-line access if that suits you better.

May 19, 17 12:23 AM

The Philippines - a country yet to feature in these reports. Hence this short piece easily made the cut!

----------------------------------------------------------------

BACOLOD CITY - Locals here were…
---
---
Return to A Flying Kite from The Dowel Sode Kite

All the way back to Home Page