Try A Dopero Kite

From Tiny Toys To Big Floaters

The Dopero owes its Spanish-sounding name to its origins in Pearson's Roller kite. Put 2 such kites together side by side and you get a DOuble PEarson ROller! Note the capitals. Although only rather large versions of this kite are sold commercially, we thought it would be fun to do a few in smaller sizes.
Our little 1-Skewer version requires a tail, and is fun to fly in moderate breezes. At this size it is not a true light-wind kite due to the weight of its 4 bamboo spars. Being BBQ skewers, they come in a very limited range of diameters. Like 'thin ones' or 'oh, this lot are a bit thicker!' However, if you are careful not to add any unnecessary weight, and avoid the thickest skewers, this little kite will readily get boosted up to high line angles on 50 meters of light flying line. With plenty of help from a patch of rising air!
Next up in size comes the 2-Skewer version which has a great wind range for a home-made kite of this size. The 4-leg bridle can require a little adjustment before the kite is perfectly trimmed. As with everything, practice makes perfect!
Finally, we started making larger kites like the Dowel version which is 1.2 meters (4 feet) from tip to tip. This one has a 4-leg bridle, which keeps the kite very steady and predictable most of the time. Like the Dowel Rokkaku, this kite also likes to go directly overhead when given the slightest help from warm rising air!
This
Stake Line Winder
on Amazon, with its 30 pound line, could be used for all three designs mentioned above. A little heavy for the 1-Skewer job, but passable if you have less than 30 meters (100 feet) let out.
---
Down below is a photo or 2 and a video of all the MBK Doperos. This illustrates the end result, in case you decide to use our instructions to make one of these kites.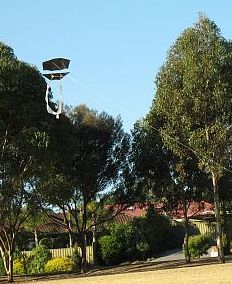 Here's the cute little 1-Skewer Dopero. Don't try lifting anything with it! If the wind's too light, it has trouble lifting itself. However, with a few more kph of breeze, the tiny kite does much better. Complete with 2 little keels and a 4-leg bridle.
The original was made from black garbage-bag plastic, which actually looks pretty good in photos, don't you think?
Later, a clear plastic version was made, since all the other 1-Skewer kites had clear sails at that time. However, it never flew very well.
Post mortem? I hadn't noticed how much heavier the 3mm skewers were, compared to the 2.5mm ones in the original kite! As always, the lighter, the better.
Finally, an orange-plastic version was made, which also had a slightly larger sail area than the previous 2.
A loop-tail of black plastic went nicely with the sail color, and kept the little kite stable in moderate breezes.
We fly this version on 50 meters (150 feet) of 20 pound line. It doesn't need that strength, but we also fly our 2-skewer kites on the same line.
The video shows the currrent 1-Skewer kite flitting around in a gusty moderate breeze, on perhaps 20 meters (70 feet) or so of Dacron line.

---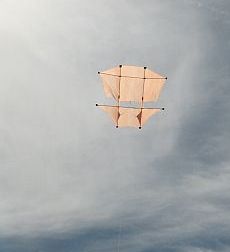 The 2-Skewer Dopero has a span of 2 skewer lengths, or about 58 cm (46 inches) On a 20 pound line, this kite loves thermal weather just like the 2-Skewer Rok.
The spars, being made from skewers attached end-to-end, are no thicker than those of the 1-Skewer version. However, the strength is still more than adequate.
Hence this kite can really show off in light wind conditions! As we did at a local kite festival one year, when everything else dropped out of the sky.
That is, before someone put up a hi-tech Cody sporting graphite spars and 1/2 ounce ripstop sails...
The video below shows this kite on a long line. So long in fact, that I had to use full zoom on the camera. Hence there's a few wobbles! The wind was light, with occasional thermals helping to keep the kite high overhead.
---
The largest of these MBK designs so far, the Dowel Dopero. With plenty of sail area, this one does well in light conditions despite the extra weight of dowel.
Size? It's about twice as tall as the 2-Skewer version, so that's about 4 times the sail area.
Compared to the 1-Skewer version, the Dowel version has about 16 times as much sail area!
The video shows our original kite on its first outing. The kite was low, and you can see how the keels kick the nose into line with the wind direction every now and then. Later, we let line out and allowed the kite to fly in much smoother air up around 300 feet.
---
Out In The Field

Dopero kite stories of my real-life flying experiences are worth checking out!
Illustrated with photos and videos, of course.
That's about it for this page on the Dopero. In 3 convenient sizes.
Hope you enjoyed the pics and the info.
30 pound line, such as this
Stake Line Winder
on Amazon, is a reasonable compromise for any kites in the size range discussed above.
---
E-book special of the month (
25% off

)...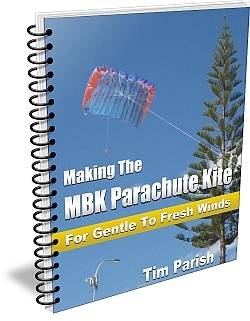 This printable e-book takes you step-by-step through making a 119 cm (4 ft) wide Parachute kite. It's not quite that wide in the air since the canopy takes on a distinct curved shape when inflated. This 14-cell kite performs best in moderate to fresh wind speeds. That's 20 to 38 kph or 13 to 24 mph. In gentle winds, this kite will hang in the air at fairly low line angles. In fresh winds, it pulls firmly for it's size, so small kids should only fly it while supervised!
Every kite design in the MBK Soft Series satisfies the following points...

Materials are plastic sheet, tape and line – and nothing more!
Tools are a ruler, scissors and a marker pen - and nothing more!
All cuts are along straight lines.
For the greatest chance of success, I make recommendations regarding the materials. For example, the type/weight of plastic, type/width of tape and line type/strength. Close enough should nearly always be good enough, since the design is well-tested and should be tolerant of small differences from my original.
Get the e-book for making the MBK Parachute kite. After making your first one in plastic and seeing how it performs, you can try soft Tyvek or rip-stop nylon for your next build.

The e-book is a PDF file - which means printable instructions to refer to while you make the kite. It also means convenient off-line access if that suits you better.

Aug 23, 17 06:00 AM

This previously published page gives a quick insight into the structure and materials of the original 'War Kites' by Samuel Cody. Plus some history and photos of course. Intriguing stuff...
---
---
Return to Kite Plans from Try A Dopero Kite

All the way back to Home Page