The 2 Skewer Barn Door Kite
Gentle Flying Near Its Wind Range Lower Limit
Today the 2 Skewer Barn Door kite enjoyed a high flight in unusually smooth and light inland winds. Another unusual aspect was the 100% cloud cover. It was like 'pea soup' fog at 4000 feet or so, with the occasional smoothly rounded strata-type formation visible here and there.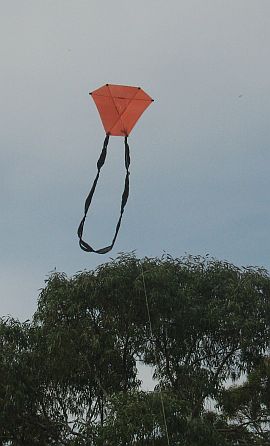 However, the air was warm, with no threat of rain. From a photography point of view, light levels were reasonable too. All that cloud could not have been very thick.
Aren and I got the photo session out of the way first. With 3 1/2 year-old Aren obligingly holding the line, I snapped away with the digital camera. He was doing so well, I even got him to move upwind with the line to climb the kite while I took video.
The first attempt was rather too enthusiastic! Aren caused the orange Barn Door to shoot up, then bounce around while he stopped walking and started hauling the line in hand over hand. The next attempt was perfect, with the little fellow backing up slowly.
This time the 2 Skewer Barn Door kite gently climbed out above tree level.
As you can see in the video down at the bottom of this page.
After all the imagery was 'in the can', we gradually climbed the kite up, slowly releasing line.
We had to follow a careful path though, which
avoided the elderly golfer practicing his swing,
took the kite over the corner of the field to avoid trees and give maximum room to fly, and
also kept some distance from the 2 teenagers using the practice nets for cricket training!
It was becoming a more enjoyable flight by the minute. The 2 Skewer Barn Door kite responded to quite gradual changes in wind speed. Even above the wind gradient, winds were variable, and sometimes so light that the kite barely hung in the air. It was sometimes necessary to just stand there and wait for some more tension to come on the line.
The flying line angle varied from roughly 30 to 50 degrees, depending on wind speed. The Barn Door was once boosted right up to 70 degrees in a weak patch of rising air, before floating back down on its face. It's not my best thermal-catching kite, but it was still a welcome departure from its usual Diamond-style performance!
By this time we were getting closer to the 2 teenagers. They soon left, as they do when their space is invaded by someone more than 20 years older :-)
Finally, a long lull took the kite right down to 20 degrees or so, with line about to droop onto the grass. This was followed by a long smooth climb, slowly accelerating as the 2 Skewer Barn Door kite passed through 200 feet or so.
Aren and I ended up on the far side of the reserve, sitting on a grassy embankment. All 150 meters of line was out, except for 4 turns so we didn't lose the kite. The kite settled out at close to 400 feet at around 50 degrees of line angle.
During another lull, I had to wind on quite a few meters of line, but was able to slowly climb the kite up again. I took the chance to practice climbing the kite at a constant line angle of somewhere around 40 degrees. With all the line out once again, the kite slowly made its way up even higher, as line angle increased.
Eventually it was time to go. In these light conditions, it was an easy matter to simply wind line on to bring the kite down. It was hard to keep the kite in the air once it got below 100 feet. By walking slowly upwind, we kept the kite off the grass.
By this stage, some blue patches had appeared in the East although unusual smooth cloud formations remained in other parts of the sky. All in all, a nice relaxing outing with the 2 Skewer Barn Door kite, even with the 3 year old in tow!
The story above was an actual flying experience with the described kite. My write-ups are definitely warts-and-all since things don't always go totally as planned. However, half the fun of kiting is anticipating the perfect flight. When it happens, it's magic!
---
E-book special of the month (
25% off

)...

This printable e-book takes you step-by-step through making a 120cm (4 ft) diameter Parasail kite. This kite performs well in gentle to moderate wind speeds. That's from 12 to 28 kph or from 8 to 18 mph. It pulls hard for it's size, so should not be flown by very small kids!
Every kite design in the MBK Soft Series satisfies the following points...
Materials are plastic sheet, tape and line – and nothing more!
Tools are a ruler, scissors and a marker pen - and nothing more!
All cuts are along straight lines.
For the greatest chance of success, I make recommendations regarding the materials. For example, the type/weight of plastic, type/width of tape and line type/strength. Close enough should nearly always be good enough, since the design is well-tested and should be tolerant of small differences from my original.
Get the e-book for making the MBK Parasail kite. After making your first one in plastic and seeing how it performs, you can try soft Tyvek or rip-stop nylon for your next build.

The e-book is a PDF file - which means printable instructions to refer to while you make the kite. It also means convenient off-line access if that suits you better.

Apr 26, 17 06:00 AM

Coincidentally, this previously published page has recently been updated. The Adelaide International Kite Festival for 2017 was held earlier this month...
---
---
Return to A Flying Kite from The 2 Skewer Barn Door Kite

All the way back to Home Page