Flying Home-Made Kites Is Best!
It can be great fun for all the family, from age 2 to 102. Small kites for small kids, even toddlers. Larger or even huge flying creations for, well, the more mature among us who enjoy a building challenge. Besides, bigger usually flies better!
Here's the view our big Barn Door saw the other day...

There is definitely something extra to enjoy when you know that attractive construction flying steadily way up there was made by your own hands. Requiring nothing more than tape, plastic sheets and a few dowels or skewers.
It's almost never too calm - or too windy - to fly, as long as you pick the right kite. The information here makes that easy!
---
This site has 3 areas of focus....
Learning to make a kite, of course! Roll your sleeves up and enjoy the construction process. Then get out and fly, with the sun on your face and the wind on your back. Anyone can afford dowels or bamboo skewers, some plastic bags and sticky tape. Sounds very homey and humble - but we routinely have some amazing high flights with these light-weight craft. And yes, there are plenty of photos and videos of all the building and flying action.
Visitors contribute their own building and flying experiences. Photos too, from time to time. New stories are always coming in, and the variety is unending!

General kiting information abounds here, particularly when you dig a little deeper into the site. A large body of researched facts and photos provide an interesting and educational background on the hobby. Find out about the most popular kinds of fabric and paper designs being flown these days, or in times past. Discover things you never knew.
Download a free kite-making e-book!
Plus an amazing bonus.
Plus there is some kite info that is just plain different, and intriguing...
Like the radio-controlled variety being deftly flown indoors in Singapore, or a flexible flying monster the size of a football field! But we'll get to that later.
---
By clicking the what's new! link at the top of this page, you can stay up-to-date with the latest additions to this site. From any of those 3 areas in that numbered list above.
This includes those occasions when we - and others from all around the world - write up flying outings as Flight Reports.
We are based in the city of Adelaide, South Australia, home to one of the bigger annual kiting festivals in Australia, and possibly the whole Southern Hemisphere. We've been keeping tabs on this festival for years, and we're not about to stop, don't you worry. :-)
The picture over there was taken at one such event, as we walked along the jetty at Semaphore Beach. A light Southerly was blowing along the sand, and music boomed from loud-speakers arranged along one side of the wooden planks.
At other times, live commentary kept everyone informed about interesting aspects of the aerial display.
---
The Benefits Of Flying Kites...

Although not strenuous most of the time, kiting is quite a healthy activity!
Office workers can get some much-needed Vitamin D from sunlight. My wife's a court officer, and she certainly doesn't get much Vitamin-D inducing sunlight while she's at her desk. Or anywhere in the building actually, since windows apparently screen out most of the UV.
It's good exercise for your eyes, focusing near and far all the time. Helps slow down the progression of 'old age sight'. I know all about it, trying to unpick the tiny Lark's Head knot to detach a small kite from its 20-pound Dacron line...
Breathe that fresh air! We're very fortunate here in Adelaide, in that respect.
You can even fit in a bit of moderate exercise sometimes, when towing up to search for faster air!
Getting the kids involved too is good quality family time. You can see it in our faces, in the photo below...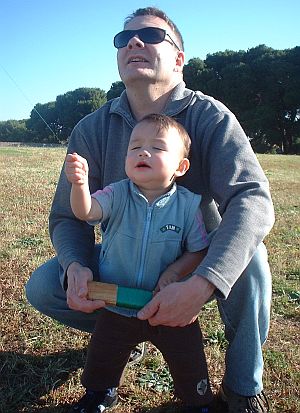 In my opinion, every new kite is an adventure. Come and join us!

You might have noticed that this site has a monthly newsletter...
For single-line kite fliers and builders, it's always been a good read. But if you are interested in KAP and/or large home-made kites you won't want to miss it!

So sign up today, and download the free 95-page e-book "What Kite Is That?" straight away. Info-packed and fully photo-illustrated.
And there are even more free resources, such as a kite-making e-course, waiting for you in the next issue of this newsletter.

Sep 23, 14 01:22 AM

This day's flying had been anticipated for at least a couple of weeks. A 'drag bucket' added to the tail end of the 2m (7ft) span Carbon and Tyvek Diamond was an attempt to raise the upper limit on the flyable wind speed for the kite. From earlier experiences it seems the unmodified Diamond becomes unstable at around 30 kph.

The first flight was done with the drag bucket adjusted for fairly minimal effect. As half expected, the kite soon started to fly way over to the left and right. So, the wind speed up there must be at least 30kph! This was down at Brighton Beach, but all thoughts of doing KAP soon evaporated, due to the high wind speed. Not to mention the turbulence coming from some high buildings directly upwind.

For a second attempt, the Velcro fastener was re-adjusted to considerably open up the intake of the bucket. The bucket being two Tyvek flaps which come together over the tail-most region of the sail. This had an immediate effect. More stability! Unfortunately, the extra drag also helped keep the kite at a lowish line angle in some of the fiercer gusts. Lots of line tension ensued, with a huge amount of distortion apparent in the sail.

At this rate, something was going to break pretty soon, so I struggled to get the kite down to the sand. After shifting the towing point forward by about 3cm (1") the kite seemed a little more comfortable. When the sail of a Diamond distorts badly, it reduces the amount of effective area below the towing point. This is like shifting the towing point back - adding to the problems of too much wind!

And then the inevitable happened. The already broken-and-repaired horizontal ferrule gave way and the kite promptly folded up and sank to the sand. But not before I had carefully observed every second of the kite's struggles, trying to learn more about Diamond kite behavior in high winds.

Just an hour after arriving home, the weather station at the nearby airport was reporting gusts to 50kph! It was less further down the coast, but I suspect the Carbon Diamond felt the brunt of around 40kph for at least a few seconds at a time.

"Simplest Dowel Kites": A free but very useful kite-making e-book. Make a super-simple Sled, Diamond and Delta - step-by-step with photos. Sign up for the e-book and get an emailed series of messages called "MBK Tips'n'Ideas". If you don't need the e-book, consider signing up anyway... You won't believe the value on offer in that message series!
---